Crafter conversion is a cut above the rest!
A Volkswagen Crafter panel van has been converted into a mobile gentleman's barbers shop for Barbus Service UK Limited based in Banbury, Oxfordshire.
The Crafter's interior has been transformed into a stylish white, black and chrome interior to match any of the smartest barber shops and is fully equipped with two leather salon chairs, mirrors, power points, hair driers, electric clippers, and a toilet/cloakroom cubicle.
'We wanted a van that was large enough for the type of conversion we had in mind but with a modern design in keeping with the image we envisaged for our company,' explained Stella O'Neill, Managing Director, Barbus Service UK Limited.
'The Volkswagen Crafter gave us everything we were looking for in terms of size, appearance, fuel economy and price,' she continued.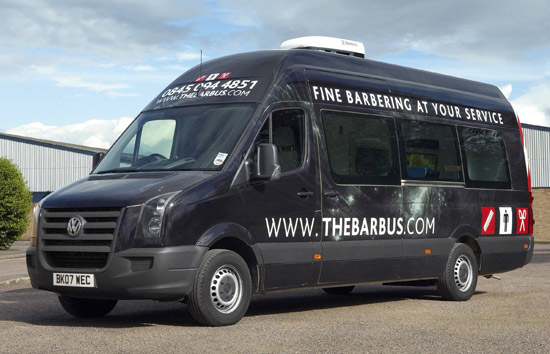 'Despite being an extremely big and powerful van, the Crafter's semi-automatic transmission and power steering make it very easy to drive,' said Louise Viggers, Operations Director and professional hairdresser for Barbus.
The conversion took four weeks to complete and involved ply lining and insulating the walls and ceiling in the load area, before covering it in a high gloss flame retardant plastic covering; the floor was covered in black rubber stud tiles; shelving was fitted and a generator was installed to power the heating and air conditioning system.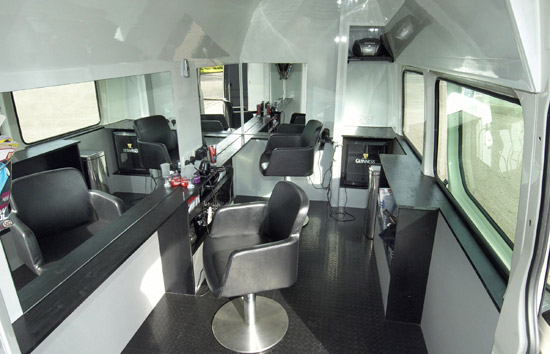 Listers Volkswagen Van Centre in Coventry supplied the long wheelbase Crafter with high roof.  It is powered by a Volkswagen's 136 PS, 2.5-litre, five-cylinder diesel engine with Shiftmatic semi-automatic transmission.