Crawford Runs Fifth In Kroger 250 Truck Series Race
RICK CRAWFORD – No. 14 International Truck and Engine Ford F-150 – "This 2009 Motor Trend Truck of the Year earned fifth place today. We got to lead a lot of laps. The International Truck and Engine Ford F-150 was Built Ford Tough today. It usually is at Martinsville. I think the last four or five times we've been here have been top fives, but I really enjoyed leading those laps. I expected what I got from Hornaday, but congratulations to Kevin. Kevin and Delana put some really class equipment out here. Kevin is a great driver and so is Ron, so to run fifth against the veterans here is pretty good. This is really special for us because we've taken a bruising the first part of the year, so this is a good points day for us." HOW MUCH DIFFERENT WAS THE TRUCK ONCE YOU GOT BACK IN TRAFFIC? "It would come and go. It was dependent on how cool you got your tires under caution and how long the caution was. Sometimes the caution was too long and the tires needed to heat back up, so it would just come and go. All in all, it was a steady, Built Ford Tough day." DID THE PIT ROAD INCIDENT DO ANY DAMAGE? "I couldn't sit there any longer. I had seen some quality guys pass me on pit road and we've got this goofy rule where NASCAR lets everybody pit – lead lap – and I think that's what got us in the way."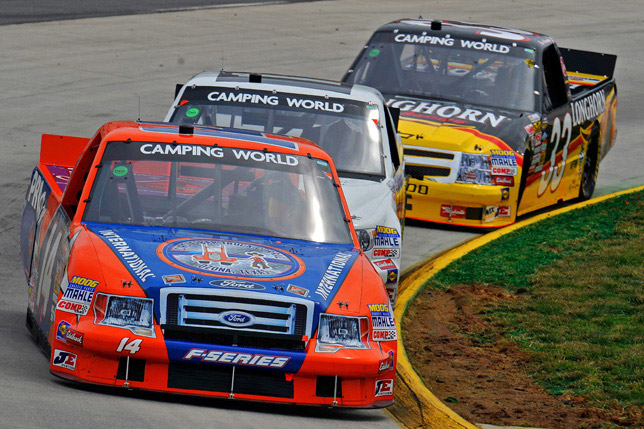 JAMES BUESCHER – No. 10 – International Maxx Force Diesel Ford F-150 – "I'm pretty happy that the Maxx Force F-150 is I guess in one piece. It got jacked up a couple times and knocked around, but I guess that's Martinsville and short track racing. We had a pretty decent truck. We had some track position and got all the way up to second. We were gonna try to make it to the end and then we started getting shuffled back to around 10th and didn't think we could hold on for another 75-100 laps like it was, so we came in and fought our way back up. I'm really proud of these guys." WHAT DO YOU THINK ABOUT THIS TRACK? "I think it's a lot of fun. I think we'll be better the next time we come back because I'll have more experience and we'll know more about how I like to drive the truck. This is my first time to come with Jamie to a short track, so I think we should run better the next time we come back and we'll see if we can't get a top five or maybe a win."