Delphi technologies keep new Ferrari California cool, wired and smooth
Delphi Corp. (PINKSHEETS: DPHIQ) is supplying key systems to the new Ferrari California, the latest addition to the legendary Italian automaker's sporty Grand Tourer segment, which made its debut at the Paris Motor Show a few days ago.Delphi is supplying the complete climate control system, electrical/electronic system components including wiring harnesses featuring Halogen-Free Ultra-Thin-Wall Cable, and MagneRide controlled suspension technology to this new eight-cylinder luxury vehicle.
"Ferrari is a premier automaker known for delivering the utmost in quality, luxury and performance. We are proud to have significant content on this new vehicle and to contribute to the unforgettable driving experience Ferrari drivers have come to expect", said Ron Pirtle, president, Powertrain Systems and president, Delphi Europe, Middle East and Africa.
Electrical/Electronic Architecture Beginning in 2009, the Ferrari California will also feature wiring harnesses with Delphi's Halogen-Free Ultra-Thin-Wall Cable in its first European application. This will make Ferrari the first European automaker to introduce the new highly durable automotive cable with significantly lighter and thinner insulation than traditional cable. Halogen-Free Cable, a recyclable and environmentally-friendly product, is free of dangerous halogens and offers excellent pinch resistance, nearly double that of traditional cable, and outstanding abrasion resistance. The use of this advanced cable also leads to cable size and weight reduction which, in turn, cuts down on the amount of CO2 emissions the vehicle produces. The California also features connection systems including some special application designs such as the Door-Off connection system.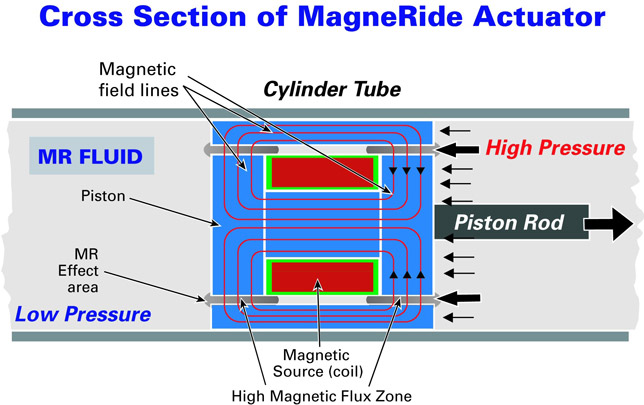 MagneRide™ Controlled Suspension System Delphi also continues its long-lasting relationship with Ferrari by equipping as optional the new California with its revolutionary MagneRide™ Controlled Suspension System. Delphi's latest generation MagneRide™ is capable of adapting the suspension to almost any condition thus providing great comfort and exceptional pleasure to drivers in what is the every day as well as particular driving conditions. MagneRide™, the world's most advanced production ride control system virtually eliminates the traditional need for a ride/handling compromise. Using patented shock absorbers filled with a proprietary controllable fluid, the system offers increased damping tuning capability and speed of response over valve-based controlled suspension systems. This means better transient handling – both for turn-in and yaw stability --and superior road isolation that will result in increased driver comfort. Drivers will also experience a more precise steering feel and control of the vehicle even at top speeds.
Climate Control System Delphi is supplying the new Ferrari California with the complete air conditioning system, including dual-zone heating, ventilation and air conditioning (HVAC), condenser with integrated receiver drier, latest generation of compact variable compressor with specific features to meet the high engine speed and acceleration, control head and software; and additional system components (including hoses, filters and temperature sensors). Ferrari recently recognized Delphi Thermal Systems by naming the company among the finalists in the Ferrari Podio 2008 awards – Ferrari's annual awards for suppliers and partners worldwide. Delphi was nominated in the "Innovation" category for its climate control systems support.