Double podium for Mitsubishi team in ulster
The Mitsubishi Motors UK works Rally Team went to round four of the Tesco 99 Octane MSA British Rally Championship, the Todds Lead Ulster International Rally, with one goal in mind – and that was to retain its chances of retaining both the team's and driver's titles – which is exactly what they did.
Based in Armagh, the event featured a total of 134 competitive miles split into six timed special stages on Friday evening, followed by a further ten on Saturday, all on closed public roads not far from the host town.
Having taken the lead from the start, Guy Wilks and co-driver David Moynihan initially looked uncatchable at the front. However, a problem with their car's rear differential on stage four, followed by a spin when they were pushing hard to make up for lost ground, saw them finish in second place. Team-mates Gwyndaf Evans and Paul Nagle drove a perfect rally and did what they set out to do by finishing third.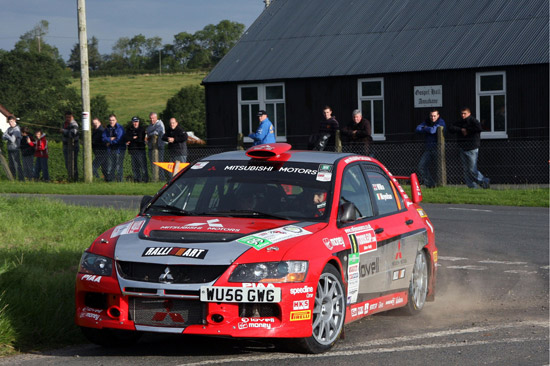 The Mitsubishi team were pleased to come away with a double-podium result and keep their team's title hopes on track. However, for Wilks a win next time out on the Trackrod Rally Yorkshire on 27th September is what's needed if he is to keep his bid for the driver's title on course.
The team's two Lancer Evolution IXs are built by Chesterfield-based ADR Motorsport, who also provides the on-event technical support. The team is sponsored by Lovell Group and Virgin Money, together with its technical partners: HKS, Sparco, Speedline Corse, PIAA and Ricardo.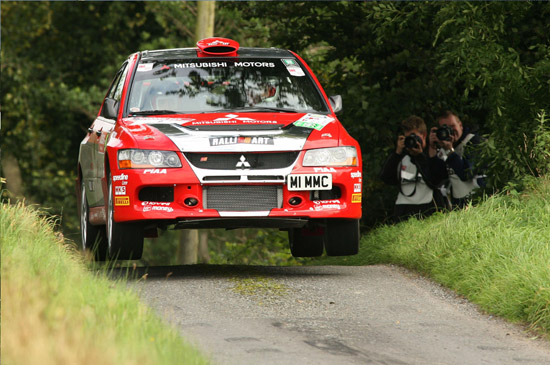 Team quotes
Guy Wilks "I'm pleased for the team that we got two cars home, but to be honest I'm disappointed not to take the win. I'm sure that if we hadn't had the mechanical problems on Friday that things would be different, as I wouldn't have had to push so hard on Saturday. It just makes the rest of the year a bit tougher, but I still think we can do it."
Gwyndaf Evans "Jumping straight into a rally car and expecting to be on the pace from the word go is more difficult than it looks, so I'm very pleased to have finished a comfortable third. It was a case of keeping a watching brief on Mark and Guy and picking up the pieces if anything happened to them. I'm also pleased that I was able to deliver the result the team had asked this weekend."
Paul Brigden (General Manager for Ralliart and Team Principal) "Considering we were under a lot of pressure to perform on this event and we came under considerably scrutiny, I have to praise the whole team for their efforts. Guy did what he could and it sounds like he avoided what may have been an even bigger incident. Gwyndaf did the job he was asked to do and we've come away keeping our title hopes alive. I'm now looking forward to the Trackrod Rally and hope we will see a repeat of last year's victory."
Tesco 99 Octane British Rally Championship Positions after round four
Drivers

1

David Higgins

62

2

Mark Higgins

60

3
Guy Wilks
56

4

Jonathan Greer

48

5

James Wozencroft

39

6

Stuart Jones

31

7

Philip Morrow

30

8

Dale Robertson

18

9

Brian O'Mahoney

26

10

Wyn Humphreys

23
Teams*

1

Atlas TEG Sport

132

2

Team TQ.com

119

3
Mitsubishi Motors UK
112

4

Revolution Wheels

79
* points are provisional