DRIVe technology in the new Volvo C30 Green Racing for STCC
Motorsport has long been the drive behind developments in the car industry. Now Volvo Cars is doing things the other way around. Using technology from the environmentally optimised C30 DRIVe to win the STCC.
For the 2007 Swedish Touring Car Championship (STCC) season the Volvo Car Corporation made the decision to let its race cars run on bioethanol fuel (E85), the first official brand in the world to do so.
In 2008, a completely new race car based on the C30 model was developed. And Volvo Cars' focus on bioethanol and Green Racing in the STCC continues.
"Choosing the Volvo C30 model as the base for a new "green" race car makes sense. Our C30 is the best at showing Volvo Cars' environmental technologies to the market with models like the new diesel-powered C30 1.6  DRIVe Start/Stop with a fuel consumption of 3.9 litres per 100 kilometres. The corresponding CO2 emission is 104 grams per kilometre", says Derek Crabb, director of Motorsport at Volvo Cars.
The Volvo C30 DRIVe plays a significant role in the development of the new race car. Usually car manufacturers use new technical solutions from their race cars to improve the production cars. Volvo Cars it is reversing that process by instead using many technical solutions from the C30 DRIVe model to make the race cars faster.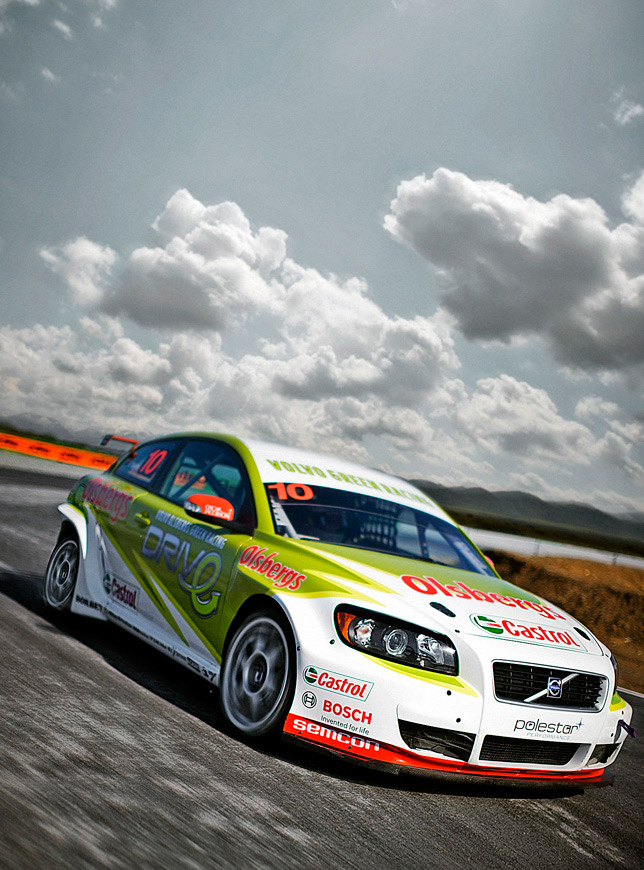 The race cars' flat under-body panels, diffuser and rear wing have been taken straight from the C30 DRIVe. The aerodynamic solutions that make the diesel-powered C30 more fuel-efficient and therefore more environmentally suitable also proved to make the bio-ethanol C30 green racer faster.
"We have tested the cars quite a lot in Spain this past winter. My team-mate Rustad and I are both very impressed by the fact that the team has been able to take parts straight from the C30 DRIVe production line and install them on the race car, and immediately see huge improvements in speed," says Volvo driver Robert Dahlgren.
The development of the new race car continues. Volvo Cars and its racing team Polestar have set their target - to be a winner in motorsport with modern green technologies.
When, Where?
1-2 May Mantorp
22-23 May Karlskoga
5-6 June Göteborg
26-27 June Knutstorp
10-11 July Falkenberg
14-15 Aug Karlskoga
28-29 Aug Vålerbanen (Norway)
11-12 Sept Knutstorp
25-26 Sept Mantorp