Ecomotive on track to help new DVLA campaign
SEAT'S ultra-economical Ibiza Ecomotive, new in showrooms and already causing a stir among green-minded buyers nationwide, has picked up another important backer with news that the Driver and Vehicle Licensing Agency (DVLA) has selected it to feature in its new online road tax renewal campaign.The Ecomotive has been chosen by bosses in Swansea as the star prize car in a competition linked to the new push by the Agency to encourage drivers to renew their road tax online or by phone – a simple process which is said to take around four minutes to complete.
The campaign was officially launched yesterday in London's Trafalgar Square, where SEAT's British Touring Car Championship driver Jason Plato took on members of the public, as well as grid model Alexia Dean, in a special four-minute remote control car race. Naturally, the race featured miniature versions of SEAT's Ibiza Ecomotive.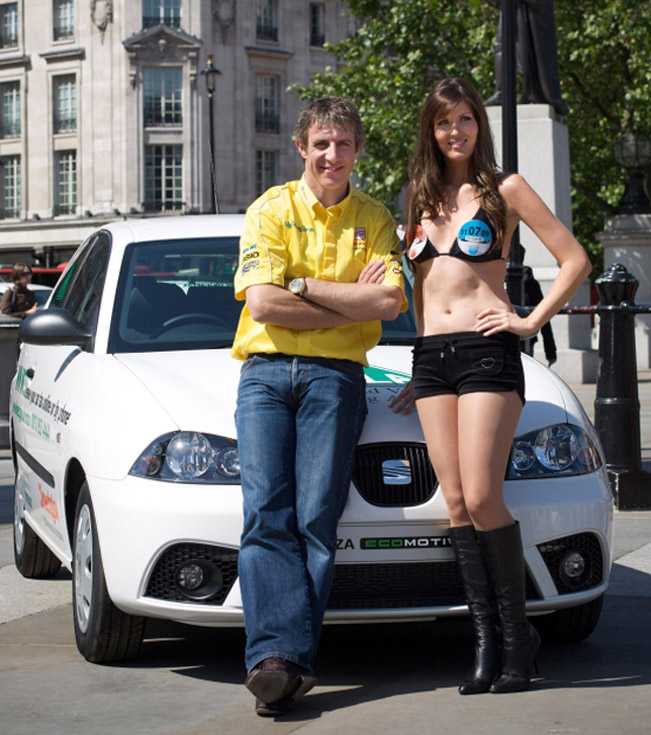 SEAT is supplying nine (full size!) versions of the fuel-sipping supermini – capable of returning a remarkable 74.3 mpg on the combined cycle while generating just 99 g/km of CO2 – as prizes in monthly giveaways on the DVLA's dedicated renewal site: www.direct.gov.uk/taxdisc
And thanks to this special Ibiza's ultra-low emissions, it is one of only a handful of new cars exempt from any Road Fund Licence charge. As its CO2 emissions slip under 100 g/km and therefore fit into Band A, Ibiza Ecomotive owners won't pay a penny to the DVLA for their tax disc.
The ground-breaking association with the DVLA, which will also see the Ibiza Ecomotive pictured and mentioned in the millions of printed Road Tax renewal reminders sent out by the Agency each year, is another important step in establishing the ?11,000 RRP car as a key player in the UK's green motoring movement.
With more than 26 million customers to date, DVLA's online and phone services to tax and SORN vehicles has already proved a huge hit with drivers, and this campaign is designed to increase usage further still.
SEAT UK's National Communications Manager, Rob Taylor, said of the deal: 'The DVLA's decision to select the Ibiza Ecomotive as the prize car in this huge prize draw, open to literally millions of motorists right across the UK, is great news.
'Within SEAT we obviously realise and appreciate the benefits of this remarkable car, and now the DVLA prize draw will give lucky drivers across the country the chance to do the same – for free!'