Edwards Bounces Back With Third-Place Finish At Martinsville
DAVID RAGAN – No. 6 AAA Ford Fusion (Finished 13th) – "We had a top-10 car. Jimmy Fennig and our AAA team had an excellent back-up car prepared and it was just one of those racing deals.  Matt had new tires on.  He was coming hard and I was just a little free off the corner and probably wasn't quite in the throttle and got a little loose and he just helped me go around, so no harm, no foul.  It was just one of those things.  He was in the right place and I was in the wrong place."  A FRUSTRATING FEW WEEKS FOR YOU.  "Yeah, the last four weeks we've had top-five cars and got a couple of good finishes to show for it and this isn't a bad run compared to where we started the day off, but we're a better team and we deserve to be up in the top five.  We've just got to keep getting better and we've got to start on Friday and carry it through the weekend."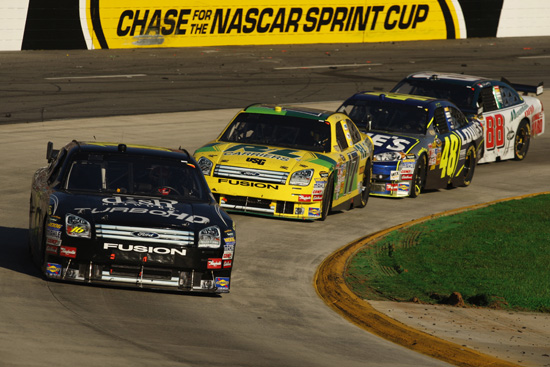 GREG BIFFLE – No. 16 Dish Network Ford Fusion (Finished 12th) – WERE YOU THINKING AS THE RACE WAS WINDING DOWN THAT YOU HAD ACCOMPLISHED WHAT YOU WANTED?  "Yes, I was once we got the lucky dog, which secured me the worst place finish of like 13th or 14th.  That's really what we needed.  There for a while we were in bad shape.  We were 25th or so and if we wouldn't have been able to get through that traffic, we would have been in big trouble.  The car was good and the brakes were great – the best brakes I've ever had at Martinsville.  I'm excited.  I'm excited about coming back here in the spring and see if I can do better."  HOW EXCITED ABOUT THESE 1.5-MILE TRACKS COMING UP?  "I can't wait.  Hang on, we're gonna let it rip."  YOU SURVIVED TODAY AND YOU'RE SECOND IN POINTS.  "It was a frustrating day to say the least, but we stayed out and got trapped.  We were gonna run out of gas, so that was unfortunate for us, but the team did a great job with this Turbo HD Ford Fusion car.  I just wish we could have stayed on the lead lap or got our lucky dog earlier in the day and been able to race those guys."  YOU'RE 145 OUT.  IS THIS A NAIL IN THE COFFIN FOR THE 48?  "No, I don't think so.  We're gonna come and get them.  We've got four more chances and we're going to some of our best places, so they better be on their A game.  I know they have been so far, but we're gonna bring the heat to Atlanta and all the rest of the places and see what we can do."  YOU'RE STILL CONFIDENT?  "I'm still confident we can catch him, for sure."  A GOOD RECOVERY.  " We had a great day to come out of here 12th.  We wanted a top-10 finish.  That's what we were shooting for and we came up two positions short of that.  We led a lap, got out front and got the Turbo HD Dish Network car out front, but, unfortunately, we had that pickup where we ran out of gas or I got off pit sequence and that cost us, but we fought back and 12th-place is a dang good finish for us here."  WERE YOU WORRIED ABOUT BRAKE ISSUES TODAY?  "I was worried about it, but these are the best brakes I've ever had in my life and I'm telling you I abused the heck out of them when I had to and they just stayed right with me the whole time.  I'm so happy about the brakes on this race car."
MATT KENSETH – No. 17 R&L Carriers/DeWalt Ford Fusion (Finished 8th) – "I'm happy with where we finished.  I messed up early in the race and wiped out Nemechek and myself and were able to come back from that and get a good finish."  WHAT WAS THE KEY TO COMING BACK AFTER THE SPIN?  "We just had to be patient and try to get the car to handle a little bit better and move up in the pits and we were able to do that."  WHAT DOES THIS MEAN CHAMPIONSHIP-WISE WITH JIMMIE'S RUN?  "From our standpoint, if we weren't mathematically out before today we are now.  We haven't been thinking championship the last two weeks with the problems that we've had, so we're just out there racing as hard as we can and run the best we can."  YOU STAYED OUT AT THE END.  WHAT WAS THE THINKING?  "We figured if we pitted with everybody else we were gonna run 11th or ninth or 10th, so we might as well try it.  When we tried it and it didn't work, we came back and got tires and tried the other direction."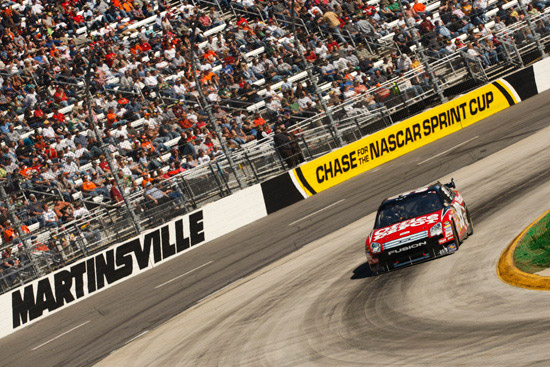 CARL EDWARDS – No. 99 Office Depot Ford Fusion – PRESS (Finished 3rd) – YOUR THOUGHTS ON THE RACE TODAY.  "For us, this is almost a win.  We've never run this well here, so that was good for us.  It's just Jimmie is doing an unbelievable job.  We obviously had some misfortune last week that really made this race important.  I felt like we could come here and if we ran like we did today, that it keeps our hopes alive and if we didn't, it would really put us in a hole, so it's a great day for us."
IS THIS THE FINAL NAIL IN THE COFFIN WITH WHAT JIMMIE DID?  "No way.  He could have any sort of trouble at the next two races and be right back there with us with all these guys that are kind of bunched together.  It looked like all of us were within 40-50 points second through fourth, maybe, so it could happen to anyone.  We saw what happened with Kyle and his team.  Those guys seemed unbeatable, but they just had the bad luck – like what happened to us last week.  We still don't know exactly what happened – just some sort of gremlin in the electrical system, so, no, this isn't over until the last lap at Homestead, that's for sure."
HOW DOES IT FEEL RUNNING YOUR BEST RACE AT THIS PLACE AND YOU STILL SEE THE 48 RUNNING AWAY?  "It feels just like you think it would feel like.  You think, 'Damn, those guys are good.'  They're just good at what they do.  We all know how important this place is and how special it is for them and I have a lot of respect for Jimmie and Chad and the way those guys compete.  I think they're some of the best competitors out there.  If you looked up 'competitor' it would be those guys.  They're real competitive and have a lot of respect for everyone, so that's cool."
DID YOU COME IN HERE EXPECTING TO LOSE SOME POINTS TO JIMMIE?  "After the practice yesterday, we thought, 'Man, if everything goes perfectly, we could win this race.'  Our car was fast enough, but Bob and I actually talked about it.  I said, 'Boy, it would be awesome to win this thing,' and he said, 'Listen bud, if you can just finish in the top 10 and not lose too many points at Martinsville, that's a win for us.'  So being realistic, this really was a very successful day for us."
YOU, BIFFLE AND BURTON ARE CHASING.  HOW ARE THOSE GUYS FEELING SINCE YOU FELT THAT LAST WEEK?  "It's frustrating when you have something bad happen and you lose a bunch of points.  You start to think, 'Man, it's gonna be another whole year.'  It's like if you have a bad game bowling or something and you think, 'Alright, this game will be over in a couple of frames and we'll just start over.'  You know that feeling like, 'Boy, this feels good to start over,' but there is no starting over.  You have to dig until the end.  It's interesting that way.  It crescendo's pretty big the whole year and we've got to essentially go out and win the next four races.  That's what we've got to do."
WHAT WILL IT TAKE FOR NASCAR TO ADD A SHORT TRACK TO THE CIRCUIT?  "We've been having good races at all the race tracks.  The short tracks are real fun.  They're exciting.  I think the fans enjoy them a lot.  I know I liked watching them before I was racing here, but I think NASCAR is doing the best they can.  We still have some real exciting finishes at the big tracks and there's a balance.  I think this sport has to be able to get out there to people in Kansas or maybe the northwest some day and we might have to build new tracks for that, but as long as we get to race at places like this and Darlington and the tracks that have been on the schedule for a long time, I think there's a good balance there."
THREE OF THE NEXT FOUR ARE INTERMEDIATE TRACKS.  HOW DO YOU SEE THIS PLAYING OUT?  "If we run like I believe we can run at the next two, without having any bad luck, we should be pretty tough.  But Jimmie has been running real well at those places, too.  But if you look at what happened at Lowe's, I'm not sure where he finished but I think it was seventh or ninth or something, let's say he finishes 10th and we win the next four, I think we catch him.  It would be pretty close, so, I don't know.  That's all we've got to do.  I'm done worrying about Jimmie, we've got to get all the points we can and Jimmie's gonna do the same."
GREG SAID HE NEVER HAD SUCH GOOD BRAKES HERE.  WAS THAT WHY YOU WERE AS GOOD?  "I did have real good brakes.  I don't know if we did something a little different.  I know the guys have been working really hard on making sure that we don't waste any of the cooling energy, so that's good, but it takes the whole package here.  It started off with qualifying being rained out and giving us a spot up front.  I think we could have qualified pretty well this time, but starting out up front is a big deal.  Pit strategy is big and then, obviously, like Dale was saying – the brakes, it's really easy to ruin the brakes here on those long runs, so that was definitely key to running well here."