Edwards Finishes Fourth in Cup, And Wins Nationwide Race To Stay In Championship Hunt
For Carl Edwards, there's one chance left – next weekend's Ford Championship Weekend at Homestead-Miami Speedway – to try and win two NASCAR championships.
For the seventh time in nine Chase for the Championship races, Edwards scored a top-five finish in the Sprint Cup race in Phoenix, and for the fourth straight race, the defending NASCAR Nationwide Series champion cut into Clint Bowyers' lead in the Nationwide Series standings. And for the second time in three weeks, he did so by beating everybody else to the finish line.
Edwards came away with his sixth victory of the season in his Ford Fusion after leading a race-high 78 laps of the Nationwide Series race in Phoenix, shaving 35 points off of his deficit to Bowyer in the standings. His performance was made even more impressive by the fact that he had driven the car with a bent gas pedal from qualifying all the way to the checkered flag. Edwards now trails Bowyer by 56 points with only one race remaining in the season.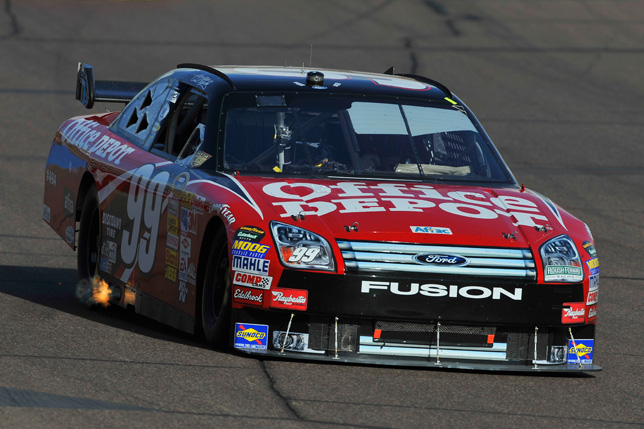 "If we run like we've been running and we perform as well as we have and Drew Blickensderfer, crew chief makes the decisions that he's been making, we can close 56 points without Clint having trouble," said Edwards. "They just have to have a little bit of an off day. We needed this today. We needed to win this race."
Edwards is also on an incredible streak, finishing in the top five in eight consecutive races. Jamie McMurray joined Edwards in the top 10, finishing seventh in the No. 17 Fusion.
Edwards also entered the weekend in second place of the NASCAR Sprint Cup standings. Unfortunately, he couldn't gain on the man he was trailing, Jimmie Johnson.
Though Edwards had a very strong performance in the Sprint Cup race at Phoenix, coming in fourth place, Johnson dominated the race and came away with the victory to extend his lead to 141 points with only one race remaining.
"It's possible, not real probable," said Edwards of his chances to catch Johnson, "but I guarantee that's not going to change the way we do business. We're going to go to Homestead with everything we've got and be aggressive and try to win the race."
Edwards has had an incredible season this year, compiling eighth wins and finishing in the top five 18 times through 35 races, including seven of the last nine.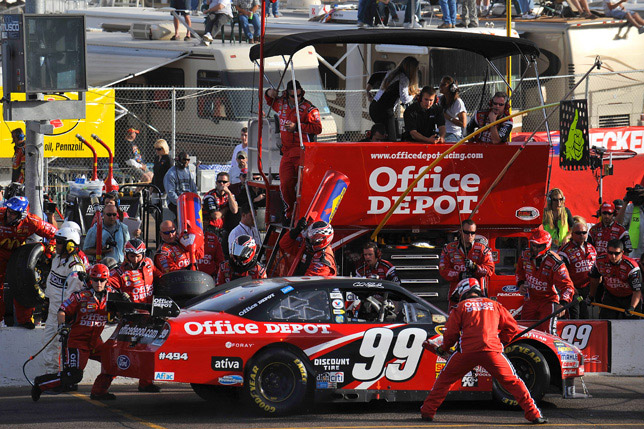 McMurray was the top Ford driver in the race, qualifying second and finishing in third place. David Ragan also joined McMurray and Edwards in the top 10 with a 10th-place performance. Ragan remains 13th in the standings, holding on to the top spot outside of the Chase.
Erik Darnell led all of the Ford F-150 drivers across the finish line in the NASCAR Craftsman Truck Series race at Phoenix. Darnell looked to be on his way to a top-five performance when his car got tight during the last few laps, which caused him to lose a few spots and finish in seventh place.
"I think on the longer run we were as good as the leaders," said Darnell. "There toward the end, we got into fourth… That last caution really hurt us. We just got really tight after that and I don't know why. The front end wouldn't turn, we lost a couple of spots and finished seventh."
Rick Crawford and Brendan Gaughan also grabbed top-10 performances, finishing ninth and 10th, respectively. Darnell remains fourth in the standings, while Crawford holds on to seventh place and Gaughan remains 14th.
Next weekend, the NASCAR Sprint Cup Series, NASCAR Nationwide Series and NASCAR Craftsman Truck Series will host their season finales in Homestead, Fla., for Ford Championship Weekend. The NHRA season will also come to a close in the season finale at Pomona, Calif.