Edwards Suffers Championship Blow While Biffle Remains In Contention
TRAVIS KVAPIL – No. 28 Hitachi Power Tools Ford Fusion (Finished 42nd) – "I don't know.  We had a decent car.  We were just running around 19th or 20th on the lead lap and somebody wrecked in front of us.  I just didn't see it until it was too late kind of being at the back of the pack. I tried to slow down and get out of the way and I clipped Matt.  I feel terrible that I turned him around, and then I went down through the grass and just lost control and hit the wall."  IT LOOKED LIKE A HARD HIT?  "Any hit is not real pleasant, but it really wasn't that bad.  I had the car slowed down pretty decent, I just couldn't steer it when I was getting through the grass.  I just lost control."
MATT KENSETH – No. 17 DeWalt Ford Fusion (Finished 41st) – "There was just an accident I slowed down for and just got ran over from behind.  We really struggled with our Carhartt Fusion tonight, but Chip made a lot of really good adjustments.  We actually had it a lot better there.  I think we were probably close to a top-10 car.  It's nowhere where we want to be, but it was getting better.  I was just slowing up for the accident and got run over."  TOUGH NIGHT AS FAR AS THE TITLE GOES.  "Yeah, it's been borderline miserable for sure.  There have been a couple of bright spots, but even when things go right they go wrong.  At Kansas we had a really good car, got wrecked there.  Got wrecked last weekend with a really good car and then couldn't really do a lot about any of that stuff, I don't think.  It's just been one of those months.  Hopefully, it will get better."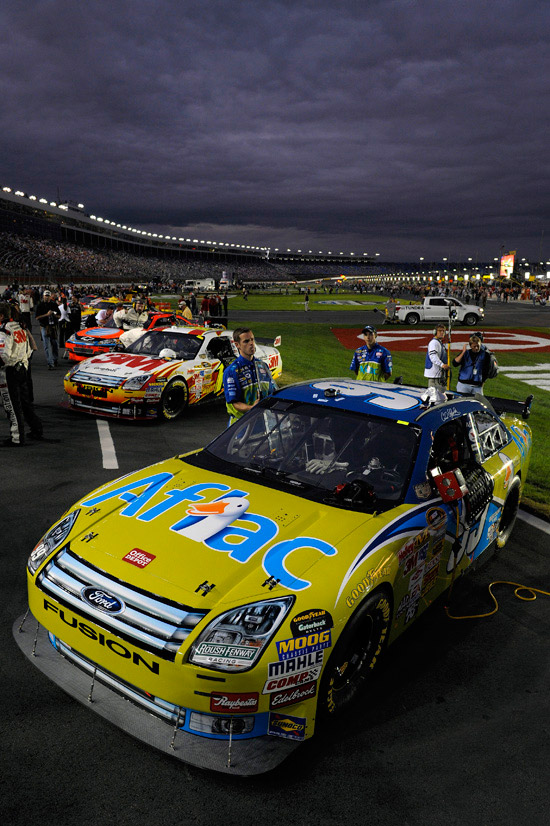 CARL EDWARDS – No. 99 Office Depot Ford Fusion (Finished 33rd) – IT'S BEEN A LONG WEEK.  WHAT ARE YOUR EMOTIONS?  "There's only one thing to do and that's to learn from everything this week.  That's for sure.  I can guarantee you that if I had the week to do over again, the last seven days would be a lot different.  But you just have to do what you think is right at the time and move on after that.  Today's race didn't help at all.  That car right there is a great race car.  I don't know if we've ever had the problem that we had there, it was something with the ignition system, so it's very frustrating but nobody got hurt at least, I guess."  SO IT WAS AN IGNITION ISSUE?  "Right, we changed all the ignition stuff and the car worked again, so you never know what it could be there.  It's pretty amazing, we have two pretty independent ignition systems and, for some reason they both quit.  I just can't believe it.  We fight back, though.  We've got a great team and we've just got to get everything we can.  We've got five more races."  IS THERE ANYWAY TO DO DIAGNOSTICS INSIDE THE CAR WHILE THAT'S GOING ON?  "No, there's nothing.  I switched all the switches.  I tried everything I could.  When that tow truck was pushing me, I tried a bunch of different stuff.  I thought it might be something as simple as that ignition switch right there, but it wasn't.  It was something in that tray that houses all the MSD boxes and the coils."  YOU'RE ABOUT 170-180 OUT NOW.  WHAT DO YOU THINK?  "It's not good.  I think we're still fourth, though, so there are only three guys in front of us.  We'll be all right.  There's no other way to put it.  It's just a bad week.  That's all there is to it."  YOU HAVEN'T HAD TWO BAD RACES IN A ROW ALL YEAR.  "We saw it happen with Kyle the first few races.  I think everybody understands that you can lose a ton of points – 200 or 300 in a space of a few weeks – and we all know that can happen.  This thing is far from over.  We don't ever give up, that's for sure, but we needed to do better than this.  This is good for Greg.  I'm glad that he had a good day, but I feel real bad for Matt.  That was no good to see."  YOU WERE QUIET IN THE CAR.  "I just didn't have much to say.  It seems the more I do or say this week, the worse off I am, so I just wanted to get to the end of the race and go do some testing and go race at Martinsville.  I've never been so excited to race at Martinsville in my life."
JAMIE MCMURRAY – No. 26 Crown Royal Ford Fusion (Finished 5th) – "Larry and the guys made really good decisions on the adjustments to the car and it was just a good night for the Crown Royal Ford Fusion.  It's the same thing every week, track position is just so critical.  We had a really good tire here.  The tire would give up a little bit and stickers were a little bit better.  In testing it wasn't really that way, but our car was not good on two tires.  I didn't think it was very good when we would just scuff them and run 10 laps, so they made the right decision on coming in and putting four tires on there at the end and we actually had a little bit of track position with that, so it ended up good."  HOW IMPORTANT IS THIS FOR YOU?  "Really, for the last three months we've had great race cars.  Everyone at Roush Fenway runs well.  I mean all of my teammates run well every single week and we haven't been able to put our finishes together, but we've had a lot of speed in our car, so I think to sit on the pole in the Nationwide race and then have a top-five in the Cup race, it's gonna make for a wonderful Sunday off."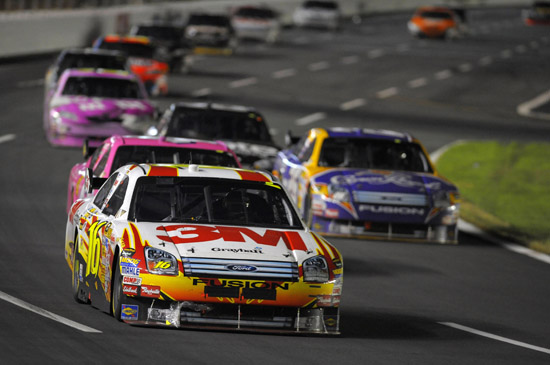 GREG BIFFLE – No. 16 3M Ford Fusion (Finished 7th) – "We put four tires on.  It was my call.  I felt four tires would be the right call.  We had been really fast all night, but I was just too loose.  I couldn't do anything.  I couldn't turn the steering wheel and give it gas and, man, it just murdered me."  WERE YOU SURPRISED THAT FOUR DIDN'T WORK?  "Yeah, normally it's gonna handle, but what happened was it turned so good that I couldn't get the power down and the back end wouldn't stay under it.  We freed it up half-a-round and you wouldn't think that was too much, but, obviously, it was."  YOU'RE 86 BACK HALFWAY THROUGH.  HOW DO YOU FEEL?  "I feel really good.  I would have felt better if we would have won tonight and been about 30 points back or 40, but we're not gonna give up."  IN A WAY THE 48 HASN'T HAD A MULLIGAN YET.  "Yeah, you're right – everybody else kind of has – but we'll see what happens.  We don't wish any bad luck on him, but something is gonna have to happen in order for us to catch him."  IT HELPED TO SEE HIM BACK UP TO YOU AT THE END.  "Yeah, it was.  It was a lot better when I was in front of him, but we got beat out of the pits tonight and we were just off on our adjustment at the end."
DAVID RAGAN – No. 6 AAA Ford Fusion (Finished 10th) – "It was a good night in that we've got a car in one piece and we had a decent finish, but it's disappointing in another sense where we had a top four or five car and we finished 10th with it.  It's good and bad.  We'll learn from it.  I made a mistake getting on pit road under green that cost us, but we were fortunate that it was early enough in the race that we were able to bounce back.  We had a car fast enough to get the lucky dog and we had a car with good speed.  We've just got to take care of the details."