Edwards Wins Nationwide Series Race At Michigan
Carl Edwards held off Brian Vickers and Tony Stewart to give Ford another victory at Michigan International Speedway as he captured Saturday's Carfax 250.
DAVID RAGAN – No. 6 Discount Tire Ford Fusion (Finished 36th) – "I was just overdriving it.  Our Discount Tire Ford Fusion wasn't really good from the get-go and just got really tight and made a pretty big stab at it.  It was pretty free and I was just overdriving it trying to be faster than what the car would go and just made a mistake and wrecked it." BOBBY HAMILTON JR. – No. 25 Eckrich Ford Fusion (Finished 18th) – "I'm really happy that Carl won the race for Ford right here in Michigan and I'm happy with the way we bounced back after what happened on lap one.  The team could have easily quit because we got a lot of damage from that, but we hung there and even though we lost a lap, we got it back and finished 18th.  We'll take that and move on to Bristol."
KELLY BIRES – No. 47 Clorox Ford Fusion (Finished 9th) – "I'm really happy.  We started the race just a tough tight, but we made the right adjustments and didn't touch the car the rest of the day.  We were a little bit free at the start of a run and just a tick tight at the end.  We needed probably another 10 laps at the end and we probably could have picked up two or three spots, but it was a good day.  Everyone did a great job on pit road and the car ran good.  It was a flawless day for us.  We got stuck behind a couple of lapped cars that really hurt us a couple of times on those restarts and made us lose positions.  You've got to draft out there, so it was real tough.  If you weren't in the right line, two or three cars could go by you and you wouldn't even know it."
MARCOS AMBROSE – No. 59 Kingsford Charcoal Ford Fusion (Finished 12th) – "It was pretty good.  We just didn't get track position when we needed it and that's all.  It was just a track position race.  We didn't have enough top speed and we probably had a bit too much downforce in it and we just couldn't pass when we needed to and couldn't get track position, but it was a pretty good day and a good day for our points."  WHAT ABOUT TOMORROW WITH THE DIFFERENT CAR?  "The COT is a handful.  I thought I was in trouble when I tried to pass some of the guys in the Cup deal, but, really, I'm just looking forward to tomorrow.  It's going to be a new experience for me and I'm looking forward to it."
GREG BIFFLE – No. 16 Citifinancial Ford Fusion (Finished 5th) – "It wasn't a bad finish.  We had a pretty good run today.  The Citifinancial Ford Fusion was good and the pit stops were pretty good.  We just weren't quite as fast as the leaders.  We were just a little bit off of those guys, but we worked hard at it.  I thought we might have had a chance at a second-place finish.  We had some paper on the grille and made the car turn really good and then the paper blew off and I lost three spots.  The car is real aero-sensitive and real sensitive in traffic."  YOU HAD A GOOD BATTLE WITH STEWART AND VICKERS.  "Yeah, it was a pretty good battle.  I was just a little bit too tight.  Off the start with fresh tires I was pretty danged good, but after that they were just a little bit better than I was."  HAD THE CAUTION COME OUT EARLIER WOULD THAT HAVE HELPED?  "There at the end, that wouldn't have made a difference for me."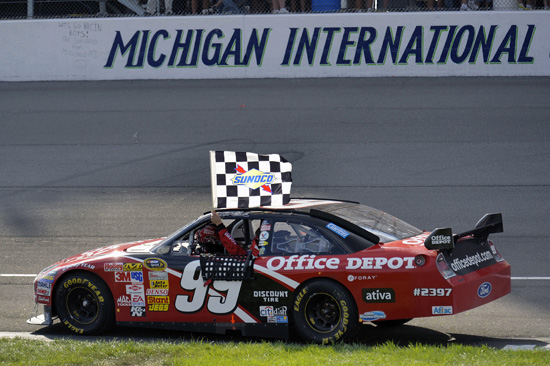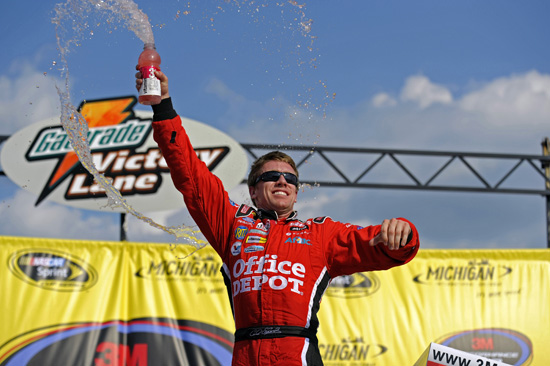 WINNER'S PRESS CONFERENCE
DREW BLICKENSDERFER, Crew Chief – No. 60 Planter's Ford Fusion – "We built a new bodied car for Carl to come here.  It was pretty fast off the truck.  He was real happy with it and it worked out.  We had a total team effort.  It takes driver, horsepower, body, pit crew, everything here at Michigan, and it worked out for us."
JACK ROUSH, Owner – No. 60 Planter's Ford Fusion – "I've had a lot of years here coming to this race track, first as a fan and then secondarily as a team owner and I'm honored as I've been many times to be in fast company.  Drew and the guys built Carl a real fast car.  Carl is at the top of his game.  Any day now he's ready to close, but Carl is motivated and he's able.  He's skilled and he's experienced.  He's cautious and he's aggressive.  He's all those things, but it's all for nothing if the crew chief doesn't have the presence, doesn't have the confidence in himself to make the change for the last run that will win the race.  I heard Carl and Drew talking about it on the radio and I knew where both of their heads were and I thought they'd be OK.  Drew made a great call on the changes he made in the car and it hadn't been that good all day, or at least it hadn't demonstrated what it could do all day to be that dominant, but certainly the fact that Carl was able to do what he was able to do was because of the decision Drew made and it was right on time."
CARL EDWARDS – No. 60 Planter's Ford Fusion – "The Planter's Peanut car was awesome all day.  It was real good.  There were a couple of cars that were real fast.  Tony was real fast and Brian Vickers was extremely fast and my pit crew just did a great job there at the end.  The change was great that Drew made.  It made the car fast for the final run and Tony having the trouble on pit road, or whatever happened to him, it was sure a lot easier to pass him there than it would have been on the race track, so we came out first and my guys did a great job and it went green the whole way.  The car was just great.  I'm really proud of the guys for building that car that way and doing all the homework that they did to make it that good, and then the engine department has been working really hard and our engine was very strong all day, too."  WHAT DOES IT MEAN TO FORD AND TO JACK TO WIN HERE?  "For me, it's just an honor to be a part of the resurgence of Ford Motor Company.  I've been fortunate enough to talk with Jim Farley and the folks up there who are in charge of making sure this company works and it's a great future that they have, so it's really neat to be a part of that and to be driving a Ford and winning in it, and to do it right here knowing that those guys are up in Detroit cheering at their TV's, that's really cool."
DREW BLICKENSDERFER CONTINUED – "We're so loyal to Ford Motor Company and when we come here it's important for us to win.  This is the Super Bowl for them or the Daytona 500 for them.  They want to win in their backyard really bad.  Carl and I wanted to win at Gateway really bad.  That was our "backyard".  This is Jack's backyard, so it's important for us to show what we can do here for the employees of Ford Motor Company and the employees of Roush Industries in Livonia."
JACK ROUSH CONTINUED – "Ford's got a bunch of exciting new products coming.  They're getting ready to move things over from Europe and they've got new technologies for direct injection engines that are going to take gasoline engines and put them within reach of where the diesel engines have been for fuel economy, so there is a lot of really exciting things happening around Ford Motor Company right now and it puts a little bump in everybody's step to win a race here at their home track." YOU HAVE 19 WINS IN CUP, NATIONWIDE AND TRUCK SERIES RACES HERE AT MICHIGAN?  "I knew there had been 10 Cup and was thinking this was five or six Nationwide wins and I wasn't sure about the Trucks, but we've certainly had much more than our share of good fortune here and it seems like it's a race track that suits our cars and suits the driving style that was originally initiated in the program with Mark.  He liked racing big, fast, high-banked places where you could race three-wide and passing clean was always important to him.  We've just rode a wave that has created an expectation.  I think everybody gets suited up to go do something more than what they might otherwise be able to do whenever we come to Michigan – everybody on the teams." CARL EDWARDS CONTINUED – DID YOU CHANGE ANYTHING ON THE CAR AFTER QUALIFYING? "With the way the rules are we can't change very much after qualifying, so in the Nationwide Series we essentially qualify the race setup, so when we qualify well, it usually means we're going to run very well.  So not much was changed from qualifying and the car was really good."
JACK ROUSH CONTINUED – ARE YOU USING THE AUDI WIND TUNNEL IN GERMANY FOR TESTING?  "We've searched the world for resources and for help with our programs and you do have it right, the best wind tunnel that we've found in the entire world is the Audi wind tunnel in Stuttgart and we go over there whenever we can and test, hopefully with our competitors not knowing what we're up to, but from time to time we're in Stuttgart and have more confidence in the data and get things that are more representative of what happens on the race track at that wind tunnel than anyplace in the world."
CARL EDWARDS CONTINUED – THE TOYOTA GUYS COMMENTED ABOUT THE ENGINE CHANGE.  WHAT IMPACT DO YOU THINK IT HAD ON THE RACE TODAY AS FAR AS POWER?  "Well, it kept them from having a giant advantage the whole day like they've had for the first half of the year.  To me, I like the change that they made.  I think it leveled the playing field.  I didn't feel like when I was racing with Tony or Brian that one of us had a big advantage.  I thought it was pretty even, so we work really hard on our cars just like they do.  We've worked with a little bit of a deficit in the engine department and I'm just happy with the change that NASCAR made and I think the racing you saw today and the parity out there was a result of that."
JACK ROUSH CONTINUED – "Being absolutely clear, when NASCAR approved the Toyota engine, they gave them a bunch of considerations from a parameter point of view, a dimension point of view, that were outside the box in terms of what the Ford engine was.  The pushrods are straighter.  The camshaft is higher.  The pushrods are shorter.  The valve train is stiffer.  The cooling system works better.  All of those things were things that NASCAR uses discretion to approve that obsoleted the Ford engine and we can't make as much power as they do with the parts we have and right now we can't afford to obsolete all the parts that we have, so NASCAR, in the interest of fairness and balance in the competition from a potential point of view, after they went to great lengths to be able to check the engines to find out what they were doing, decided that they needed to rein Toyota in and that's what they did.  There's crying and complaining about it, but the problem was when they submitted the engine – Toyota had approved things that obsoleted, really, everybody else, and now we've all got the necessity to come back and re-design and obsolete our current engines in order to get competitive.  The error wasn't ours for getting behind, the error was in what Toyota offered and what NASCAR approved."
CARL EDWARDS CONTINUED – "And let's be clear, it's not a situation right now where Toyota is at a deficit to everyone else.  The situation is that they're back to even with everyone else and that's OK."
DREW BLICKENSDERFER CONTINUED – "It was frustrating for us on Saturday afternoons to run sixth with very good, balanced race cars with Carl Edwards.  Matt Kenseth, Carl Edwards, Greg Biffle, those guys run around Michigan with their eyes closed and to come here and have a balanced car – to finish fifth or sixth like we did at California was extremely frustrating.  So I think what you saw today was the guys that run up front on Sunday run up front on Saturday and it was very, very level."
CARL EDWARDS CONTINUED – HOW DID PLANTER'S COME ABOUT?  "It is cool.  Planter's is a Kraft brand and it's pretty neat for them to sponsor a car.  Anytime a sponsor does one race it makes me nervous because anything can happen in one race and it's not very often you get a win.  So I've shelled a lot of peanuts and ate a lot of peanuts over my racing career, even though some people say it's bad luck, they're just good and I couldn't get past that.  So it's cool to have them on board.  If that would have been a peanut wrapper on the grille at that one point in the race and that would have cost us the race, then that would have been bad luck, but I don't think it was.  I think it was a hot dog wrapper or something."
JACK ROUSH CONTINUED – "Occasionally it happens that a one-off race sponsorship results in a win and we had the same thing with Carl with Scotts and, of course, it matured to a long-lasting relationship and we anticipate and work for the same thing with Planter's and Kraft to make it an expectation that we could be up front and give them good value for their sponsorship dollar."
CARL EDWARDS CONTINUED – WHY DID YOU DO THE BACKFLIP WITH YOUR HELMET AND HANS DEVICE ON?  "Yeah, it was not a pretty backflip.  I don't know,  I had it on and then it was kind of time to get out of the car so I figured I'd just try it with my helmet on and I haven't done that for a while, so that's what happened.  I didn't really have a plan.  I was just real excited."