Evo challenge heads to the valleys
It's a return to gravel forest roads just three weeks after the first of two asphalt rallies, for the round four of the 2008 Mitsubishi Ralliart Evolution Challenge, where the championship for production specification Mitsubishis heads to mid-Wales for the Severn Valley National Rally.
Top Evolution Challenge seed is round-one winner David Bogie who will certainly be looking to return to his early season fortunes, having rolled his gravel spec Lancer on round two and his tarmac spec Lancer on round three.
Round-two winner Richard Cathcart has set a steely pace this season and is a force to be reckoned with this weekend.
Championship leader Daniel Barry starts third and after scoring three podium finishes in three events, will be out to defend his position.
Icelandic Rally Champion Daniel Sigurdarson almost destroyed his Lancer in what was his first ever tarmac surface rally. Such is his commitment to the Evolution Challenge, he and his team have worked solidly for the past three weeks to prepare his car for this weekend's event.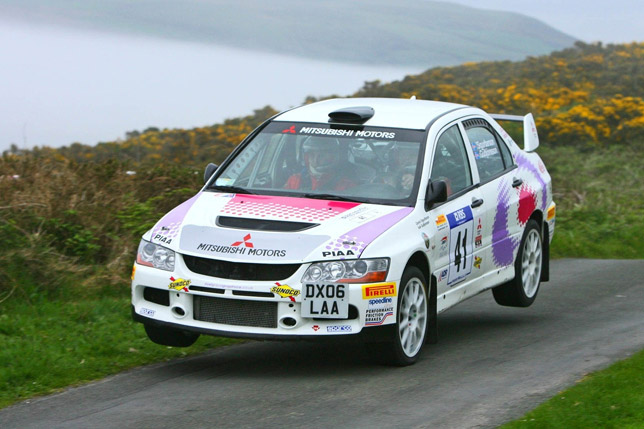 The Severn Valley National Rally is based in Builth Wells, starting and finishing at the Royal Welsh Showground. The event features eight stages during Saturday, totalling 65 competitive miles, in forests which provide some of the best rallying in the UK.
The 2008 Mitsubishi Ralliart Evolution Challenge is supported by Mitsubishi Motors UK and Ralliart, with support from its associate sponsors: Pirelli tyres, Speedline Corse wheels, Sparco racewear, Performance Friction Brakes, Sunoco Race Fuels, ADR Motorsport, Walkinshaw Performance and PIAA lights, who sponsor the junior award for under 25 year old drivers.
Mitsubishi Ralliart Evolution Challenge - Round Four (Entries in start number order)
| | |
| --- | --- |
| 9 | David Bogie (Dumfries)/Kevin Rae (Hawick) J |
| 10 | Richard Cathcart (Enniskillen)/Martin Brady (Navan) |
| 12 | Daniel Barry (Enniskerry)/Mark Bowens (Cork) J |
| 16 | Nik Elsmore (Coleford)/Paul Wakeley (Llanelli) |
| 18 | Jonathan Greer (Carryduff)/Jonny Hart (Moneyrea) J |
| 19 | Neil McCance (Comber)/Graham Hopewell (Worcester) |
| 20 | Daniel Siguardarson (Iceland)/Asta Sigurdardottir (Iceland) |
| 23 | Simon Harraway (Weston-super-Mare)/Craig Drew (Bream) |
| 26 | Keith Cronin (Cork)/Greg Shinnors (Limerick)J |
| 29 | Miles Johnston (York)/Ian Bevan (Holywell) |
| 35 | Jonathan Sparks (Glastonbury)/Chris Davies (Abergavenny) |
Championship Positions after round three
| | | |
| --- | --- | --- |
| Pos. | Name | Points |
| 1 | Daniel Barry | 28 |
| 2 | Neil McCance | 23 |
| 3 | Nik Elsmore | 20 |
| 4 | Richard Cathcart | 18 |
| 5 | Keith Cronin | 16 |
| 6 | David Bogie | 15 |
| 7 | Seb Ling | 8 |
| 8 | Miles Johnston | 8 |
| 9 | Jonny Greer | 7 |
| 10 | Jonathan Sparks | 6 |
Evolution Challenge returns to the forests, three weeks after asphalt round
Three winners in three events sees championship wide open