evstores brings high performance Lithium-ion Tazzari to the UK
evstores has been selected to distribute the Italian-manufactured electric Tazzari ZERO in the UK and Ireland, adding to evstores' growing range of exciting electric vehicles.
Based in Modena in Italy, the home of exotic sports cars like Ferrari, Lamborghini and Maserati, the Tazzari Group plans to manufacture the innovative, stylish super mini the environmentally conscious urban enthusiast. Tazzari believes that "Made in Italy" will stand for "Best in Class" in the electric vehicle market as well.
The sporty, aluminum-bodied Tazzari ZERO delivers zero emissions, has a top speed of 56 mph and a number of creature features, such as a removable sunroof, heating and leather interior, stereo radio with MP3 and CD player, 15" custom colored wheels, al-round performance disc brakes, fog lamps and leather seats.
Using state-of-the-art lithium-ion batteries the Zero promises a range of up to 88 miles and will recharge in around 6 hours from the mains or in 50 minutes with optional super-fast battery charger.
The Tazzari ZERO will be introduced in December 2009 at the Bologna International Motor Show and will be on sale in o the UK immediately thereafter. The Tazzari ZERO - Ecological, Electric and Dynamic -- is an exciting response to our congested and polluted urban centers.
evstores will start taking deposits from this summer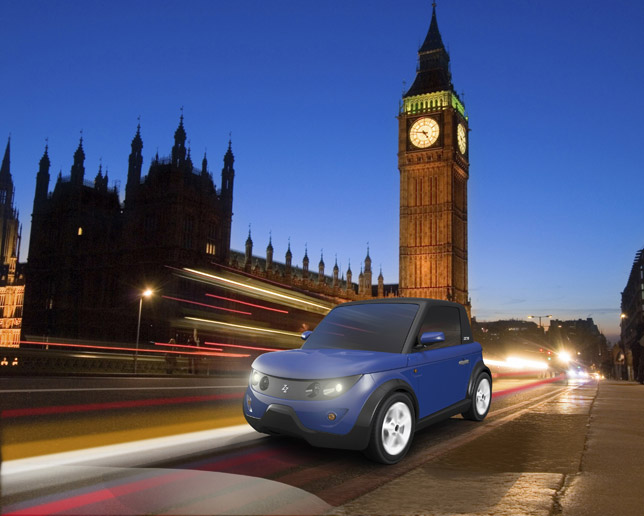 TAZZARI ZERO - STANDARD & OPTIONAL FEATURES
* 15" alloy wheels - available in 3 colours: * anthracite (standard) - white (optional) - black (optional) * Electronic anti-theft device with remote control and immobilizer * Window raiser - antipanic device - disconnectable siren (optional) * Radio stereo RDS with mp3 and CD player * Removable, venting ultraview sunroof * Eco-leather seats * LED tail lights * Rear fog lamp * Reversing light * Standard battery charger (standard) - charge time: 9 hrs. (single-phase power supply) * Multifast battery charger (optional) - charge time: 6 hrs. (single-phase power supply) * Superfast battery charger (optional) - charge time: 80% in 50 mins. (3-phase power supply) * Cup holders * 12V outlet for phone recharge - Max 50W
PRICE
* Expected price circa £18,000 (pre Government rebate)
KEY SPECIFICATIONS
* Body type 2-door * Length 2884 mm / 113,5" * Width 1550 mm / 61" * Height 1400 mm / 55" * Ground clearance 180 mm / 7" * Weight w/o batteries 400 kg / 882 lb * Weight w/batteries 542 kg / 1195 lb * Payload 195 kg / 430 lb * Maximum speed (electronically limited*) 80* (50) km/h / 56* (56) mph * Acceleration 0-31 mph < 5 seconds * Luggage capacity (litres) 2 luggage areas with 160 litre capacity * Estimated range / Economy drive 140 km / 88 miles * Tyres and wheels 175/55 R15
BATTERY SYSTEM
* Type Li-ion Fe * Charging time 9 / 6,5 h - 80% in 50 min. (with 3-phase power supply)
MOTOR
* Rear-wheel drive 3-phase asynch. motor * Maximum torque peak(Nm) 150