Exhaustive revision for entry level Audi A5
180PS version of all-new 2.0 TFSI engine brings improved performance and reduced emissions to lead-in Audi coupé.
- New 2.0 TFSI 180PS engine replaces 1.8 TFSI 170PS unit in A5 range, and is positioned below existing 2.0 TFSI 211PS version
- Max power is raised by 10PS and delivered 800rpm earlier at 4,000rpm, peak torque is boosted from 250Nm to 320Nm and delivered equally low down at 1,500rpm
- 0-62mph in 7.8 seconds (8.4 seconds in A5 1.8 TFSI), top speed 148mph (143mph in A5 1.8 TFSI), combined mpg 42.8 (39.8 in A5 1.8 TFSI), CO2 for six-speed manual version 154g/km (169g/km in A5 1.8 TFSI)
- Available now in standard and Sport forms with front-wheel-drive and manual transmission for £26,710 OTR and £27,660 OTR.
The power base at Audi is changing yet again as a 180PS version of the all-new 2.0-litre TFSI unit takes over from the 1.8 TFSI in the A5 coupé – the latest step in an exhaustive engine development programme bringing average CO2 reductions of as much as 10 per cent for core Audi models within the past 12 months. The A5 2.0 TFSI (180PS) is priced from £26,710 OTR and will reach its first UK customers in October.
Derived from the 211PS version of the turbo charged 2.0-litre, four-cylinder FSI engine introduced earlier this month in the A5, and sharing its new, economy enhancing Audi valvelift technology, the new 180PS unit holds a 10PS power advantage over the 1.8 TFSI, and delivers its peak output 800rpm earlier. Torque also increases by 70Nm to 320Nm, which is available from 1,500rpm to 3,900rpm, ensuring that the A5 2.0 TFSI can out-accelerate its predecessor to 62mph by 0.6 seconds, taking 7.8 seconds to go the distance, and can continue to 148mph.
All-important fuel economy and emissions control have naturally taken a step forward compared with the outgoing model as well, the A5 2.0 TFSI registering 42.8mpg in the combined cycle test – a 3mpg or 7.5 per cent improvement over the 1.8 TFSI – and emitting 154g/km of CO2, down from the 1.8 TFSI's 169g/km – a 9 per cent reduction.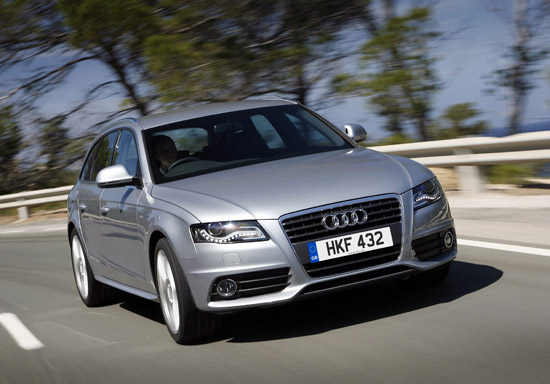 This enhancement to the A5 engine range is yet more evidence of the pursuit by Audi of a 20 per cent decrease in fleet-wide CO2 emissions by 2012, as pledged by Audi Board of Management Chairman Rupert Stadler. Within the past 12 months, Audi engineers have managed to make significant progress towards this target in the core ranges, reducing average CO2 output by around 9 per cent for the A5, 10 per cent for the A3 hatchback, 6 per cent for the A4 Saloon and 8 per cent for its Avant equivalent.
Standard specification for the new A5 2.0 TFSI 180PS includes 17-inch seven-spoke alloy wheels, 3-zone electronic climate control, a 10-speaker Concert CD audio system, full Milano leather upholstery and rear acoustic parking. Sport models with sports suspension ride 20mm lower on larger 18-inch 10-spoke V design alloy wheels, and inside upgrade to sports seats.
AUDI POWERS UP LATEST 2.0-LITRE TDI IN A4
Four-cylinder TDI model choice for A4 expands to three thanks to new 170PS version of latest 2.0-litre common rail TDI
New 170PS version of 2.0-litre common rail TDI engine joins 120PS and 143PS versions in A4 Saloon and Avant models
Latest generation engine features advanced common rail injection technology including sophisticated piezo injectors for optimum efficiency
Offered with front-wheel-drive and quattro all-wheel-drive, and in conjunction with SE or S line specification priced from £24,600 OTR to £27,175 OTR
A4 2.0 TDI 170PS @ 4,200rpm, 350Nm @ 1,750-2,500rpm - Saloon manual 0-62mph in 8.3 seconds, top speed 143mph, combined mpg 53.3, CO2 140g/km
A trio of latest generation 2.0-litre TDI engines characterised by frugality and refinement is now available for the Audi A4 following the recent introduction of a third, 170PS version of the highly regarded common rail piezo-injected four-cylinder unit. The new A4 2.0 TDI 170PS slots in to the Saloon and Avant ranges above the recently introduced 120PS and 143PS versions and is available in front-wheel-drive and quattro all-wheel-drive forms priced from £24,600 OTR.
With an output of 170PS, and 350Nm of torque delivered via a six-speed manual transmission from just 1,750rpm, the front-wheel-drive A4 2.0 TDI 170PS combines the ability to touch 62mph from rest in 8.3 seconds and continue to 143mph with 53mpg-plus economy potential and low CO2 output of 140g/km.
The new unit will be available in combination with SE or S line specification, each offering features including three-zone climate control, a 180-watt Concert CD audio system with 6.5-inch colour display and automatic headlight and wiper operation. Xenon headlamps with the LED strip daytime running lights that are now synonymous with Audi are reserved for the more performance oriented S line versions with their exclusive S line body styling and sports interior.
Audi UK has enjoyed an exceptionally rapid rise to prominence in the premium sector. Since 2000, when just over 43,000 Audi models found homes in the UK, the brand has consistently broken its annual sales records year-on-year, and in 2007 successfully passed the milestone 100,000 sales barrier. It is continuing to perform exceptionally well in a declining market by extending its reach into important new segments with strong offerings such as the A3 Cabriolet, A5, RS 6, Q7 and R8, and by consolidating its presence in its traditional heartland with core models like the all-new A4 and A4 Avant.
Audi engine tally expands again – Two new engines have opened up even more options for A4 and A5 customers – a new 170PS version of the latest common rail 2.0-litre TDI now powers A4 models priced from £24,600 OTR, and the A5 coupe adopts a new 180PS version of the latest high-tech 2.0-litre TFSI with Audi valvelift technology. The new A5 2.0 TFSI (180PS) is priced from £26,710 OTR.