Vodafone McLaren Mercedes F1 Monaco: Free Practice
Vodafone McLaren Mercedes driver Lewis Hamilton emerged fastest overall from Thursday's two free practice sessions for the Monaco Grand Prix. Lewis did 40 laps and posted a time of 1m15.140 which was more than a tenth of a second faster than last year's fastest race lap set by Fernando Alonso in a Vodafone McLaren Mercedes. Heikki completed 39 laps and was fifth fastest with a 1m15.881. In the morning session, Lewis was second fastest with a 1m16.216 (27 laps) with Heikki being 0.044 seconds behind him in third place with a 1m26.248 (28 laps).
Lewis Hamilton
"I simply love Monaco and enjoy every single moment I get to spend on the track. The car felt great almost immediately and I was able to show a good pace from the very beginning. As the circuit evolved throughout both practice sessions we made some good progress with both the set-up and tyre evaluation. I spent the first session on the same set of tyres. There is a long way to go, but I enjoy this so much and we will work hard to continue making progress."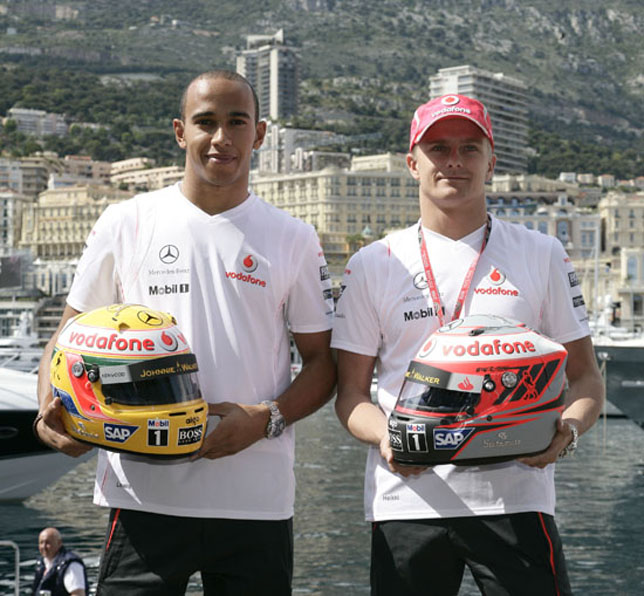 Heikki Kovalainen
"A positive start to the Monaco Grand Prix weekend, and I am confident there is still more to come. Towards the end of the second session when I put on a new set of tyres we had made some set-up changes which were not as positive as we thought they would be. In addition I wasn't pleased with my lap, so I am confident that we will continue to improve in Saturday's practice session. It's always great to drive around this track, and it's almost impossible to describe what it feels like. I can't wait for the rest of the Monaco Grand Prix."
Ron Dennis
"Two uneventful practice sessions which is always the best start to a Monaco Grand Prix weekend. We made good progress with both cars and evaluated the tyre options. There is still some work to do but we are looking forward to the weekend and will continue to work hard to add another victory to our 14 Monaco race wins. However it's not going to be easy as our competition is strong, and the weather might make things more unpredictable."
Norbert Haug
"A very good first practice day for us and a good job from all our team members. Lewis obviously feels at home in-between the guardrails; he was fast and didn't put a foot wrong today. Heikki's lap times looked good and consistent, too. In Saturday's qualifying we now want to build on the basis we achieved today. The weather forecast predicts rain for the race on Sunday, but on Saturday there is a chance for a dry qualifying."