F1 Monaco: Victory and Championship Lead for Lewis Hamilton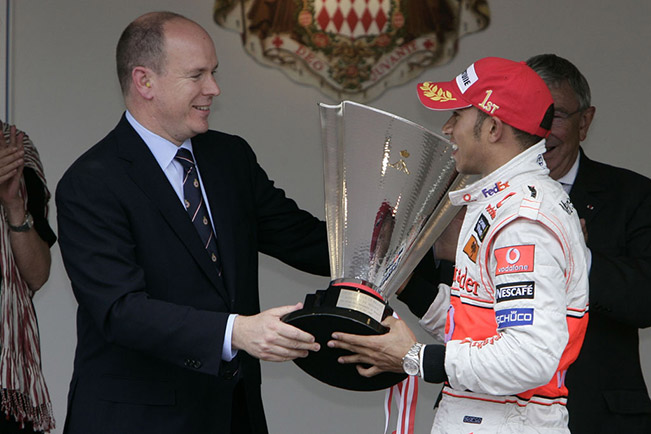 Vodafone McLaren Mercedes driver Lewis Hamilton won the Monaco Grand Prix and took the lead in the Formula One Drivers' Championship. After two hours and 76 laps (253.840 kms), he took the chequered flag 3.0sec ahead of Robert Kubica (BMW Sauber) and 4.8sec ahead of Felipe Massa (Ferrari). Lewis's team mate Heikki Kovalainen came home eighth. He was not able to engage a gear at the beginning of the formation lap and therefore had to start from the pit lane. It is Lewis' sixth Grand Prix victory and the second of the season after Australia. For McLaren it is the 15th victory in Monaco, and the sixth for the McLaren Mercedes partnership within 11 Grands Prix since Mika Häkkinen won in 1998. After the sixth of 18 Grands Prix, Lewis took the lead in the drivers' ranking with 38 points ahead of Kimi Räikkönen (Ferrari/35) who was ninth today. Heikki is sixth overall with 15 points. In the Constructors' Championship, Vodafone McLaren Mercedes moved up to second with 53 points; Ferrari leads with 69 points.
The start: Short before the race a light rain began to fall. Lewis and Heikki had qualified third and fourth respectively; both were on intermediate tyres. Lewis overtook Kimi Räikkönen at the start and was second after the opening lap, behind Felipe Massa. Heikki started from the pit lane, because he was not able to engage a gear at the beginning of the formation lap. The Finn was 19th after the first lap.
The race, lap 3: More rain began to fall.
Lap 6: At the Tabac corner, Lewis touched the barrier with his right rear wheel and damaged the tyre. He pitted (8.3sec) and resumed in fifth place whilst Heikki was 17th.
Lap 8: Following an accident of David Coulthard (Red Bull Renault) and Sébastien Bourdais (Toro Rosso Ferrari), the Safety Car was deployed. Lewis was now fourth and Heikki 15th.
Lap 10: Re-start.
Lap 14: Lewis was third and Heikki 13th.
Lap 23: Heikki improved to 10th place.
Lap 26: After Robert Kubica's pit stop, Lewis was now second.
Lap 30: Lewis reduced the gap behind leader Felipe Massa whilst Heikki got stuck in a group of four behind Jarno Trulli (Toyota).
Lap 33: Lewis took the lead when Felipe Massa pitted.
Lap 34: Heikki came in for his first pit stop (10sec) and dropped to 17th place.
Lap 49: Heikki came in for his second stop (7.4sec) and changed to dry tyres; he resumed in 13th place.
Lap 54: Lewis led with 37.6sec ahead of Felipe Massa when he came in for his refueling stop. He changed to dry tyres, rejoined the race after 7sec and maintained the lead. Heikki was 11th.
Lap 62: The Safety Car was deployed again after an accident of Nico Rosberg (Williams Toyota) and Lewis lost his 40sec gap.
Lap 67: Re-start. Lewis maintained his lead.
Finish (lap 76): Lewis won 3.0sec ahead of Robert Kubica and 4.8sec ahead of Felipe Massa. Heikki came home eighth. The race was cut short by two laps after the two-hour mark was reached.
Comments
Lewis Hamilton "I am absolutely over the moon. To win here in Monaco is the highlight of my career and an occasion I will always remember. I want to thank everybody in the team for their fantastic job, and also my family for their continuous support. It was a very eventful race. I started well and immediately overtook Kimi, and also saw a chance to attack Felipe, but then the rain got heavier and visibility worsened. At the Tabac corner, there was a lot of water on the track, and suddenly I had oversteer and hit the barrier. It was just a slight touch, but the tyre was damaged and I had to pit. Fortunately, the first Safety Car period helped me to close the gap to the front. We changed our strategy, and I had to make only one more stop. When I was about 40 seconds ahead the team told me over the radio to take it easy. The second Safety Car period brought more excitement, but I was able to control the race also after the second re-start. What a day and what a result !"
Heikki Kovalainen "An extremely difficult race with any chance of finishing in a top position already gone when I could not engage a gear at the start of the formation lap. Consequently I had to change the steering wheel in the pit lane from where I had to start my race. I tried to push as hard as I could, but could only go at my real pace when there was a gap. It is a pity, because my car was good and the speed was there. At least I scored one point at the end and now look forward to the next Grands Prix where I will go maximum attack to finish with good results."
Ron Dennis "Today was a great day – and a fantastic team performance. Our guys instigated a brilliant strategy change, under pressure, after Lewis touched the Tabac barrier and damaged his right rear tyre early in the race. Had Heikki not had a problem on the grid, we would have had the pace for a 1-2 finish. That was a disappointment for him and us, but he drove a fantastic race thereafter and his time will surely come. Lewis's sensational win has taken him back to the lead of the Drivers' World Championship - and we now go to Montreal, scene of his first grand prix win 12 months ago, in a strong position to continue our challenge for the Championships. A great victory for the team and all of our Partners."
Norbert Haug "Lewis was sensational and his performance was just terrific. We had the best strategy, the best speed and certainly a little luck as well. For me, this sixth victory in Monaco for McLaren and Mercedes and 54th in total together with McLaren is our greatest so far. Sorry for Heikki, without his problem in selecting first gear at the start of the formation lap he would have been a very strong contender for a podium finish – at least he scored one point. A big thank you to the whole team who worked so hard and to all our partners, particularly Vodafone for all their support. The fight for the championship is wide open, and we certainly want to go for it. "