F1 Sao Paulo: Lewis Hamilton World Champion
Vodafone McLaren Mercedes driver Lewis Hamilton is the 2008 Formula 1 World Champion. In a dramatic Brazilian Grand Prix with rain before the start and rain short before the finish, Lewis decided the title battle at the last corner of the 71-lap race, when he overtook Timo Glock (Toyota) to secure fifth place which was enough to win the title. At the age of 23 years, nine months and 26 days, Lewis is the youngest champion in Formula 1 history. It is the third drivers' title for the McLaren Mercedes partnership after Mika Häkkinen winning the championship in 1998 and 1999. Lewis won the title with 98 points ahead of Felipe Massa (97 points) who won his home race. Vodafone McLaren Mercedes finished the Constructors' Championship runner-up on 151 points behind Ferrari on 172 points.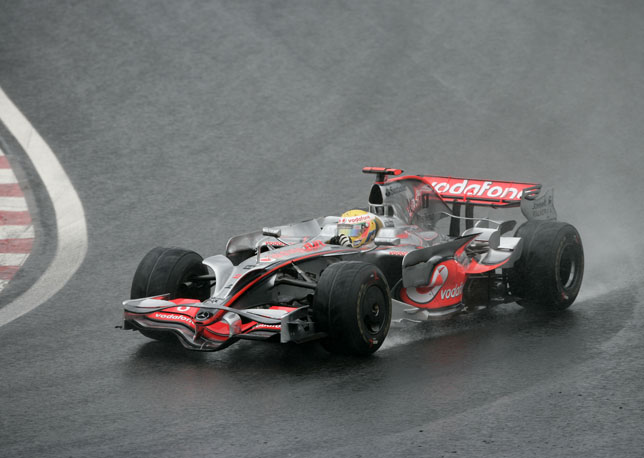 The start: Lewis had qualified fourth and Heikki was fifth on the grid. Because it rained heavily short before the start, race control delayed the begin of the formation lap by 10 minutes so that the teams could change tyres. At the start, Lewis maintained fourth place whilst Heikki dropped to seventh on the opening lap. Following an accident of David Coulthard (Red Bull Renault) and Nelson Piquet (Renault), the Safety Car was deployed. The race, lap 5: Re-start. Lewis remained fourth behind Massa, Trulli and Räikkönen. Heikki attacked Alonso, but stayed in seventh place. Lap 9: Vettel and Alonso came to the pits; Heikki moved up to fourth, but pitted the following lap (4.5sec) and dropped to 12th. Lap 11: Lewis came in for fuel and dry tyres (7.5sec); he resumed in seventh place. Lap 13: Lewis overtook Trulli and moved up to sixth place. Lap 18: At the beginning of this lap, Lewis outbraked Giancarlo Fisichella (Force India Ferrari) and was fifth Heikki was 12th. Lap 25: Heikki was ninth now, but got stuck behind Fisichella and Trulli. Lap 27: Heikki overtook Trulli and then Fisichella and improved up to seventh. Lap 28: Following Vettel's pit stop Lewis moved up to fourth. Lap 36: Glock pitted and Heikki was now sixth. Lap 38: Another pit stop by Massa, Lewis moved up to third 14.8sec behind Alonso and Räikkönen. Lap 40: Lewis came in for the second time (8.9sec) and rejoined the race in sixth position behind Heikki who pitted two laps later (8.8sec). The Finn resumed in eighth place. Lap 51: Third pit stop by Vettel; Lewis was fourth and Heikki sixth. Lap 65: More rain. Heikki came in for intermediates (7.0sec). Lewis pitted one lap later (6.1sec). Lap 67: Lewis was now fifth and Heikki eighth. Lap 69: Vettel overtook Lewis who dropped to sixth. Finish (71 laps): Lewis passed Glock at the final corner and moved up to fifth which was enough to secure the title. Heikki came home seventh.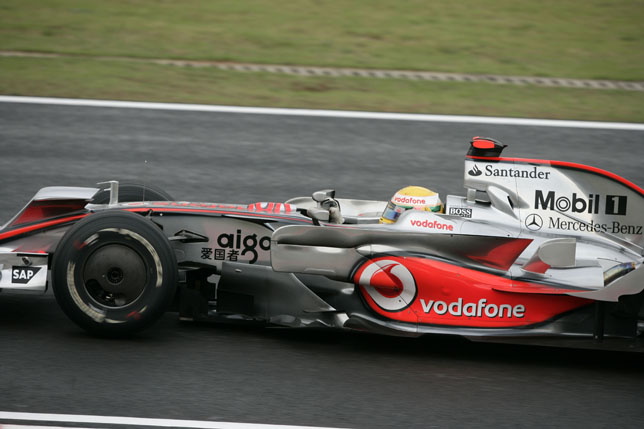 Comments
Lewis Hamilton "The most dramatic race of my whole life. It's pretty much impossible to put this into words: I'm still speechless. It's been such a long journey, but I've always had the support of my family, the team, our partners and the fans. We did a fantastic job throughout the whole year and, with all the sacrifices we made, I'm so thrilled to be able to win this for everyone. "Before it started to rain I was quite comfortable, and I was just focused on having a clean race. Then it started to drizzle and I didn't want to take any risks – but Sebastian got past me and I was told that I had to get back in front of him. I couldn't believe it. Then at the very last corner I managed to get past Timo – it was just amazing. This was one of the toughest races of my life, if not the toughest. I was shouting, 'Do I have it? Do I have it?' on the radio. It was only when I took the chequered flag and got to Turn One that the team told me I was world champion. I was ecstatic."
Heikki Kovalainen "The most important news today is that Lewis pulled it off; he did exactly what he had to do to win the championship. Everybody in the team deserves this title, particularly after what happened here one year ago, but the guys stayed focused throughout so congratulations to everyone. I'll now work even harder over the winter and hopefully next year's world champion will be on the other side of our garage!"
Ron Dennis "Well, that was a really tough race. We never pushed hard, we never did anything silly, but of course the late rain made things extraordinarily tense. Even so, even when Sebastian got past Lewis, we never gave up, and Lewis never gave up, because we knew that Timo was on dry tyres. Lewis took his chance brilliantly, and the result was one of the most thrilling finishes in sporting history. I'm so proud of Lewis; I'm so proud of the team; everyone – every single one of them – did an absolutely fantastic job. Thanks, also, to Mercedes-Benz and all our partners – and, last but not least, congratulations to Ferrari on winning the constructors' championship."
Norbert Haug "I am really, really happy for all of us at Vodafone McLaren Mercedes. Everybody in the team worked so hard throughout the year. Thank you all, guys. Lewis finally won the title with one point ahead of Felipe Massa after he lost it by one point last year to Kimi in his first one in Formula 1. Congratulations to him. Lewis showed a very disciplined race today and I can imagine how hard it was for a driver like him who wants to win every race that he had to drive carefully to just get the necessary points. Congratulations to Ferrari on the constructors' title; this was a truly remarkable year for Formula 1."