F1 Shanghai: Lewis Hamilton Wins and Extends Overall Lead
Vodafone McLaren Mercedes driver Lewis Hamilton won the Chinese Grand Prix in Shanghai and will now head into the seasonal finale in Brazil at Sao Paulo in two weeks with a seven-point advantage over Felipe Massa (Ferrari), his sole challenger for the world title who finished second today. Starting from his seventh pole position of the year, Lewis set the fastest lap of race and won with a gap of 14.9sec over Massa. Lewis led 53 of the 56 laps (305.066 km), Heikki Kovalainen led the other three laps but retired on lap 50 due to a problem with the air consumption of the pneumatic valve control system. Lewis now leads the overall rankings with 94 points, Massa is second on 87. Heikki is seventh on 51 points. After 17 out of 18 Grands Prix, Vodafone McLaren Mercedes remains second in the constructors' championship with 145 points; Ferrari leads with 156 points.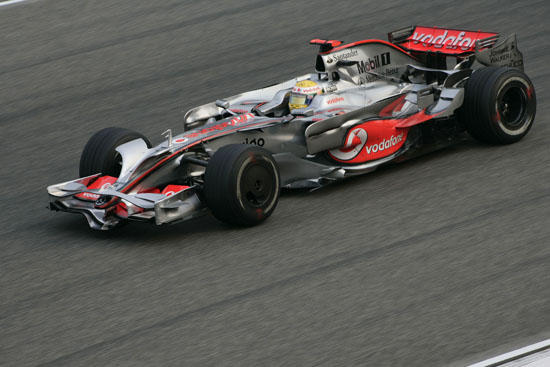 The start: For the seventh time this year, Lewis started from pole position whilst Heikki was fifth on the grid. Lewis accelerated into an immediate lead whilst Heikki fought with Fernando Alonso (Renault) for fourth place and was fifth after the opening lap.
The race, lap 10: With five fastest laps during the first 10 laps, Lewis increased his gap ahead of Kimi Räikkönen to 3.9sec. Heikki was fifth. Lap 13: Lewis posted the fastest lap of the race: 1m36.325. Lap 14: Following the respective first pit stops of Felipe Massa and Fernando Alonso, Heikki moved up to third. Lap 15: Lewis pitted from the lead (9.3sec) and resumed in third place whilst Heikki was in the lead ahead of Nick Heidfeld (BMW Sauber). Lap 18: Heikki came in for the first time (10.3sec) and dropped from first to seventh; Lewis was back in the lead. Lap 25: After the pit stops of Nelson Piquet (Renault) and Robert Kubica (BMW Sauber), Heikki was again fifth. Lap 35: Due to a puncture at his right front tyre Heikki had a short off at the beginning of the lap; for almost an entire lap he drove slowly back to the pits, was stationary for 10.1sec and dropped to 17th place. Lap 38: Lewis and Kimi Räikkönen pitted simultaneously; Lewis rejoined the race after 6.8sec and maintained his lead. Lap 50: Whilst Lewis had a lead of 16.6sec ahead of Massa, Heikki came into the pits from 15th place and retired due to a problem with the air consumption of the pneumatic valve control system.
Finish (56 laps): In his 34th Grand Prix, Lewis achieved his ninth win in Formula 1.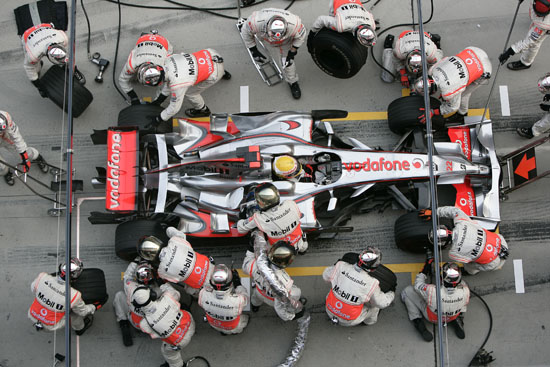 Comments
Lewis Hamilton "Everything just went right this weekend: our car has been simply phenomenal, I made one of my best-ever starts and had perfect balance during the race. I owe so much of that to the guys in the team – both at the track and back home; they did an amazing job so a big thanks to them. I've got a seven-point lead in the world championship, but that doesn't allow me to take anything for granted. It might be another step towards my dream but we've still got to stay calm and keep our heads. I just hope we can pull through."
Heikki Kovalainen "I made a good start, got past Fernando and almost got alongside Felipe. Fernando managed to repass me before Turn 14 and I settled down in fifth. I had a lot of understeer during my first stint and tried to improve things during the first stop by raising the front wing angle. Later, I was still running in the points when I had a puncture early on in the lap – it cost me a lot of time driving slowly back to the pits and I knew it would be an uphill struggle for the rest of the race. In the closing stages, I had a problem with the pneumatic system so the team called me in as a precautionary measure. We still have a chance to win the constructors' championship in Brazil, so I'll definitely be going for it in Sao Paulo."
Ron Dennis "No-one will be surprised to hear me describe today's Vodafone McLaren Mercedes team performance as a tremendous one, because that's exactly what it was. In difficult circumstances we never allowed our focus to waver, and we paced ourselves carefully throughout. Lewis did a truly fabulous job, as did our entire team. Our race strategy was extremely solid too, but the key message from China that we take forward to Brazil is that we qualified extremely well despite the fact that our cars were fuelled longer than those of our principal opposition, which clearly demonstrates the inherent pace of our car. Heikki's first stint was compromised by the fitting of a set of mismatched tyres, which caused his car to understeer. After his first stop, a punctured tyre then forced an unscheduled pit stop before an air pressure problem with his engine caused us to retire him in order to avoid risking an engine failure."
Norbert Haug "Great – a more convincing win is hardly possible. What an excellent victory for Lewis and the team, and what a well deserved one. Pole, win and fastest lap, Lewis demonstrated his skills and was clearly the man of the race and the whole weekend. He made a perfect start and controlled the field, never putting a foot wrong and the team executed a perfect strategy. I am sorry for Heikki, he first had a puncture, which cost him a lap, and later we had to call him in as a precautionary measure as the air consumption in his engine was too high. We are now looking forward to an exciting finale in Brazil and everybody in the team is working hard to score enough points to win the world championship."