F1 Singapore: Lewis Hamilton Extends Championship Lead with Third Place
Vodafone McLaren Mercedes driver Lewis Hamilton finished the inaugural Singapore Grand Prix, the first night race in Formula 1 history, in third place. After 61 eventful laps (309.087km) with two Safety Car periods, Lewis came home 5.9sec behind winner Fernando Alonso (Renault). Heikki Kovalainen ended up 10th. After 15 out of 18 races, Vodafone McLaren Mercedes took the lead in the Constructors' Championship with 135 points ahead of Ferrari with 134 points. Lewis extended his lead in the drivers' ranking to 84 points ahead of Felipe Massa (77 points) who did not score today. Heikki is sixth with 51 points.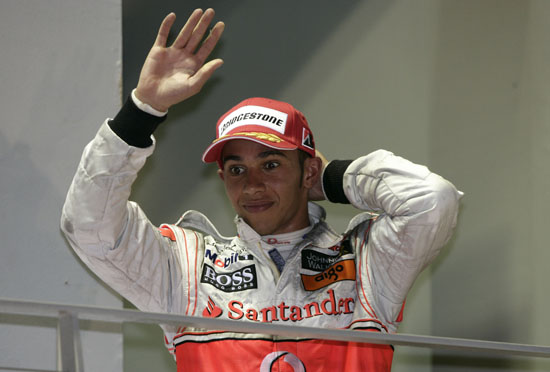 The start: Lewis was second on the grid and second after the opening lap. Heikki had qualified fifth and attacked Robert Kubica (BMW Sauber) at the first corner, but he was touched by Kubica at the second corner and lost two positions; he was seventh after lap one. The race, lap 10: Lewis was second with 3.3sec behind Massa; Heikki followed in seventh place. Lap 14: The Safety Car was deployed, following an accident of Nelson Piquet (Renault). Lap 17: The pit lane was opened and both Vodafone McLaren Mercedes pitted; Lewis was stationary for 11.5sec and Heikki 12.0sec. One lap later, Lewis was ninth and Heikki 15th. Lap 20: Re-start. Lewis was eighth and Heikki 14th. Lap 27: Stop-and-Go penalty for Kubica; Lewis was seventh. One lap later, he passed Mark Webber (Red Bull Renault) and improved to sixth. Heikki was 12th. Lap 30: Lewis moved up to fifth place, but got stuck behind David Coulthard (Red Bull Renault). Heikki got stuck behind Jenson Button (Honda) and was 11th. Lap 33: Jarno Trulli (Toyota) was the last driver to pit and Lewis was now fourth. Lap 34: Heikki came in for his second stop (8.4sec) and rejoined the race in 13th place. Lap 40: After the pitstop of Nico Rosberg (Williams Toyota) Lewis was third, one lap later he overtook Coulthard and improved to second. Heikki was 12th. Lap 42: Lewis pitted for the second time (7.7sec) and was now seventh. Lap 50: All drivers had completed their pit stops; Lewis was now third and Heikki 11th. Lap 51: The accident of Adrian Sutil (Force India Ferrari) caused a second Safety Car period. Lap 54: Re-start. Finish (61 laps): Lewis ended up third; Heikki was 10th.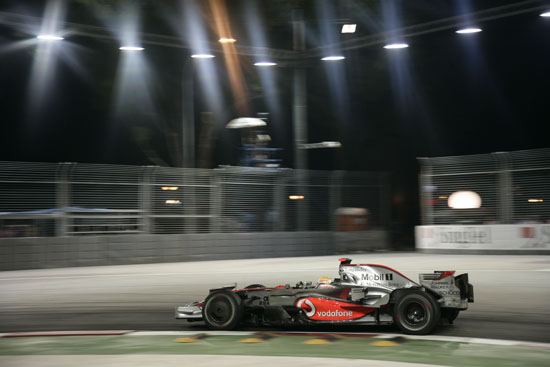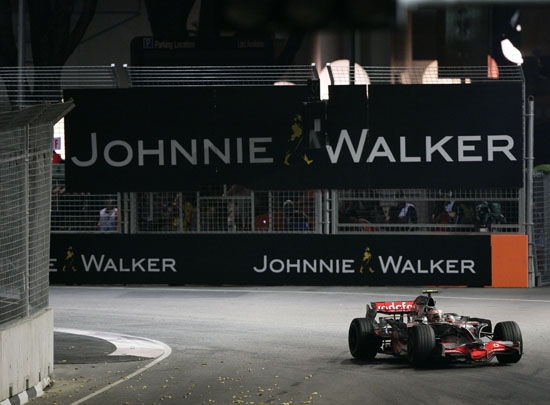 Comments
Lewis Hamilton "A positive end to a difficult weekend at this fantastic new venue. I started well, but then my rear tyres faded and, although we had good pace, I wasn't in a position to challenge Felipe ahead of me. During my first pit stop I lost a bit of time because everybody came in due to the Safety Car period. After that I was unfortunately stuck behind David and although I was clearly faster it was really difficult to overtake him. After the second re-start, I tried to stay as close as possible behind Nico; however, I didn't want to take chances – particularly as the Ferraris were outside the points. Also, this is not a track where overtaking is easy. The first night race in Formula 1 history was great fun, and I now look forward to the forthcoming double-header in Japan and China."
Heikki Kovalainen "I made a good start and was going to pass Kubica round the outside at the first two corners. Unfortunately he touched me and almost spun me around. My underfloor was slightly damaged as a result. I lost momentum and two cars overtook me. When the Safety Car came out and the pitlane was opened a couple of laps later, Lewis and I came in and I had to wait behind him until it was my turn. It then was a strange race and most of the time I was in traffic with no overtaking chances. Halfway through the race I had brake problems and had to conserve them until the finish. I'm happy for Lewis and the team now that he has extended the championship lead and we are on top of the Constructors' rankings. I will now go for it in the next races and help to make sure that we stay ahead in both championships."
Ron Dennis "Today's race was a very exciting one, full of incidents, triggering Safety Car interventions that had a significant influence on the final outcome. In the last few laps, having seen Kimi's accident, we advised Lewis not to attempt to overtake Nico but instead to settle for third place and the seven-point lead in the Drivers' Championship that the resulting six points netted him. Heikki's race was spoiled by having to queue in the pits. Overall, then, the 2008 Singapore Grand Prix was a hugely successful event, and we're delighted to have emerged from it with the lead in both the Drivers' and the Constructors' Championships."
Norbert Haug "A great Formula 1 premiere at night. Lewis extended his championship lead with third place which is a good result. Vodafone McLaren Mercedes leads now in the Constructors' rankings as well which is also not bad. Thank you to the organisers and Bernie and his team for their efforts – this spectacular event will create a big response."