F3 star puts pro_cee'd through its paces
Rapidly rising F3 star Alex Waters has swapped his single-seater for the style and practicality of a Kia pro_cee'd when he is away from the track.
Normally used to the extreme speed and handling of an F3 car, Alex has been overwhelmed by the performance on his new 2.0-litre CRDi pro_cee'd Sport.  "I had never been behind the wheel of a Kia before and have been really surprised by the pro_cee'd.  Not only does it look the part but it handles well, has precise steering and gives me lots of grip through the corners" he said.
Paul Philpott, Managing Director Kia Motors (UK) Limited commented: "We are delighted to support a rising star like Alex and his clear ambitions for the future reflect Kia's bold targets in the UK market.
"Partnerships like this one help to raise awareness of the Kia brand amongst motor sport fans and although we do not currently have any plans to move into racing it's not something that we have ruled out for the future."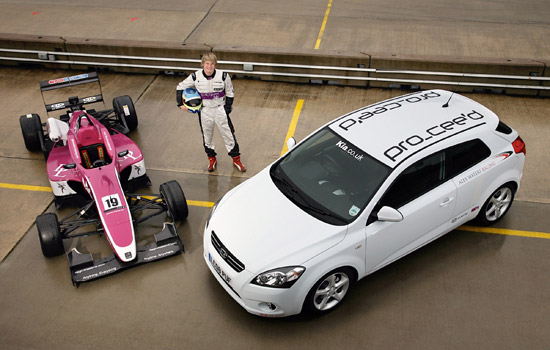 The majority of Alex's testing takes place in Europe and he has been so impressed with his new pro_cee'd that rather than fly to his latest test at Spa in Belguim, he drove his pro_cee'd on the 1,000 mile round trip.  Commenting on the drive Alex said "When the car was delivered to me it had very few miles on the clock but with each mile I clock up, the pro_cee'd just gets better and better.  Reliability is vital in this business and being fresh and 'ready to go' is a must – the pro_cee'ds easy cruising and punchy diesel engine gave me that certainty."
Alex is a keen sportsman aside from motor racing, recently completing the Race Across America – an annual cycle race taking in over 3,000 miles from the west to east coast.  During his preparation back home in the UK, Alex's pro_cee'd proved to be the ultimate training companion, transporting his bikes to and from various locations with absolute ease.
Alex, at only 21, has already endured and won a battle with cancer and works hard to support Clic Sargent – a charity caring for young people and their families suffering from the illness.