Farfus and Porteiro score home wins for BMW in Oschersleben.
Augusto Farfus (BR) and Félix Porteiro (ES) gave BMW a successful home event in the FIA World Touring Car Championship by scoring two wins at the "Motorsport Arena Oschersleben". In the 15th round of the season, BMW Team Germany's Farfus claimed victory from Chevrolet's Robert Huff (GB) and Alain Menu (CH). In the second race of the day, Porteiro made the best use of pole position to celebrate his second WTCC win for BMW Team Italy-Spain. The 24-year-old was joined by SEAT's Tom Coronel (NL) and Huff on the podium.
BMW Team UK's Andy Priaulx (GB) was pushed out of race one by SEAT driver Gabriele Tarquini (IT). But the reigning champion proved his fighting spirit and moved up from 26th to fifth in race two. BMW Team Germany's Jörg Müller (DE) didn't make it to the finish in the first round and was forced to leave Oschersleben empty-handed, after coming ninth in race two. Alessandro Zanardi (IT) finished 12th and 19th for BMW Team Italy-Spain. In the Drivers' Championship, third placed Priaulx with 53 points remains the best-placed BMW driver. In the manufacturers' classification, BMW gained some ground on SEAT but still lies second in the standings with 192 points.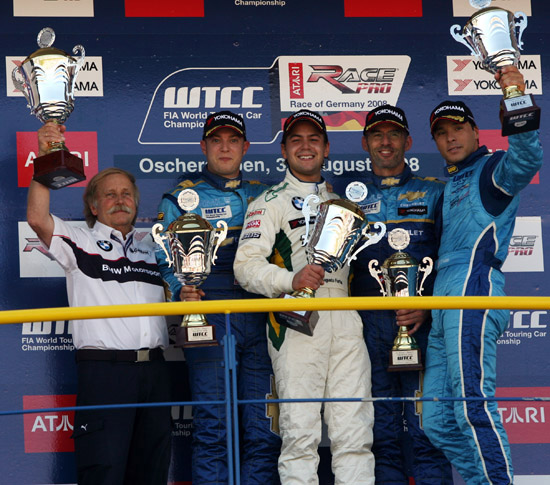 Augusto Farfus (BMW Team Germany):
"We really needed this success. In qualifying we were not where we should have been. But the pace of my car was just so good that I was still able to score my second consecutive win in Oschersleben. My great start was the key – everything just went perfectly."
Félix Porteiro (BMW Team Italy-Spain): "My second WTCC victory, 11 points in BMW's home event and sixth in the championship: This was a perfect weekend for me. Tom Coronel gave me a hard time, but I successfully defended the lead. Many thanks to my team. We have managed to improve a lot over the course of the season."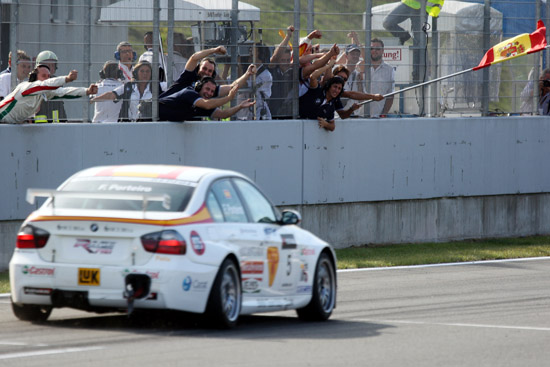 Andy Priaulx (BMW Team UK): "I never give up and this just shows what determination does for you. I felt it was inexcusable behaviour by a professional driver that led to my crash in race one. However, I then started race two very fired up."
Jörg Müller (BMW Team Germany): "I had worked out a different script for my home races. In race one I had a good start but got involved in a collision, which meant the left front suspension of my car was damaged. The start for the second race was great as well, but then Yvan Muller turned out to be a nut too hard to crack!"
Alessandro Zanardi (BMW Team Italy-Spain): "I'm really happy for my team-mate Félix Porteiro. He worked hard and today earned his reward for all his efforts. I might have scored points in the second race, but after the accident at the start my car was very difficult to handle."