Ford Adds Economy, Power And Convenience To New Kuga Range
Ford is set to expand the appeal of the popular Kuga crossover with the addition of three new models providing lower CO2, automatic transmission, and greater power and torque.
Retaining the style and refinement of the existing Kuga 2.0-litre TDCi, but with a CO2 output of just 159g/km, the new front-wheel-drive version delivers both enhanced fuel economy and cost benefits for business users.
As legislation changes in April next year, Kuga 2WD will especially benefit business customers who will be eligible for a 20 per cent annual write down allowance against Corporation Tax for a car with less than 160g/km CO2 (compared with 10 per cent over 160g/km).  Customers will also benefit from the model's improved fuel economy as it falls into the new sub-160g/km banding for Vehicle Excise Duty.
Ford has also added new performance flagships to the Kuga range, pairing intelligent AWD with the acclaimed 2.5-litre Duratec engine found in the Focus ST, Mondeo and S-MAX. With 200PS and linear torque of 320Nm (between 1,600 and 4,000rpm) the five-cylinder petrol-engined Kuga powers from standstill to 62mph in just 8.2sec and on to a top speed of 129mph when mated with the six-speed manual transmission. A five-speed automatic transmission is alternatively available with this engine.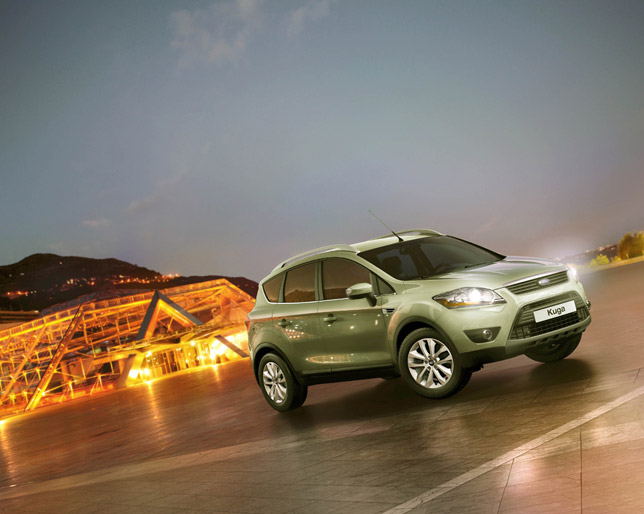 Downsizing is a relatively recent market development. The Kuga 2.5-litre petrol targets those customers migrating from large SUVs who are unwilling to sacrifice performance and style. The large SUV segment in particular has fallen substantially year on year.
Optional run-flat tyres add to the array of premium features, which also include rear- facing reversing camera, panorama glass roof and DAB radio.
Fuel consumption 1999/100/EC 2 MPG*

CO2 combined mode

0-62mph

Top speed

Urban

Extra Urban

Combined

g/km

seconds

mph

2.0l Duratorq (136PS) TDCi, 2WD

36.7

55.4

46.3

159

10.6

113

2.0l Duratorq (136PS) TDCi, AWD

34.9

52.3

44.1

169

10.7

112

2.5 Duratec 6-spd manual (200PS) AWD

20.3

37.2

28.5

234

8.2

129

2.5 Duratec 5-spd auto (200PS) AWD

19.4

36.2

27.4

244

8.8

126
Prices from:
ZETEC

2.0l Duratorq (136PS) TDCi, 2WD

£18,595.64

2.0l Duratorq (136PS) TDCi, AWD

£20,460.64

TITANIUM

2.0l Duratorq (136PS) TDCi, 2WD

£20,553.09

2.0l Duratorq (136PS) TDCi, AWD

£22,418.09

2.5 Duratec 6-spd manual (200PS) AWD

£23,788.30

2.5 Duratec 5-spd auto (200PS) AWD

£24,962.77
*Note: Fuel economy figures quoted are based on the European Fuel Economy Directive EU 80/1268/EEC and will differ from fuel economy drive cycle results in other regions of the world