Ford selects Quaife differential to help deliver 300bhp for latest front wheel drive Focus RS
A motorsport-derived Quaife Automatic Torque Biasing differential, developed to work with innovative Ford RevoKnuckle suspension, allows one of the highest FWD outputs of any production car, with almost zero torque steer.
Differential technology from Quaife has helped Ford overcome one of the most challenging aspects of high performance Front Wheel Drive (FWD) cars. With its 2.5 litre five cylinder turbocharged engine producing 300bhp (305PS) and 324lbft (440Nm) of torque, the new Focus RS is one of the most powerful front wheel drive production cars ever, yet it's combination of Quaife Automatic Torque Biasing differential and new Ford RevoKnuckle suspension allows beautifully weighted steering with almost no torque steer, even under full acceleration out of corners. "Ford wanted to retain front wheel drive because it is lighter and more efficient than four wheel drive and for many it gives a more tactile driving experience," explains Quaife technical director Michael Quaife. "The problem was how to put so much power through the front wheels without tremendous issues with traction and torque steer."
The solution chosen by Ford is a partnership between its new RevoKnuckle suspension and a Quaife Automatic Torque Biasing limited slip differential (ATB). RevoKnuckle uses the existing MacPherson Strut architecture, but with a new two piece knuckle that incorporates an innovative 'C' shape lower suspension mount. This creates a king-pin offset less than half that of a conventional McPherson system with wide track - in effect, moving the turning line of each wheel closer to the wheel centre - and provides significantly greater freedom to optimise suspension parameters such as caster, camber and trail. As well as substantially reducing torque steer, this new architecture is ideal for operation with a high-performance limited slip differential as it allows the benefits of the ATB to be maximised without compromising steering feel and smoothness.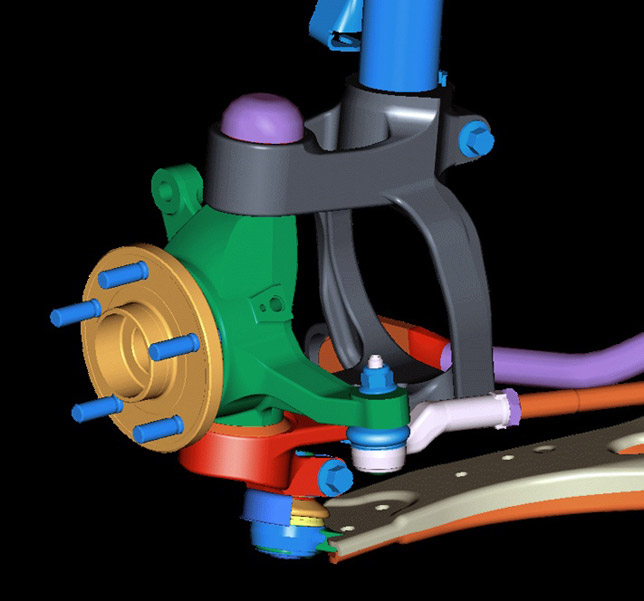 The Quaife ATB is a new development of technology thoroughly proven at the highest levels of motorsport. When one wheel starts to slip, the patented system automatically biases torque delivery to the wheel with most grip. In cornering, it maximises the amount of power that can be used by biasing torque distribution to the outside wheel. This combination of functions allows the driver to apply more power through corners and on loose surfaces and makes the vehicle substantially safer and more stable in difficult conditions.
Power is delivered to a sun gear on each drive shaft by a set of six helical planet gears (twelve in total) running within the input drive hub. As one wheel starts to slip, the torque differential across the two sets of planet gears increases, causing the set transferring the most torque to progressively lock. This reduces their rotational speed and progressively transfers more torque to the wheel with most grip.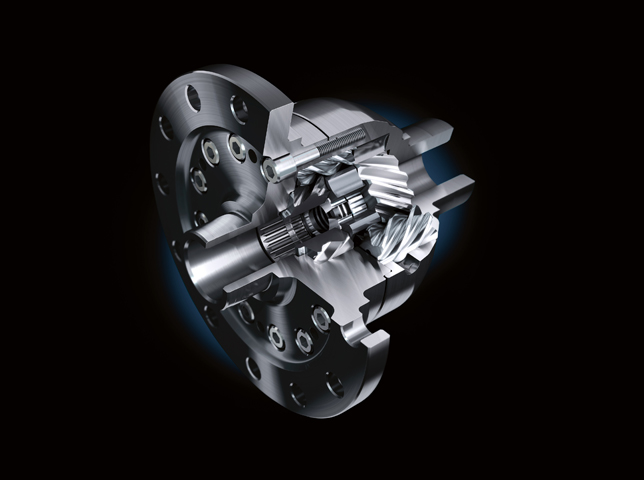 "We believe that only a helical LSD can provide an appropriately high level of functionality without compromising other aspects of dynamics, such as steering feel and refinement," says Michael Quaife. "Our system uses natural forces within a helical gear set so does not require the electronics or friction materials used in most other LSDs. It is a simple, highly robust solution that is also exceptionally effective."
The new version of Quaife's ATB has been engineered to maximise the synergistic benefits of its pairing with Ford's RevoKnuckle suspension. Quaife worked closely with Ford's vehicle dynamics team throughout the 18 month development programme, using computer aided engineering techniques to lighten and strengthen the existing design and adding a sixth planet gear to help handle the torque from the turbocharged engine.
Particular attention was paid to calibration of the torque biasing function to provide an appropriate blend of capabilities in the dry and wet for both road and track driving, and to ensure subtle intervention that feels natural to the driver.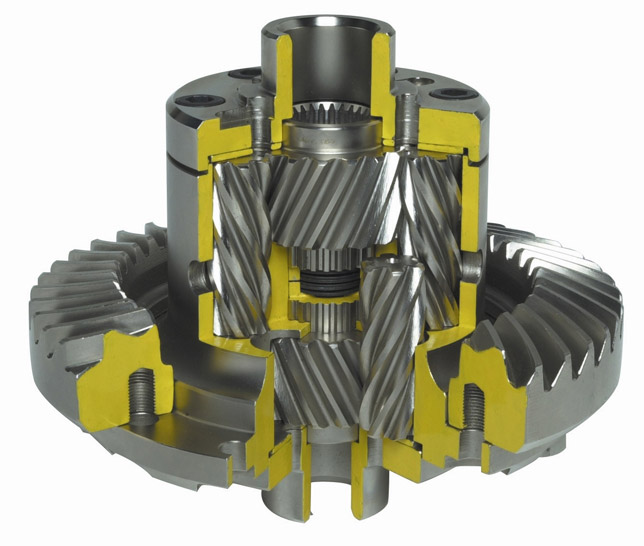 The new differential is manufactured in a recently constructed 23,000 sq ft (2,136m2) facility designed specifically for high performance roadcar programmes. "Our latest investments in manufacturing systems allow us to produce gearboxes and differentials in volumes from 5,000 per year to 50,000 per year, as well as a wide range of other specialist steering and transmission components," says Michael Quaife.
Quality standards are very high. According to Quaife, there were no warranty claims on the previous generation ATB fitted to the first Focus RS and much of the work on the new LSD has been to ensure a similar level of reliability. The Quaife provenance Rodney Quaife founded the company that bears his name in 1965 and was soon supplying five speed gear sets for Britain's two leading motorcycle manufacturers, Norton and Triumph. By 1975 they were producing driveline components for roadcars, including the Ford Escort RS2000, and developing a wide range of motorsport business leading to a Formula 1 victory in 1986 when Gerhard Berger won the Mexican Grand Prix in a Benetton, using a Quaife Automatic Torque Biasing differential. In 2000 they added the European Truck Racing Cup with Caterpillar Truck Racing running a Quaife differential. Since then, the technology has helped secure podium finishes across a wide range of motorsport series.
Roadcar programmes have included the original Ford Focus RS (2002), differentials for Chrysler (including the Dodge Viper) and General Motors and various driveline technologies for other vehicle manufacturers that must remain confidential. The Quaife limited slip differential is also increasingly popular with specialist vehicle builders converting standard roadcars for users such as the police and rescue services where it is used to improve off-road capability. Selected Quaife technologies are also available to enthusiasts for aftermarket applications.