Four Forgotten Muscle Cars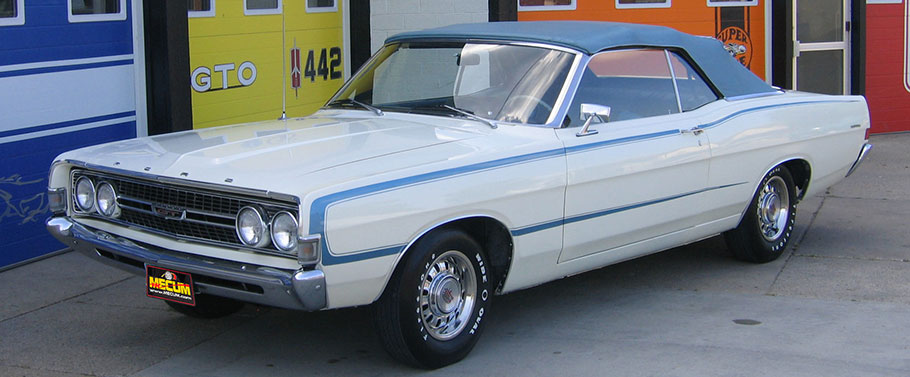 Ford Torino GT
The Ford Torino was produced from 1968 and 1976. Most were conventional cars destined for general transportation use. In 1968 with the Muscle Car horsepower race escalating, however, Ford introduced its all-new 428-cubic inch Cobra Jet engine and made it available in its Torino GT. With 335 hp, the potent 428 Cobra Jet offered a huge leap in power over the smaller 390-cube V8, which was the largest engine in 1967. The GT was available as a 2-door SportsRoof (hardtop) and convertible. While the "Torino Cobra" only came as a 2-door SportsRoof.
Dodge Demon 340
The Dodge Demon was introduced in two levels. It came with either as an econo-box 198 cu in slant-six or a 340 cu in V-8. The 340, in particular, lived up to the Demon name. First, it could be ordered in a number of prominent colors and each was festooned with a cartoon devil and trident decals. In addition to the 340 cu in engine capable of producing 275 hp and 340 lb-ft of torque, the 1971 Demon 340 was also equipped with a synchronized floor-shifted 3-speed manual transmission, all-wheel drum brakes, a Sure-Grip differential and throaty dual exhaust.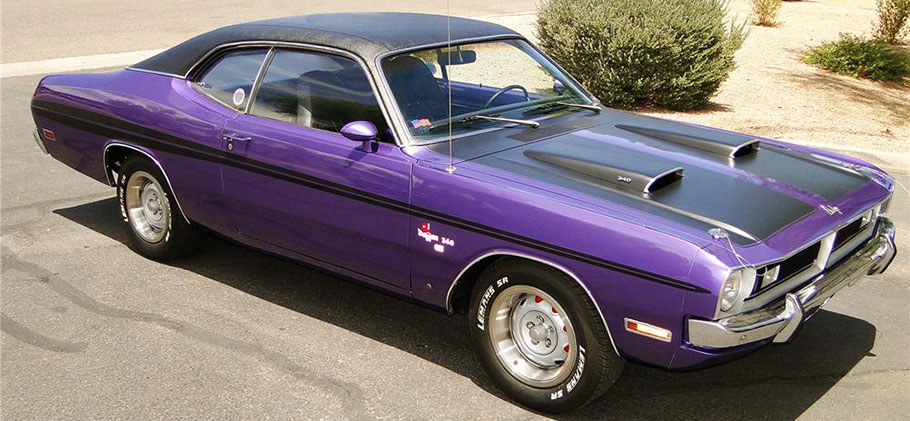 AMC Rebel Machine
The AMC Rebel (known as the Rambler Rebel in 1967) was a mid-sized car produced by American Motors Corporation (AMC) from 1968 to 1970. The Rebel was available in several specialty models that included a limited number of station wagons with special themed trim and luxury equipment that were offered only in certain geographical areas. A high-performance, muscle car version was produced in 1970, the Machine, that is most recognized in its flamboyant white, red, and blue trim.
The Machine was developed from a collaboration between Hurst Performance and AMC. The standard engine in The Machine was AMC's 390 cu in V8 engine rated at 340 hp. It came with special heads, valve train, cam, as well as a redesigned intake and exhaust. The engine was fed by a 690-cfm Motorcraft 4-barrel and pumped up a 10.0:1 compression requiring high-octane gas. On the hood, a large ram-air intake  hood scoop that was painted Electric Blue with a large tachometer visible to the driver at the rear of the scoop. Standard was a Borg-Warner T-10 four-speed manual transmission with a Hurst floor shifter backed by either 3.54:1 or 3.91:1 rear axle gear ratios. In addition, the machine offered a "Twin-Grip" differential as well as power disc brakes and white letter tires mounted on "Machine" mag-styled steel 15-inch wheels.

Buick Wildcat 445
We got this one from our friends at King Buick Chevrolet GMC in Longmont, CO. The Wildcat 445 was produced by Buick from 1962 to 1970. The Wildcat was a full-sized automobile that took its name from a fiberglass-bodied 1953 concept car. Performance was the Wildcat's forte. Power choices began with the "Wildcat 445" V-8, so named because of its torque output not it's cubic inch displacement. It featured a four-barrel carb and 10.25:1 compression. Beyond that, there were two more powerful engines. A 340 horse "Wildcat 465" and a 360-horse "Super Wildcat" were available. These were both 425-cid V-8s that spun out 465 pound-feet of torque. The Super Wildcat featured two four-barrel carburetors, a chrome-plated air cleaner, cast-aluminum rocker-arm covers, and dual exhausts.
Owners could choose from a three-speed column-lever stickshift, a four-on-the-floor manual or a Super Turbine automatic. For an extra outlay of green-backs, a Wildcat could be muscled up further with items like heavy-duty springs and shocks, a limited-slip differential, a tachometer, Buick's distinctive chromed five-rib sports wheels. There was a choice of four axle ratios for manual-shift cars; five for those with the automatic.