Four podium finishes for BMW in Japanese WTCC premiere
At the "Okayama International Circuit", four BMW drivers made it onto the podium in rounds 21 and 22 of the FIA World Touring Car Championship. BMW Team Germany's Jörg Müller (DE) finished race one, which was held in wet conditions, second closely followed by Andy Priaulx (GB) of BMW Team UK. On a drying track, Müller's team-mate Augusto Farfus (BR) scored eight points by finishing second in race two, while BMW privateer, Sergio Hernandez (ES), claimed third for Proteam Motorsport. SEAT's Rickard Rydell (SE) and Tom Coronel (NL) took the two victories at the 3.703-kilometre track. BMW Team Italy-Spain's Félix Porteiro (ES) was rewarded with a point for his impressive drive through the field in race two. His team-mate Alessandro Zanardi (IT), however, left Japan empty-handed.
In the manufacturers' classification, SEAT won the championship title with two more races to go, after scoring 304 points. BMW follows in second, 53 points behind, and cannot be caught by Chevrolet in the season finale. In the Drivers' Championship, no BMW driver is in with a chance of winning the title. It's now a two-way fight between Yvan Muller (FR) and Gabriele Tarquini (IT) to determine the successor of triple world champion Priaulx, who remains the best-placed BMW driver in fifth with 67 points.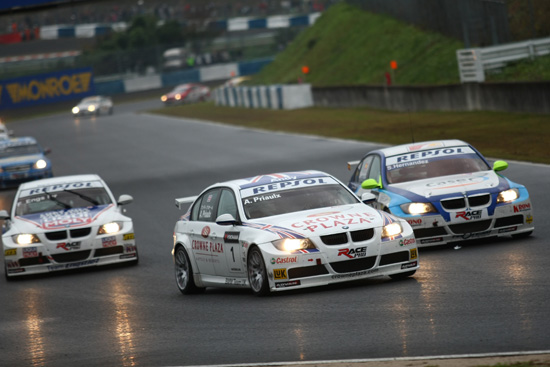 BMW Motorsport Director Mario Theissen: "Congratulations to SEAT. After we won every title over the past four seasons, SEAT's turbo-diesel concept has dominated proceedings on the track this season. It goes without saying that we are disappointed not to have defended successfully either the Drivers' or Manufacturers' Championships. However, I am still proud of what we have achieved: given the prerequisites, we have achieved the maximum possible out of what was available to us, and have stood at the top of the podium six times. All the same, things must change for next season. The basis is a regulation that gives all the manufacturers a chance of winning a balanced and fair competition. This basic prerequisite is crucial to the future of the World Touring Car Championship."
Jörg Müller (BMW Team Germany): "I made quite a good start in race one and emerged from the turmoil in Turn 1 as leader. Initially I was able to open up a gap, but then the performance of my wet tyres dropped off. It was impossible to hold Rickard Rydell back. That's why I'm really happy with finishing second."
Andy Priaulx (BMW Team UK): "SEAT put a strong commitment into this season and fielded an excellent driver line-up. Therefore, I know I shall lose the title to a really strong driver, which makes it a bit easier for me. In the first race I fought hard for my third place, while I unfortunately made a mistake in race two. Now I want to finish the season with another good result in Macau, my favourite track."
Augusto Farfus (BMW Team Germany): "Over the course of the whole weekend we were really strong, and I could have scored a better result if I hadn't braked on the white line following the start of race one. My wheels locked, and I lost a lot of positions. Thanks to my great car, however, I managed to collect eleven points here in Japan."
Sergio Hernandez (Proteam Motorsport): "Of course I was a bit lucky in race two. But for a privateer driver it's always sensational to finish on the podium. This is a fitting reward for the tremendous job my team has done this weekend."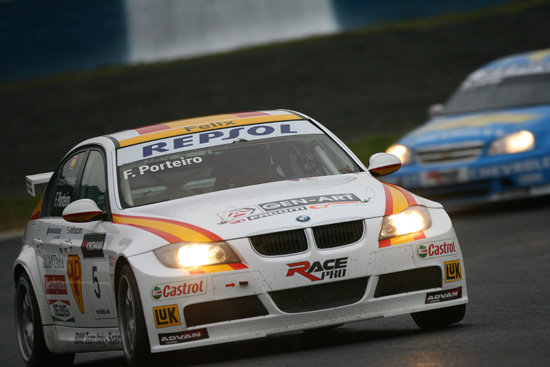 Félix Porteiro (BMW Team Italy-Spain): "It's a pity I couldn't translate the performance of my car into a better result. A collision with James Thompson and a puncture put an early end to my first race, while I was able to pass 20 drivers in the second race. We should have achieved more today."
Alessandro Zanardi (BMW Team Italy-Spain): "I'm really disappointed about my Japanese weekend. In race one I successfully worked my way back up into 13th following a spin. In the second race I retired on lap two. On both occasions I can only blame myself for what happened. In terms of pure speed, we had the potential for a better result."