G-Power BMW M5 Hurricane RS [HD Video] - Top speed 357 km/h
As you may be aware some German Autobahns (highways) do not have speed limit, so they are perfect for testing incredible speeds over 320 km/h (200 mph). So, what do you need for a speed beyond 200 mph?
First, an extremely powerful car with nice aerodynamics like G-Power BMW M5 Hurricane RS and second , huge courage.
The G-Power Hurricane RS is the fastest street legal saloon car. It is powered by a brutal hi-revving V10 with two belt-driven ASA T1-313 superchargers. The result is not less than 750PS (552 kW) at 7500RPM and 800Nm (590 lb-ft) of torque at 5000RPM. From 0 to 100 km/h in less than 4.5 seconds, to 200 km/h in 9.7 seconds and just 26 seconds to the 300 km/h mark. The top speed is 367.4 km/h, but it was reached on special oval race track. However, you will see a staggering 357 km/h (223 mph) at daytime.
For such high speed you also need very steady suspension and nice wheels, tires and brake system.
The G-Power Hurricane RS is fitted with enormous 21" Silverstone Diamond wheels fiteed with 255/30 ZR 21 and 295/25 ZR 21 tires.
The beast also comes with a G-POWER high-performance brake system and the continuously height-adjustable G-POWER coil-over RS suspension.
So, take a deep breath and watch the video, below!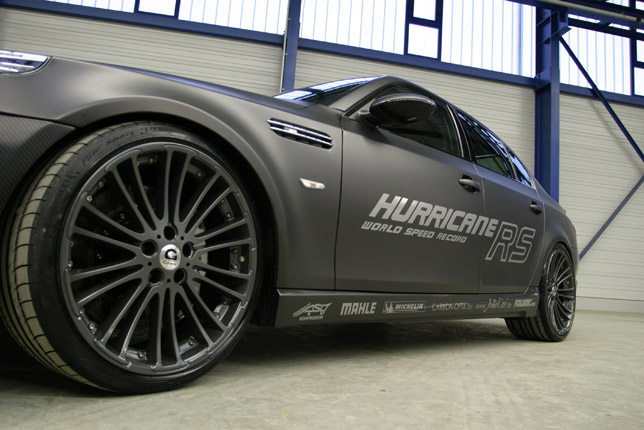 Source: m5boarddotcom via Youtube