Gallardo UGR TT vs Porsche 911 Switzer vs Chevrolet C10 [HD video]
Here is a video by Dragtimesinfo with two pointless starts between one of the most powerful street legal cars in the world – Lamborghini Gallardo UGR TT with whopping 1 350 HP and two incredibly fast vehicles - Porsche 911 Switzer and Chevrolet C10.
The Gallardo doesn't have very good time at 60 ft, mainly because the driver keeps the clutch and the gearbox. However, it manages to fetch up and to pass the 1 mile mark in just 28.643 seconds with 312.98 km/h. This is against the C-10 powered by a 10.0 liter V8 with 850HP. In the second start, the scenario is the same, but the time is a lot slower – 29.053 with 334.41 km/h terminal speed.
The twin-turbocharged Gallardo is prepared by Underground Racing. It produces 1 050 WHP on regular 93 octane gasoline and whopping 1 500 WHP on VP-C16 117 octane race fuel. The Race Version Turbo System with highly modified engine package starts from $109 000 for all Gallardo Models.
Enjoy the video!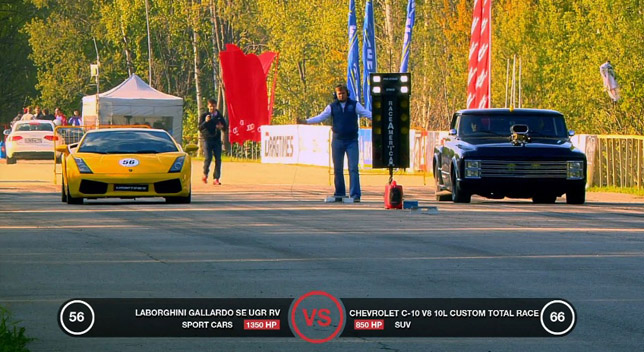 Source: Dragtimesinfo via Youtube