Get your pulse racing at bca's 'brooklands tradition' sale
BCA's annual Brooklands Tradition sale takes place at the Brooklands Motor Museum, Surrey on Thursday 5th June. The historic setting will provide a fantastic backdrop for a wide range of vehicles, spanning almost a century of motoring.  With estimates ranging from around 1,200 for a 1937 Austin Ruby to just under 40,000 for a 1971 Porsche Carrera RS Replica, the sale will have something for everyone. 
"The appeal of the Classic has widened enormously in the last few years" confirmed Robin Lawton, Head of Classics from BCA.  "And this year's sale at the historic Brooklands Motoring Museum will offer a good variety of vehicles, from the vintage era to modern thoroughbreds."  BCA has seen a growing interest in cars from yesteryear – and not just cars from the turn of the 20th Century, Twenties and Thirties, but also in more modern classics from the Seventies and Eighties.
Arguably the most unusual vehicle in the BCA sale is the James/Wall Quadricycle.  Known as 'The Cyclist's Energy Saver', the Quadricycle was a relatively simple but effective device that could be fitted to bicycles, tandems, tricycles and tradesmen's carriers, enabling cyclists to ride long distances over all kinds of roads, in any weather, without becoming fatigued.   The one horsepower motorised tricycle was originally assembled during the Great War and was discovered discarded under a bench by the current owner in the early 60s.  This rare piece of motoring heritage is estimated at over 3,000.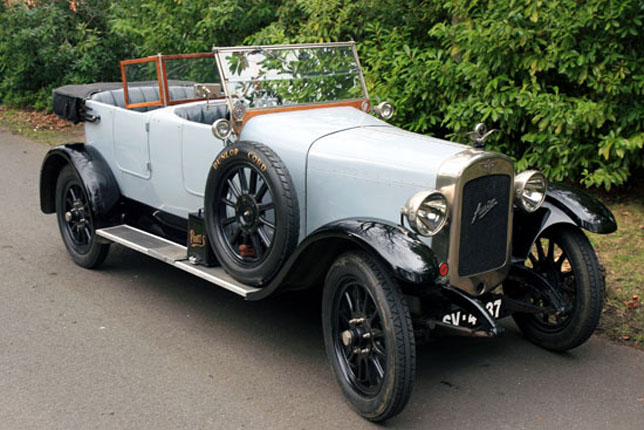 The 1919 Austin 20 Dual Cowl Sports Tourer is believed to be the earliest running example of the model anywhere in the world.  The car was built on essentially American lines, featuring a unitary engine and gearbox in a sturdy ladder chassis and was available with a variety of different styles of coachwork, from formal limousines, tourers and sporting variants to commercial vehicles.  This particular car was originally exported to Australia, returning to the UK in 1990.  It has been fully restored at great expense in the intervening years and is offered in excellent condition, with plenty of documents in a bulging history file.  It is expected to realise around 25,000.
The sale also features a 1937 Austin Ruby Mk II Saloon offered for restoration.  The car has been laid up in the owner's garage for more than thirty years and it is presented for sale with a V5 registration document.  In very original condition, this will make a good project for an experienced collector and is valued at a reasonable 1,200.
Dating from 1934, the Austin Opal Tourer also requires some light restoration.  Described as being in good mechanical order, the car has been unused for the past five years and is in largely original condition. For the enthusiast on a limited budget this would be an inexpensive way of acquiring a VSCC (Vintage Sports Car Club) eligible vehicle.  The estimate is around 3,000.
The 1924 Austin Seven Sports replica is one of only four believed to exist in the UK – one original example and two additional replicas.  The car was constructed during 1986/7 using all the correct mechanical components based on an early 1927 chassis.  It has resided in private ownership for the past three years and is now being sold as the owner is downsizing his collection.  This charming little sporting Seven is estimated to sell for around 10,000.
For collectors looking for a more modern classic, a 1971 Porsche 911 Carerra RS Replica could be the answer.  The Carrera RS (Rennsport) models were originally designed for homologation for Group 4 GT Class racing.  Around 1600 were built and are so highly valued today (120,000 plus) that good replicas are keenly sought after.  The model on sale at Brooklands is said to be indistinguishable from the genuine article, finished in red and  black, with lowered suspension and correct wheels.  The car's engine was rebuilt two years ago with only around 8,000 miles covered subsequently.  Estimate is around 35,000.
The 1958 MGA roadster is an original UK specification right-hand-drive car and was prepared for historic rallying during 2001.  The engine was fully rebuilt, lightened and balanced whilst the gearbox and rear axle also received major attention and a new clutch was fitted. The car has been campaigned successfully and competed in the Monte Carlo historic rally from 2002 until 2008, coming first in class in 2006 and 2007.  2005 saw a second in class at Sternbeck Hill Climb in the Czech Republic.  A rare opportunity to acquire a racing MGA with good provenance, it is valued around 22,000.
The 1949 Ford Prefect represents the first of the Ford models to be given a name instead of just a series letter.  Finished in black with red interior trim with plenty of Bakelite in the cabin trim and fascia, the car has only covered around 100 miles in the past twenty years, having been used as a display vehicle by a Ford dealership.  In fact, the recorded mileage is less than 70,000 miles and is believe to be correct.  Another worthy starter classic for a new enthusiast, this Prefect is estimated around 2,000.
The most modern car in the sale is the 2000 Plymouth Prowler.  This retro-styled two-seat sports car is a rare sight in the UK and this example has gained SVA type approval to be driven on British roads. Finished in Prowler Red it is essentially in 'as new' condition, having covered just 4,000 miles since being registered in the UK.  It is offered with the personal plate 'P80WLR' and is expected to sell for over 30,000.
The sale also features two Aston Martins, including a 1999 DB7 Volante estimated at 30,000, a 1953 MG TD (estimate 12,000) and a 1922 Ford Model T Tourer (estimated at £10,000).  Three Bentley Mk VI models are on offer, plus a 1964 Bentley Standard Steel Saloon finished in silver with red hide interior.
A wide range of Automobilia will also be offered at the Sale including artwork, mascots, badges, emblems, models, books, handbooks, magazines, spare parts, accessories, lighting & motoring related ephemera.