GM applauds LaFontaine's new dealership
General Motors sells the only vehicles in the world built in a facility with Gold Leadership in Energy and Environmental Design (LEED) certification by the U.S. Green Building Council. Soon, customers may be able to buy those vehicles in one of the nation's first LEED-certified automotive dealerships.
GM applauds the LaFontaine Automotive Group's opening of a $15-million Buick-Pontiac-GMC-Cadillac dealership in Highland Township. The 63,000-square-foot facility, located on 24 acres, incorporates key principles of sustainable design and construction that enable it to qualify for LEED certification under the Council's Green Building Rating System. When LaFontaine achieves the designation, it will be the first dealership in Michigan and among the first in the nation to do so.
The dealership left no detail untouched in its quest to achieve Gold LEED certification – the second-highest award the Council confers. Attributes range from recycled construction materials and an elaborate, $600,000 geothermal heating and cooling system to drinking cups made from corn products and organic cotton casual shirts that employees can wear on Saturdays.
"At GM we have invested heavily in making cars and trucks that impact the environment as little as possible. Our initiatives begin with energy-efficient facilities, many of which have achieved zero-landfill status; include powertrain technologies such as hybrids and alternative fuel vehicles; and address the future with range-extended electric vehicles and hydrogen fuel cells," said Susan Docherty, vice president, Buick-Pontiac-GMC. "With the opening of this dealership and those that are sure to follow, our customers can enjoy a 360-degree 'green' car-buying and car-owning experience."
In fact, two models from GM's Buick and GMC brands – the very popular Buick Enclave and GMC Acadia midsize crossovers – are currently manufactured at Lansing's Delta Township Assembly Plant, the only automotive facility in the world to achieve Gold LEED certification.
Ryan LaFontaine, general manager of the family-owned LaFontaine Automotive Group, said the dealership had been planning a new facility since 2000 because it was outgrowing its longtime location in Highland, but didn't look to go "green" until about two years ago. He estimates that the dealership spent an extra $2 million to do what was needed to qualify for LEED certification, and that the geothermal system investment will be recouped in five years, mostly due to an annual energy savings of up to 54 percent.
Bloom General Contracting, Inc. of Redford, Mich. was the general contractor for the facility, and was heavily involved in the measures that were undertaken to achieve LEED certification.
"No one required us to do this," LaFontaine said. "We thought it was the right thing to do for our employees, for the environment and for the community. We want to set a good example and we believe in giving back to the community. But we also think this facility continues the good work that GM is doing to make cars and trucks that impact the environment as little as possible."
The previous Highland facility will house some of the dealership's pre-owned vehicle inventory and sales staff.
LEED certification provides independent third-party verification that a building meets the highest sustainability standards. LaFontaine's original decision to use a geothermal heating and cooling system soon led to other features such as the use of recycled building materials; a car wash that recycles 85 percent of the water conventional car washes would waste; waterborne basecoat paint in the body shop; 85 skylights; and computer controlled lights that automatically shut off when enough daylight fills the facility.
Special parking spots are reserved for employees who carpool to work; or anyone who drives low-emissions or alternative fuel vehicles. Storage areas and changing rooms are provided for employees who bicycle to their jobs.
Other environmentally friendly elements include service bay lifts that use vegetable oil instead of caustic and difficult-to-dispose-of lubricants; a white roof and generous use of green belts to reduce the "heat island" effect of such a large facility; a rainwater collection system for irrigating the landscaping and indigenous plants that require less water.
"Not all of our dealer partners may be able to take on all of these green initiatives, but some can be easily incorporated into an existing or remodeled facility," said Docherty. "I'm thrilled that so many of our own hybrids and alternative fuel vehicles – as well as 30-mpg highway performers like our new Pontiac Vibe and G5 and G6 sedans – will be sold in this beautiful facility."
In addition to its expected LEED certification, LaFontaine Buick-Pontiac-GMC-Cadillac is among the first dealerships in the country to follow BPG's new facility image program. The Buick-Pontiac-GMC team worked with dealer input, GM Design staff and a nationally recognized architectural firm to come up with the design, which provides Buick-Pontiac-GMC dealers with consistent brand identification, as well as a modern and pleasing environment for customers.
GM hybrid and flex-fuel models
GM hybrid products available at the LaFontaine Highland Township facility include the GMC Yukon and soon the Cadillac Escalade Hybrid SUV. The GMC Sierra Hybrid crew cab pickup will be available later this year. All feature GM's patented two-mode hybrid system, which delivers city fuel economy improvements of up to 50 percent and an overall improvement of 25 percent.
GM will have a total of eight hybrid models on sale by the end of this year by its Chevrolet, GMC, Cadillac and Saturn brands.
For the 2009 model year, Buick, GMC and Cadillac produce nearly half of GM's 18 E85 FlexFuel models: They include: Buick Lucerne (a first); GMC Yukon, Yukon XL, Sierra and Savana; and the Cadillac Escalade, Escalade ESV and Escalade EXT. Other E85 FlexFuel models come from Chevrolet and HUMMER.
"We continue to believe that producing biofuel-capable vehicles, specifically E85, is the most significant thing we can do in the near-term to offset future energy demands," said Mark McNabb, GM North America vice president, premium channel – Cadillac, HUMMER and Saab. "We are on target to make 50 percent of our vehicles flex-fuel capable by 2012 providing the infrastructure is in place."
GM cars and trucks account for 3 million of the 7 million flex-fuel vehicles on U.S. roadways. The company produced more than 1 million flex-fuel models in North America and Brazil last year.
GM facilities
As GM develops new solutions in efficient vehicle propulsion, it also is making significant progress in reducing the impact that its worldwide facilities have on the environment.
Global energy: GM has reduced energy use at its global manufacturing plants by nearly 21 percent during the past six years – savings that cut greenhouse gas emissions by more than 2 million metric tons. GM manufacturing facilities also are major users of solar, hydroelectric and landfill gas energy.
GM has two of the largest solar power installations in the U.S. on the roofs of warehouse facilities in California, and both provide excess electricity to the power grid.
Global waste: Today, GM facilities recycle 88 percent of the waste they generate. GM has 10 facilities that have achieved zero-landfill status, meaning they recycle or create energy from all waste materials from daily operations.
Global CO 2: By saving energy and using more renewable energy, GM has cut CO 2 emissions from its manufacturing operations by 22 percent in five years.
FACTS AND FIGURES
Lafontaine Automotive Group's 'Green' Dealership Will Recoup Additional Investment In Just Five Years
HIGHLAND TOWNSHIP, Mich. – Besides the intangible benefits that come with being known as a responsible steward of the environment, the LaFontaine Automotive Group expects that its $600,000 geothermal heating and cooling system will pay for itself in just five short years. It's the feature that inspired the LaFontaine family to pursue the U.S. Green Building Council's Leadership in Energy and Environmental Design (LEED) certification for its all-new Buick-Pontiac-GMC-Cadillac facility.
When the $15-million facility receives LEED certification under the council's Green Building Rating System, it will be the first automotive dealership in the state to receive the designation. LEED certification provides independent, third-party verification that a building meets the highest sustainability standards. The LaFontaine family is striving for Gold certification, the council's second-highest rating.
"Originally, we had anticipated an eight-year payback, but now we project it will be more like five years," said General Manager Ryan LaFontaine of the new, 63,000-square-foot facility, located on 24 acres on M-59 (Highland Road), just west of Hickory Ridge. LaFontaine estimates annual energy savings alone to be as much as 54 percent compared to a conventional facility.
Here's a look at the green elements incorporated into the LaFontaine facility: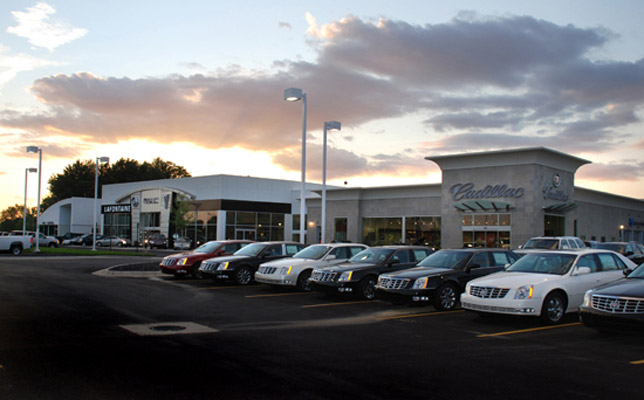 Energy use
Capturing earth's energy: The facility's centerpiece – and most costly single expenditure at $600,000 – is a 64-well geothermal system that heats and cools the building by capturing energy stored in the earth 350 feet below the facility. The system transfers energy to and from the facility with closed loops of fluid-filled tubes.
Skylights: Eighty-five skylights fill the facility with natural light and reduce the need for artificial lighting; special prisms magnify lights for even more efficiency.
Controlled lighting: Sophisticated photocells and computer-controlled lighting help ensure lights are turned off in unused areas and can turn off artificial lighting when there is enough daylight to illuminate the building. Efficient T5 fluorescent lighting provides more light using half the energy of conventional lighting.
Reducing heat: A white roof and green belts throughout the facility exterior reduce the "heat island" effect of the facility.
Fuel-saving tires: The service department fills customers' vehicle tires with nitrogen instead of conventional compressed air because the unique properties of nitrogen can provide fuel-economy benefits. Also, because it does not permeate porous tire walls as quickly, nitrogen can keep tires properly inflated longer, contributing to more even tire wear and, therefore, longer tire life.
Windmill A windmill generates energy to pump retention pond water for irrigation.
Recycled mulch: Use of recycled rock mulch in landscaped areas reduces the need for and use of water.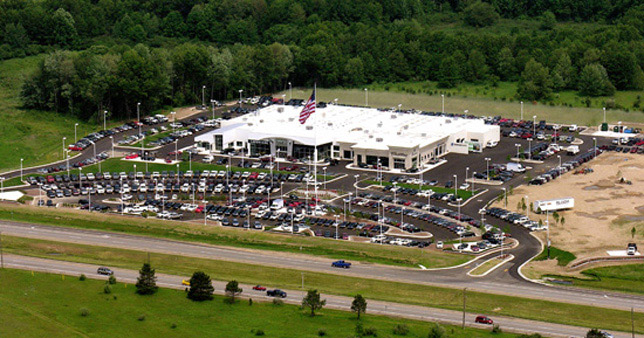 Water use
Recycling car wash water: A special car wash system recycles 85 percent of the water otherwise wasted by conventional car washes.
Less-thirsty plants: Indigenous plants are used for landscaping because they require less water.
Using storm water: A roof storm water retention system provides water for landscape irrigation. The storm water is pretreated prior to entering a nearby clay-lined retention pond.
Using less water: For both customers and the facility's 150 employees, low-flush toilets reduce the amount of water used per flush.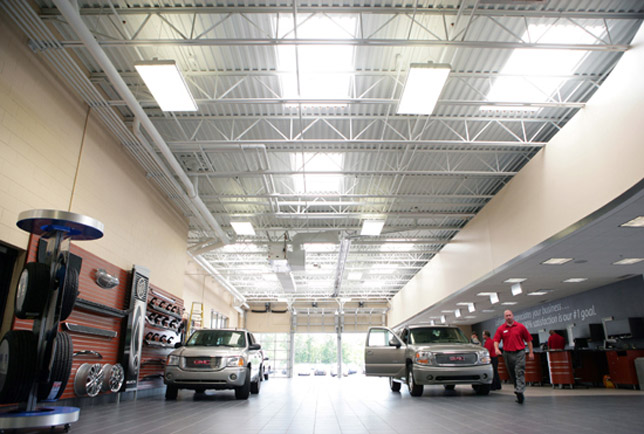 Facility construction
Going local saves gas: Heavy use of recycled content supplied by firms within a 500-mile radius of the facility promotes local economies and cuts down on transportation-related energy use.
Recycled aluminum and masonry: Exterior masonry is 100-percent recycled content. Ninety-percent recycled aluminum also is used on the building's exterior.
Reused building materials: Metal decking is at least 60-percent recycled content and metal framing is 20-percent recycled content.
Crushed concrete: Building aggregate for pavement is 60-percent recycled crushed concrete.
Corn cobs and wheat: Solid doors are made of agrifiber – compressed corn cobs and wheat.
Indoor environmental quality
Low emissions: Use of numerous low-emitting adhesives, sealants, paints and carpet systems.
Vegetable oil: The service department's 33 bays use vegetable oil vs. caustic fluid in the hydraulic lifts.
Eco-friendly paint: The body shop paint booth uses a waterborne basecoat paint by PPG with zero volatile organic compound (VOC) emissions, and is one of only two such paint booths in Michigan. Even the cleaning system for the paint wands does not generate VOCs.
Cleaning green: The entire facility – as well as 12 vehicle detailing bays – use green cleaning products.
Natural light: Work and business spaces filled with natural light promote a more pleasing and productive work environment; in fact, 90 percent of employees have a direct line of sight to the outside.
Sweating the details
"Corn cups": The facility's onsite cafe uses recyclable cold drink cups made of corn-based products.
Eco-friendly furnishings: All furnishings are made using sustainable practices and come from LEED-certified facilities.
Improved recycling: Recycling is openly encouraged and promoted, with separate bins for trash and recyclable items in the public showroom and cafe areas and in the service and parts departments. Outside, there are four separate dumpsters to separate metal, plastic, cardboard and everyday trash.
Special shirts: Employees wear casual polo-type shirts on Saturdays made of organic cotton.
Driving rewards: Preferred parking is offered to employees who carpool, and to all who drive low-emissions or alternative-fuel vehicles (such as GM's hybrids and/or many E85 ethanol flex-fuel vehicles).
Bicycling advantage: Bicycle storage areas and changing rooms are provided to employees who use their own horsepower to get to work.

Ongoing education to customers and employees:A LEED Education Wall in the customer lounge includes a video loop that describes all the green aspects of the facility. The video touches on what consumers can do on a day-to-day basis to make a difference in the environment.