GMB secure union with Toyota
Toyota has secured a major new deal with GMB, Britain's General Union, to provide their field staff with the environmentally friendly option of driving a Toyota Prius.  The deal, which also includes Avensis models, is worth nearly 500 cars over a four year period.
Established for over a 100 years, GMB has over 600,000 members across the UK working in every part of the economy and being a general union, anyone can join. Represented in 34 of the UK's biggest 50 companies, GMB offers protection at work solving problems, providing representation and advice on a range of issues from health and safety to legal and pension queries. The cars will be used by the full time GMB organisers who provide support to the voluntarily trained individuals who in turn help their work colleagues.
Paul Kenny, General Secretary said, "GMB members have demanded that the Union act on improving its environmental impact and the move over to the Prius represents one of the largest changes we have made to meet that demand."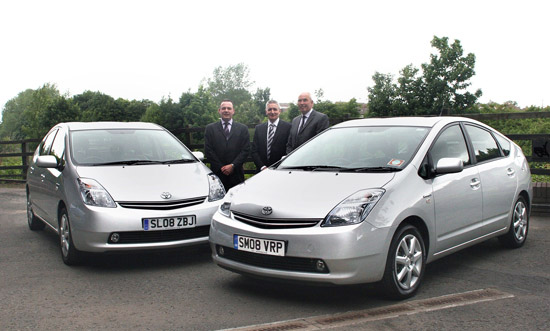 Prius is the world's first and most successful hybrid power vehicle and the cleanest family car on the road today, making it a crucial addition to the GMB fleet in these environmentally conscious times. Driving pleasure, comfort and space haven't been sacrificed to provide an eco-car. Instead Prius combines style with state of the art hybrid technology and very low emissions of just 104 g/km of CO2.
The cars have been funded through Leaseplan and supplied via Western Toyota in Edinburgh.