Goodwood festival welcomes Scirocco GT24, up! and W12 coupe
The Volkswagen Scirocco GT24 today made its UK debut racing up the hill in front of crowds at The Goodwood Festival of Speed.
Built by Volkswagen Motorsport in Hanover and drawing heavily on the Scirocco race cars that recently won their class and finished a remarkable 11th overall out of over 200 starters at the Nürburgring 24 hour race, the Scirocco GT24 adopts the same drivetrain, chassis and aerodynamic additions. It makes small allowances for comfort, with a mix of leather and alcantara trim on the Recaro bucket seats, yet its focus remains on dynamics.
At its heart is a standard new Scirocco road car.  The chassis structure is then clothed in light but strong carbon panels.  The Scirocco GT24's dimensions vary significantly, with a 227 mm gain in length and 61 mm gain in width to accommodate a wider track.  Lowered, adjustable race damper units account for a 75 mm drop in ride height on a set of 18-inch lightweight racing wheels housing 362 mm (255 mm at the rear) racing brake discs clamped by six-piston callipers.
Powering the vehicle is a revised version of the road car's 2.0-litre TSI engine developing 325 PS at 6,500 rpm, operating through a bespoke six-speed DSG gearbox with new ratios and clutch plates.  The Scirocco road car goes on sale in the UK on September 1st and is available to order now.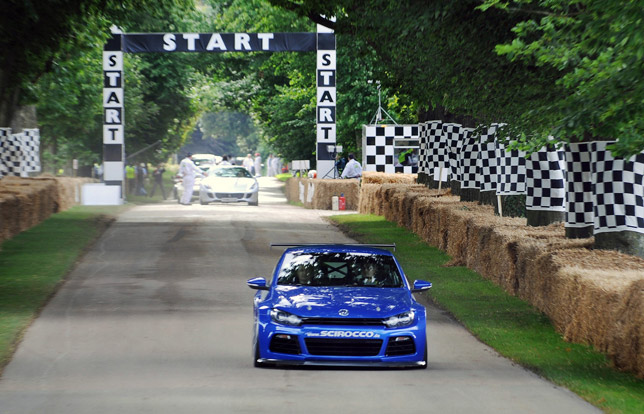 The Scirocco GT24 will make a total of six runs up the Goodwood Hill over the weekend.
It's joined at the festival by the W12 Coupé concept car from 1997 which served as a technical showcase for the innovative W12 engine.  In October 2001 a research vehicle equipped with a W12 engine covered 4,402 miles in 24 hours at an average speed of 183 mph around the Nardo test facility in Italy to set a world speed record.  The record demonstrated the strength and durability of the W12 engine which, in road-going form, is currently fitted to the Phaeton.  The W12 Coupé is situated in the Cartier 'Style et Luxe' area at Goodwood.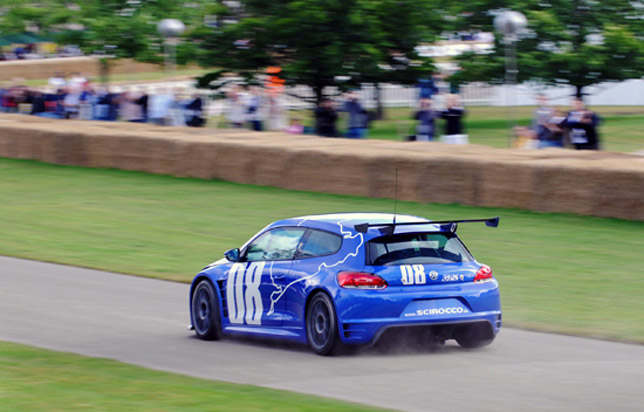 The up! concept vehicle, first seen at the Frankfurt Motor Show last year, is also on display in The Festival of Speed Technology Pavilion which is dedicated to innovative and pioneering vehicles.  Measuring just 3.5 metres in length the up! is the inspiration for a new range of small vehicles from Volkswagen currently in development.
The Goodwood Festival of Speed was established in 1993.  That year 23,000 spectators watched the inaugural Festival.  This year around 150,000 spectators are expected along with around 20 television stations, 12 radio stations and over 300 journalists relaying articles to 28 countries.