GP of Turkey: Lewis Hamilton and Heikki Kovalainen 13th and 14th
Starting with a heavily fuelled car, Lewis was unable to start the race aggressively and slotted into 17th. Adopting a single-stop strategy from the off, he pushed hard throughout, always maximising the car's potential and, by virtue of passing the two-stopping cars pitting ahead of him, worked his way up to 10th before making his sole pitstop on lap 32. Switching from the Prime to the Option tyre, he rejoined in 16th, was passed by Nelson Piquet but put in another strong stint to recover to 13th by the chequer. "It was quite an uneventful race but I actually enjoyed myself this afternoon," Lewis said. "I was very heavy at the start but I just pushed and pushed. That's why I can smile – because I think I drove to my full potential.
LEWIS HAMILTON - MP4-24-04 Started: 16th - Finished: 13th Fastest lap: 1m28.662s (15th) - Pitstops: one (Pr-Op) Championship points: 9 - Championship pos: 11th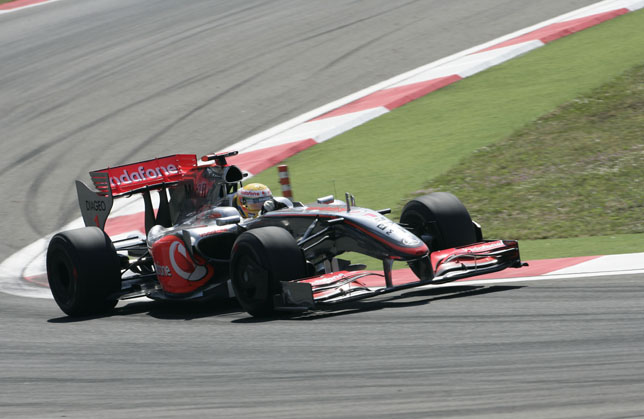 "The most important thing is for us to keep our heads up and to keep pushing. I see my role from now on as helping the team to cure the problems with this year's car and to make next year's car the best it can possibly be. When the team gives me a car to win, I will win. "Now we look ahead to Silverstone – I really wish Jenson all the best: he did a fantastic job today. Personally, I hope I can come away from my home race with a great feeling from my home fans. I hope they won't give up supporting me."
HEIKKI KOVALAINEN - MP4-24-03 Started: 14th - Finished: 14th Fastest lap: 1m29.174s (18th) - Pitstops: two (Op-Pr-Op) Championship points: 4 - Championship pos: 13th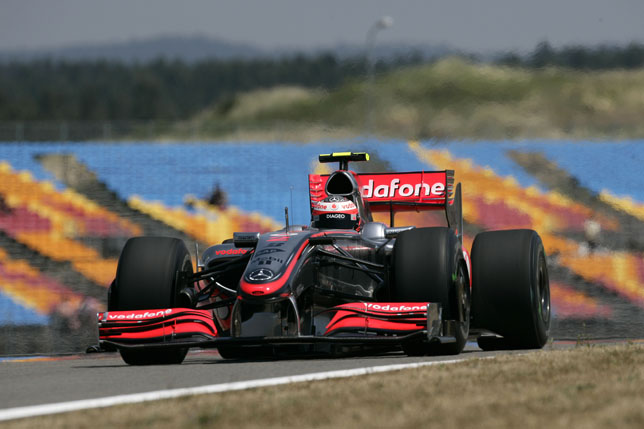 Making a strong start, Heikki was able to slot into 11th by the end of the first lap, settling into an enthralling cat-and-mouse battle with Rubens Barrichello, who had slipped down the order at the start. Defending hard against the faster car, Heikki continually stayed ahead of Rubens, using his KERS to push back past on the startline after Rubens had nosed ahead out of the final corner. The dice concluded on lap eight when Rubens attempted to look up the inside into Turn Nine and the pair touched, pitching Heikki into a brief tank-slapper and Rubens into a harmless spin. Thereafter, Heikki pitted on laps 19 and 42 and ran to the chequer in 14th after the team elected to reduce his engine settings to preserve the Mercedes-Benz motor.
"This was a character-building race for everybody in the team," Heikki said afterwards. "At the start of the race, I really got the maximum out of the car and I'm pleased about that. I had a good fight with Rubens too – it was great to be racing hard and fair and it was very satisfying to keep a faster car at bay with some good old-fashioned racing tactics and also our KERS hybrid. "In the final stint, the engineers elected to turn down the revs to protect my engine. Still, we have to be realistic: we finished 14th and we all know we can do better. We've had some great days in the past and we'll continue to push hard to enjoy some great days in the future."
MARTIN WHITMARSH Team principal, Vodafone McLaren Mercedes
"In extremely frustrating circumstances, both Lewis and Heikki performed very impressively this afternoon. They both tried their hardest throughout the race, and we're grateful for their sterling efforts. Of course, it's frustrating that two such forceful drives went unrewarded in terms of world championship points, but the fact is that our car just isn't as quick as we'd like it to be. So, now, we'll go back to Woking and we'll work hard to rectify its deficiencies, but there's no magic cure. No, instead, the remedy will be found via hard work, and one thing our team isn't afraid of is hard work – which, it goes without saying, I'm also extremely grateful for. But, returning to the subject of today's race, the fact that Rubens, in an extremely competitive car, was unable to make anything of his afternoon once he'd got bogged down at the start, demonstrates all too clearly that, in modern-day Formula 1, as close-fought as it is, it's more or less impossible to make useful progress from the back of the field. That may be frustrating, but it's true nonetheless."
NORBERT HAUG Vice-president, Mercedes-Benz Motorsport
"We knew that this type of circuit would be difficult for us. Whereas the car works okay in sector three with its long straightaway and tight corners where we are as quick as anybody, we struggle massively on the quick parts of this racetrack. We have to make fundamental improvements and everybody in the team is aware of that. Thanks to Lewis and Heikki who both drove faultless races and extracted the maximum from their cars. "The Brawn car and Jenson Button are in a league of their own – so none of their competitors can currently be satisfied and certainly we least. Congratulations for the sixth win from Jenson in the seventh race of the season and a big thank you to our engine guys who have put in a perfect effort so far."