Chevrolet Camaro is obviously a very hot topic today. We have received an interesting video from Hennessey Performance along with information about an extreme upgrade, called HPE1000. Yes, the number behind the abbreviation shows the horses this upgrade can give to your 2014/2015 Chevy Camaro! Mind-blowing, aren't they!
Although it does not have anything to do with the latest 2016 Camaro, since it has just gone on sale, the HPE1000 is here to make you feel that you and your car are the strongest among all. Even the latest Gen Six! And here is why.
1000 Horsepower and Exhilarating Acceleration
To make a comparison, we first have to remind you that the 2014 Chevrolet Camaro Z28 is powered by a 7.0 liter LS7 V8 engine producing 500 hp (368 kW) and 637 Nm (470 lb-ft) of torque. The 2015 model's V8 can pump out even more: 505 hp (371 kW) and 652 Nm (481 lb-ft) of optimum torque. Despite the year, the unit is connected to a six-speed Tremec gearbox that drives the rear wheel. There is also LSD which enables responsive corner entry, maximizes traction through the turn and provides quick acceleration on corner exit.
SEE ALSO: Hennessey HPE600 Chevrolet Camaro Z28
After the installation of the Supercharged HPE1000 Upgrade, the Chevy goes crazy with its 1000 hp (735 kW) delivered at 6,300 rpm. The acceleration sprint from 0 to 60 mph is 3.1 seconds. Then why should one dream about owning a Bugatti? The quarter mile is covered in 10.4 seconds at 136 mph.
HPE1000 is As Good As it Gets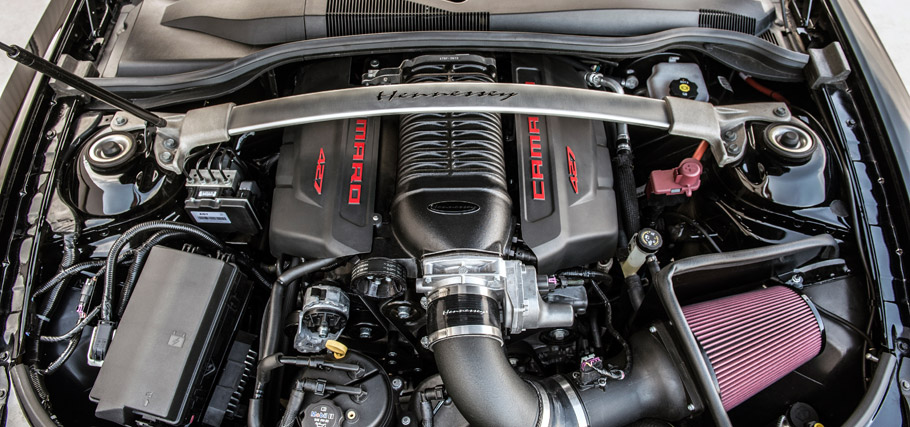 To make the Camaro Z28 that powerful, the experts at Hennessey Performance have included in the supercharged upgrade the following 2.9 liter supercharger system, forged pistons and steel rods, custom HPE camshaft and ported cylinder heads. In addition, the specialists have upgraded the fuel injectors and the fuel system in order to handle the additional power.
High flow intercooling system, an upgrade for the intercooler heat exchanger, long-tube stainless steel headers, stainless steel midpipes and high flow catalytic converters are also at hand.
1650 HP Drag Race: Hennessey Z/28 Camaro vs Hennessey ZL1 Camaro
In the video below you will witness a very special drag race between two Hennessey Performance enhanced Camaros. Both the Z/28 and Zl1 generate up to 1650 HP combined output. Watch to find out what have happened! We will be also very happy if you leave us a comment.
Video Source: YouTube
Source: Hennessey Performance