Hirvonen claims second in Cyprus as Ford dominates final day
Mikko Hirvonen and Jarmo Lehtinen finished second in the Cyprus Rally today as the BP Ford Abu Dhabi World Rally Team claimed a clean sweep of special stage victories during the final leg.  The Finns won the opening two speed tests in their Ford Focus RS World Rally Car as they eventually finished just 27.2sec behind winner Sébastien Loeb in this third round of the 12-event FIA World Rally Championship.
Team-mates Jari-Matti Latvala and Miikka Anttila were fastest on the final stage as they recovered to 12th in their Focus RS WRC after spending more than 20 minutes stuck in deep sand on the edge of the road yesterday.  That ensured a double points haul in the manufacturers' championship for Ford.  Abu Dhabi's Khalid Al Qassimi and Michael Orr finished eighth in the team's other car to match their career-best performance.
The Cyprus Rally was the first mixed surface round of the WRC since 1996.  To add to the challenge drivers tackled the opening day's slippery asphalt stages with Pirelli's gravel tyres fitted to their cars.  Once the event switched to twisty and rocky gravel tracks high in the Troodos Mountains, torrential rain turned some sections into a mudbath.  Conditions were so tough yesterday that the team removed 95kg of clinging mud from Hirvonen's car during the lunchtime service at the rally base in Limassol.
Hirvonen found it hard to adapt to driving on asphalt with a gravel set-up on his Focus RS WRC during the opening morning and ended the day in third, 60.2sec from the lead.  Once the rally moved onto gravel the 28-year-old Finn felt more at home and beat Loeb on six of the remaining eight stages as he ate into the Frenchman's deficit.  He moved into second yesterday morning and eventually finished 1min 22.2sec clear of his closest rival after 14 tests covering 332.07km.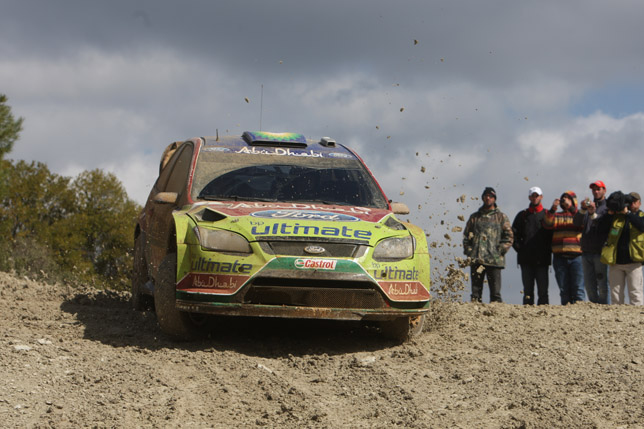 "I lost my chance of victory on Friday morning because I didn't drive well enough," he said.  "Once the rally moved onto gravel I was faster than Loeb and that's a big boost as there are now seven consecutive loose surface events to come.  On the wet and muddy roads our pace was pretty much equal, but on the drier sections I was quicker and it's a shame that the heavy rain fell when it did.
"I made some small mistakes with my car set-up because I tried to be too clever.  I will do things differently on the next round in Portugal.  The last time I was in Cyprus I finished more than five minutes behind Loeb so to bring that down to 27sec is good progress," added Hirvonen.
Latvala was only 3.4sec behind Hirvonen when the 23-year-old Finn beached his car in sand on the inside of a corner on yesterday's second stage.  He had to run 1km to find enough spectators to lift the car out and fell from fourth to 25th.  He bounced back to set competitive times throughout the rest of the rally and his efforts were rewarded with two points for Ford in the manufacturers' championship.
"I was pleased with my speed this weekend but disappointed to make a mistake yesterday," he said.  "This was my first time here so I'm happy to take away the experience of having driven all the stages.  They were more difficult than I expected because there are so many changes in character but they weren't as rough as I thought.  I've learned another lesson here and I want to deliver some solid results over the next few rallies on a surface I like."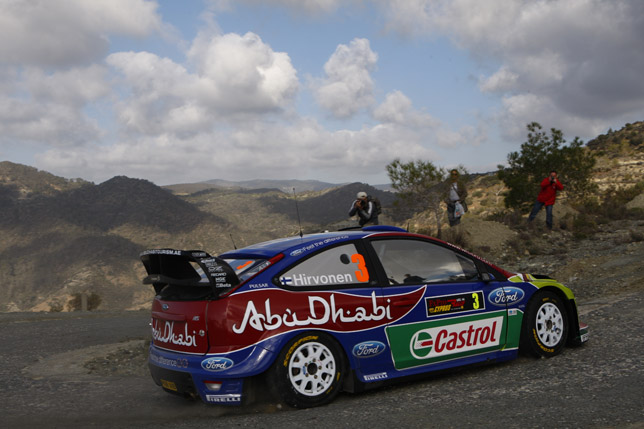 Al Qassimi lost time with a niggling handbrake problem that meant he could not use it to slide his car around the tightest corners but was happy with his second points finish this year.  "It was a challenging rally.  I was pleased with my performance and it's encouraging to see I've lifted my pace," he said.
BP Ford Abu Dhabi team director Malcolm Wilson reflected on the weekend.  "I would like to congratulate Sébastien Loeb on the achievement of taking his 50th WRC win – but I've had assurances from Mikko and Jari-Matti that he will not reach the next landmark for a while!  Mikko again did a fantastic job and while Jari-Matti's problem yesterday was disappointing, he came back to set competitive times and score points for the team."
Ford of Europe motorsport director Mark Deans said: "I welcome the organisers' brave decision to run a mixed surface rally.  It brought an element to the WRC we've not seen for many years and the decision to use gravel tyres added further intrigue.  The rally required real endurance from man and machine, with today's 40km stage requiring 53 pages of pace notes.  That's indicative of its challenge."
News from other Ford teams
Stobart's Matthew Wilson and Scott Martin slipped to sixth on the penultimate stage but then powered to equal fastest time on the final test to reclaim fifth.  Federico Villagra and Jorge Perez Companc were seventh on their season debut for the Munchi's Ford squad.  Stobart's Henning Solberg and Cato Menkerud recovered to 18th after being sidelined from all of the opening leg following a collision with a non-competing car which damaged the cooling system on their Focus RS WRC.
Next round
The championship stays on gravel when Rally de Portugal returns to the series after a year's absence on 2 - 5 April.  The fourth round will again be based at Faro on the Algarve.
Final positions
1.  S Loeb/D Elena                               FRA                 Citroen C4                   4hr 50min 34.7sec
2.  M Hirvonen/J Lehtinen                FIN                 Ford Focus RS           4hr 51min 01.9sec
3.  P Solberg/P Mills                             NOR                Citroen Xsara               4hr 52min 24.1sec
4.  D Sordo/M Marti                            ESP                 Citroen C4                   4hr 53min 01.0sec
5.  M Wilson/S Martin                       GBR               Ford Focus RS           4hr 57min 15.7sec
6.  C Rautenbach/D Barritt                   ZIM                 Citroen C4                   5hr 01min 46.6sec
7.  F Villagra/J Perez Companc         ARG               Ford Focus RS           5hr 03min 53.2sec
8.  K Al Qassimi/M Orr                     UAE                Ford Focus RS           5hr 04min 18.8sec
9.  P Sandell/E Axelsson                       SWE                Skoda Fabia                 5hr 10min 11.3sec
10 A Araujo/M Ramalho                      POR                Mitsubishi Lancer         5hr 10min 29.6sec
Drivers
1.  S Loeb                                   30pts 2.  M Hirvonen                           22pts 3.  D Sordo                                 17pts 4.  H Solberg                              10pts 5.  P Solberg                               9pts 6.  M Wilson                                8pts
Manufacturers
1.  Citroen Total                             48pts 2.  BP Ford Abu Dhabi                 32pts 3.  Stobart VK M-Sport Ford         22pts 4.  Citroen Junior                           11pts 5.  Munchi's Ford                         3pts