Historic victory of ABT Sportsline
Audi Sport Team ABT Sportsline achieved quite a few victories in more than eight years of racing in DTM. Nevetheless the triumph at Zandvoort was something very unique: Never before the team from Bavaria clinched all four top positions. Once again the winner: champion Mattias Ekström.
Mattias Ekström had prepared the ground for his victory the day before: by clinching his dominant tenth pole, he had secured the top grid position, which he perfectly converted into the lead in the race straight at the start. During the two pit stops the Swede – with his Audi Sport Team Abt Sportsline – defended his lead as well, ahead of his team colleague Timo Scheider, who had started the race from position two on the grid.
Towards the end of the round staged on the North Sea coast Timo Scheider increasingly made up ground, but Ekström clinched his second win of the season with a 0.270-second advantage over his team-mate. Scheider extended his lead in the standings from one to five points. He is followed in the championship by Mattias Ekström, who bumped Mercedes driver Jamie Green from second place.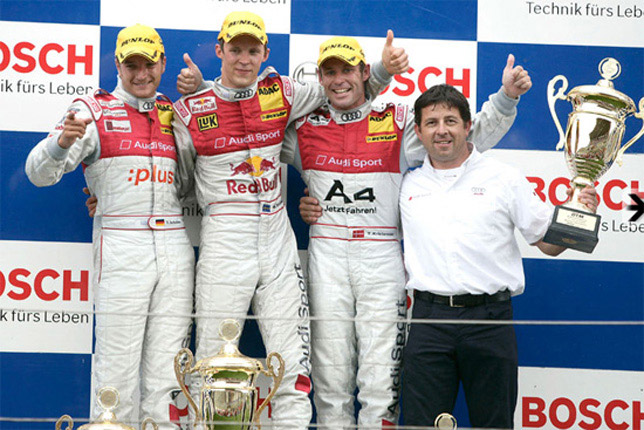 Tom Kristensen, who had started from position three, drove the fastest race lap of 1m 33.729s in the first third of the race, thus beating the previous track record in a race by one second. In the end, the Dane completed the podium, which he mounted for as much as the third time this season. Like at the Hockenheim season opener, the podium at the season's midpoint event was occupied strictly by Audi drivers.
When the lights went off Martin Tomczyk overtook the two Mercedes drivers, Jamie Green and Bruno Spengler, who had started in front of him and ultimately completed the Audi quartet of front runners. For the new Audi A4 DTM, this marked the maximum achievable result after the brand with the Four Rings had previously dominated all sessions at Zandvoort.