Honda FCX Clarity Named 2009 World Green Car
Recognizing Honda's commitment to environmental leadership in the area of alternative fuels and hydrogen-powered fuel cell technology, the Honda FCX Clarity was declared the 2009 World Green Car, American Honda Motor Co., Inc., announced today.
At a press conference hosted by the New York International Auto Show and Mobil 1 at the Jacob Javits Center in, New York, the Honda FCX Clarity was named the 2009 World Green Car. The FCX Clarity was chosen from an initial entry list of 22 contenders nominated by 59 World Car jurors from 25 countries worldwide.
"The FCX Clarity is a symbol of the progress we have made with fuel cell vehicles and our commitment to developing vehicles that promote renewable energy supplies and zero-emissions transportation," said Steve Center, vice president, national Marketing Operations for American Honda.
The FCX Clarity, a sleekly styled hydrogen fuel cell-powered sedan currently available on a limited lease-basis, is propelled by an electric motor that runs on electricity generated by an on-board fuel cell stack. The vehicle's only emission is water, and its fuel efficiency is up to three times that of a modern gasoline-powered automobile and two times that of a gasoline-powered hybrid vehicle.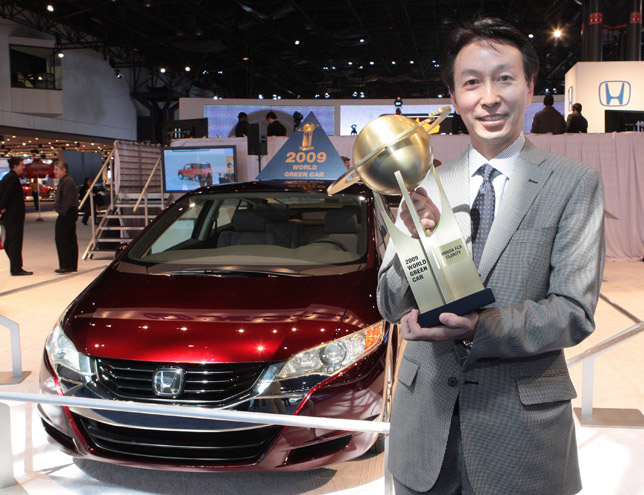 The World Green Car awards were inaugurated in 2003, and officially launched in January 2004, to reflect the reality of the global marketplace, as well as to recognize and reward automotive excellence on an international scale.
The awards are wwwinistered by a non-profit association, under the guidance of a Steering Committee of pre-eminent automotive journalists from Asia, Europe, and North America. There is no affiliation with, nor are the awards in any way influenced by any publication, auto show, automaker, or other commercial enterprise.