How it works? BMW Tri-Turbo Diesel Engine [HD video]
BMW has released an interesting video showing how the new tri-turbocharged 3.0 liter six-cylinder diesel engine actually works. The power unit is extremely complex and probably the maintenance after a few years, especially when it is out of warranty will be living hell. There are a lot more parts, which can fail and break, compared to a standard turbo-diesel engines. However, until then we can only wwwire the brilliance of  the updated N57D30.
The performance data is astonishing – 381PS (280 kW) and 740Nm (546 lb-ft) of torque. With 127PS per liter displacement, the new tri-turbocharged engine from BMW sets a new benchmark standard for diesel power units. There is a number of technologies incorporated in the updated N57 – an aluminum crankcase, new common rail direct injection with piezo injectors and maximum pressure of 2 200 bar. Last but not least, the high-pressure turbochargers with variable geometry are responsible for the instant power.
The fuel economy is sensational, because the M550d Saloon offers 100 km for just 6.3 liters of diesel and emissions 165 g/km CO2. The engine is mated to a ZF 8-speed automatic gearbox.
For now, the new tri-turbocharged diesel will be in M550d xDrive Saloon and Touring, X5 M50d and X6 M50d. We will also be glad to see it in a 3-Series, but unfortunately, the manufacturer does not have such plans. The M550d will be launched in Germany in May.
Enjoy the video!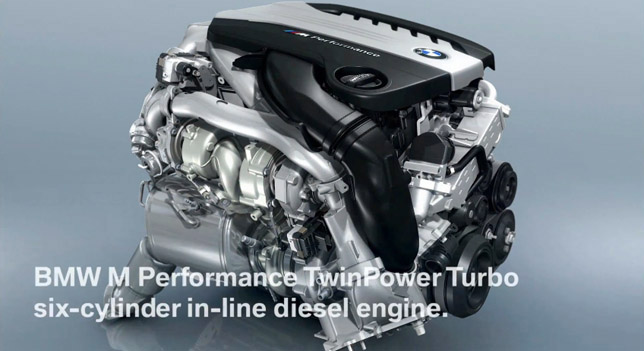 Source: Bimmerblog via Youtube