How Pickup Trucks are Transforming into a Modern Workstations
While pickups have always been used for work, the way we work has changed. And pickups have evolved to better match how we do business these days. While traditional values like hauling and towing capacities and durability are still paramount, so are new ones that reflect the increased independence of most small-business owners, like communications ability and ergonomics.
What's different in today's pickup trukcks is what you'll find inside, where most of the business is actually conducted, including communications, invoicing, accounting and planning. For many owners, pickup cabs these days are more like mobile offices.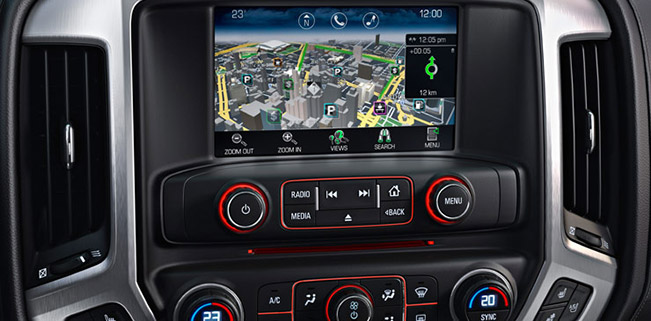 If we take, for example, the new GMC Sierra, we can see that it's a big, capable truck with a variety of bed sizes and powertrain configurations. There's little if any question about whether it's up to tough jobs — the pickup market is so competitive and lucrative, it would kind of have to be.
Entering the Sierra, the first thing I noticed was the massive center console. With the cupholders retracted, GMC says it's big enough to hold hanging files — does anyone still use those? — and a standard-sized laptop. I don't doubt them. And if that's not enough room for your stuff, you can ditch the buckets and opt for a bench front seat with a lockable storage container underneath.
Above the console is the command center. The Sierra comes with a communications feature called Intellilink. Normally, it handles entertainment and guidance through the radio, CD player and GPS, but it can also be linked to a smart phone. Since it can be voice activated, Intellilink can make and answer calls and access other apps on the smart phone as well, all hands free. That can be extremely handy.
The unit also comes with USB ports and a 12-volt outlet, which is fine for smart phones and other handheld devices, but I would choose the optional 110-volt outlet to keep my laptop charged.
Most other recent changes in pickup technology reflect an increased concentration on helping the driver stay comfortable inside. In the Sierra, GMC has provided dual-density seat padding that they say keeps their shape longer, making long drives — or, at least, long stays inside while writing up invoices — easier on your body. Similarly, they have reduced noise levels in the cab with thicker glass, an enhanced exhaust system and improved body mounts.
So while the old timers and the TV commercials might argue about how many tons a particular pick can tow, the real difference more most buyers — especially independent businesspeople — is what's inside.