Hyundai Collaborates With HKS USA To Unveil Genesis Coupe At Sema Show
Hyundai Motor America today announced that HKS USA, Inc. will create a high-performance Genesis Coupe 2.0t for the 2008 Specialty Equipment Market Association (SEMA) show. The all-new, rear-wheel drive Hyundai model will make its SEMA debut at the Las Vegas Convention Center Nov. 4 – Nov. 7, 2008. HKS, the leading manufacturer of premium performance parts, is the second company to join Hyundai for this year's SEMA show.
"Genesis Coupe has the basic DNA that HKS looks for – an excellent chassis, rear-wheel drive, aggressive styling and a new generation turbo-charged engine. These attributes provide the opportunity for HKS to maximize the Genesis Coupe driving performance capabilities for the serious driving enthusiast," said Rick Lafferty, president, HKS USA, Inc. "HKS is allocating R&D, engineering and prototyping resources to lay the groundwork for HKS-brand Genesis Coupe performance parts. We are looking forward to working with Hyundai to realize the full performance potential of the Genesis Coupe."
The HKS plan for the Genesis Coupe includes a HKS GT Turbo upgrade to maximize horsepower and torque, HKS engine internals, HKS limited-edition turbo exhaust system, HKS Super Mega Flow Intake System, HKS Engine Management and HKS Hipermax III fully-adjustable suspension.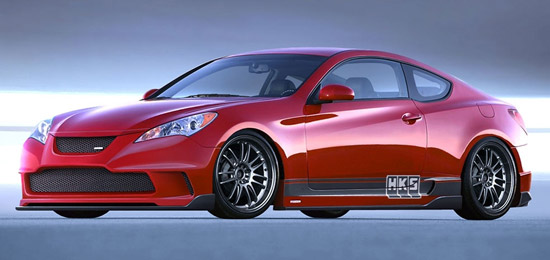 "We've designed Genesis Coupe from the start to be tuner-friendly," said John Krafcik, vice president, Product Development and Strategic Planning, Hyundai Motor America. "Partnering with an industry leader like HKS is a terrific way for us to stretch the performance envelope of Genesis Coupe."
The HKS Genesis Coupe will also showcase functional ground effects designed by Ken Style, HKS Time-Attack cars' aerodynamic partner. The interior will emphasize driver comfort and control with HKS electronics including CAMP2 that monitors up to 24 data signals from the Genesis OBD2 and programmable calculations for fuel costs, average fuel consumption and fuel efficiency in real time.
HYUNDAI GENESIS COUPE HIGHLIGHTS
· Hyundai's first rear-wheel drive sports car · 306 horsepower (est.) from enhanced 3.8-liter V6 from Genesis sedan · Standard 210 horsepower (est.) turbocharged, intercooled inline four cylinder · Genesis Coupe arrives in the spring of 2009 as a 2010 model