Jaguar Quickest In The Speed Traps At Monza
3 Times World Sportscar Champion, Ray Bellm was driving the Apex Motorsport Jaguar for the first time, sharing with Stuart Hall.  The speed traps on the Italian circuit gave a clear indication of the Jaguar's speed, recording the V8 supercharged XKR fastest in all sectors during the 20 lap test. 
The Jaguar driven by Ben Clucas and Robert Hissom proved that the XKR is very competitive, finishing 7th fastest overall in a field of 43 cars on the track.  The weather then deteriorated for the second test, and in dismal conditions, Hissom went into the wall at the entry to Ascari rendering the car beyond repair.  Luckily Hissom suffered only bruising, which he wwwitted was "mainly to his ego!".
Harry Handkammer commented: "We have gained a lot of running data and are making some positive adjustments based on today's running.  However we went completely the wrong way on set up for the conditions during the second test and lost the balance of the car for the wet qualifying, and as a consequence, neither driver managed a comparable time."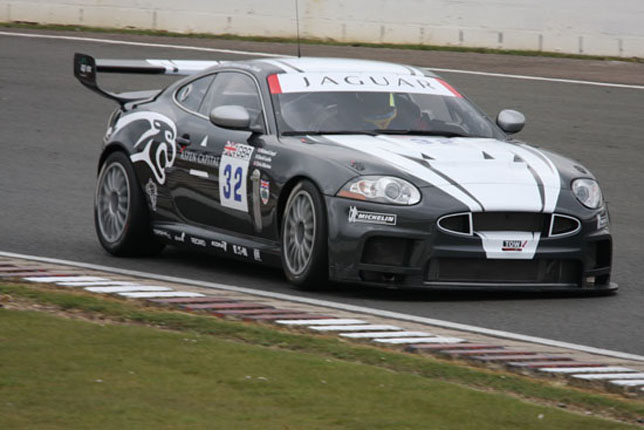 SATURDAY – Race 1
Starting 26th on the grid, the team of Ray Bellm and Stuart Hall made up considerable ground during the race, finishing 15th overall, demonstrating the potential of the XKR.
SUNDAY – Race 2
The Bellm/Hall partnership started the race in 22nd position, with wet tyres blistering on a drying Monza track.  With the improved weather conditions, slicks were fitted, and the team pushed the car hard, achieving a lap time of 6 seconds ahead of the race leaders through sector 2.  Unfortunately an electrical fault brought the team's efforts to a close just over halfway through the race.
Despite the car's retirement, Ray Bellm was positive about the day's racing, and commented: "I suspected that the Jag would have considerable race potential, we went the wrong way on set up during qualifying which really messed up our weekend, however the car is very responsive to adjustment which shows how good the chassis is."
Harry Handkammer commented: "We now have a much better understanding of the car's set-up and reaction to change.  For example the rear roll bar proved to be too stiff for the last wet race, and while there was nothing wrong with the initial balance, it simply drove the tyre temperatures through the roof on Monza's grippy circuit.  The tyres blistered badly and the times dropped off accordingly.  We learned a great deal this weekend, and plan to use the data before the next race to our benefit."