Kia celebrates 10 years of change at the 2009 SMMT Test Day
Kia is living up to its slogan, 'The Power to Surprise', with its latest offerings at the SMMT Test Day on 21 May 2009 at Millbrook Proving Ground. The Kia stand will have on display some of the newest, oldest and most surprising Kia models to date.
Heading the line-up of six cars on the Kia stand will be the Soul trio of Samba, Shaker and Burner. Featuring 1.6-litre petrol or diesel engines, these mould breaking models have been causing a stir with their unique looks and design led packaging.
The latest Magentis will also be available with new, more dynamic suspension and steering and completely revised high level specification as standard.
To show how far Kia has come in just ten years, an original Kia Pride from 1999 will be on display parked next to one of the newest Kia models, a 2009 420PS pro_cee'd race car.
One of a pair, built in Essex and raced in the 2009 Belgian Touring Car Series (BTCS), the BTCS pro_cee'd is a highly advanced race car featuring a tubular steel spaceframe chassis, a mid-mounted V6 engine producing 420PS and all capped with a Kia pro_cee'd high-downforce composite bodyshell. Tipping the scales at a mere 975kg, this Kia can lap as quickly as a GT2 class Le Mans car. And this is no look-a-like - bar a lick of paint, the car on display is exactly as it returned from a one-two podium result at the famous Dijon race circuit.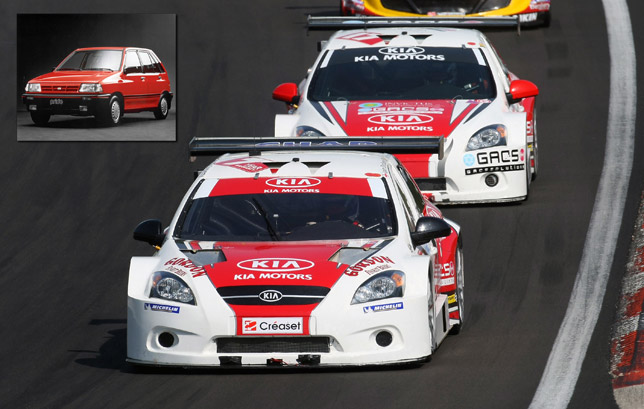 Stephen Kitson, Communications Director, Kia Motors (UK) Ltd., said; 'We want to show our colleagues in the press our progress in just ten years. The Pride was the first Kia officially imported to the UK and it'll be sitting next to Soul, our urban crossover launched exactly ten years after this very Pride was sold. To follow that up we have the amazingly successful race winning BTCS pro_cee'd as championed by our colleagues in Kia Belgium.'
Kitson added; 'Despite our press team making more new cars available than usual on the press fleet, the Soul range is fully booked up until the end of July. If any of our press colleagues want to hear about the plans we have for the future - including the six new cars we will be launching over the next 18 months - then we would encourage them to come and see us for a cosy chat and a bacon butty!'
As usual, the Kia stand will be staffed by the full Kia Press and PR team of Stephen Kitson, Sue Mulcaster, Jon Walsh and Anne Almeida.
Kia cars at the SMMT Test Day 2009

Year

Vehicle

Specification

Engine

1999

Kia Pride
Standard
1.3-litre petrol

2009

Kia Soul
Burner
1.6-litre CRDi

2009

Kia Soul
Shaker
1.6-litre petrol

2009

Kia Soul
Samba
1.6-litre CRDi

2009

Kia Magentis
TR
2.0-litre CRDi

2009

Kia pro_cee'd BTCS race car
Hardcore
3.2-litre V6 petrol