Kia Provo Concept at the 2013 Geneva Motor Show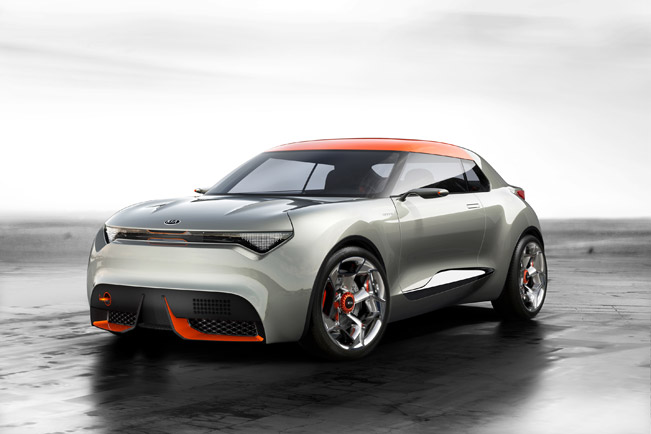 Kia has unveiled the new Provo Concept at the 83rd Salon International De l'Auto in Geneva. The vehicle mixes ultra-modern technology with a self-confident and agile look to deliver an exciting new B-segment car for enthusiasts.
Kia Provo is powered by a 1.6 liter Turbo GDi engine with 204HP (150 kW). The power is sent to a smart-4WD system. There is also an electric motor delivering an additional power surge to the rear wheels when required and also allowing low-speed electric-only motion. The gearbox is 7-speed DCT.
The dimensions of the concept are 3.88 m in length, 1.77 width and 1.35 height. The body features a steep front nose and carbon fibre lower valance that immediately convey a sense of purpose.
It rides 19" milled-alloy wheels fitted with 225/40 R19 tires.
The dashboard is made from a single expanse of carbon fibre, but does not extend down to the floor – deliberately – in order to keep the footwells clear and uncluttered except for polished aluminium footrests and pedals.
"The interior is very, very black – as we believe it should be to allow drivers to focus on the experience.  But we have also looked to make the functional aspects of the car fit the modern demands of today's motorists.", commented Gregory Guillaume, the designer.
Source: Kia