"kicker" experts go to UEFA EURO 2008 with Audi
Ingolstadt – From 7 to 29 June, the entire football community will be focused on Austria and Switzerland when 16 teams compete in the European Championship. The journalists of "kicker" magazine traditionally keep their finger on the pulse of events, both on and off the field. This year, they're travelling to the games again with "Vorsprung durch Technik".
Three weeks before the opening game kicks off in Basel, preparations entered into their hot phase for the editors of sports magazine "kicker". At the Audi Forum in Ingolstadt, the journalists received 18 Audi A6 saloon cars and two Audi Q7 vehicles. Under the motto "The Competence Team on the Road" the football experts are staying on the ball during the tournament in 2008 with support from Audi, as they did at the World Championship two years ago.
"We're very pleased to again support the kicker competence team during the European Championship," said Toni Melfi, Head of Audi Communication, on the occasion of today's hand-over of the vehicles. As a partner of international top-class teams like the German Champion FC Bayern München and the Spanish Champion Real Madrid, Audi has maintained close ties to football for many years.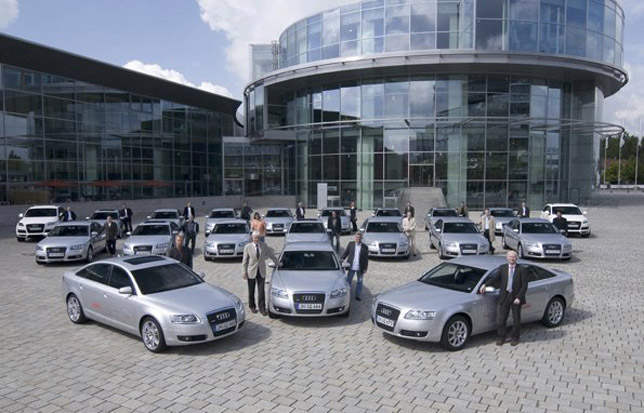 Equipped with the new Audi models, "kicker" editor-in-chief Rainer Holzschuh and his team are looking forward to almost a whole month full of football with eager anticipation: "The cooperation between Audi and 'kicker' has meanwhile become a cherished tradition. We're wishing for our national team to enjoy this perfect type of team play as well, in which case we've got some exciting and successful weeks coming up," said Holzschuh.
The European Championship kicks off with the opening game between Switzerland and the Czech Republic on 7 June. The finale will be staged in Vienna on 29 June. The German team will come into play for the first time on the evening of 8 June in a match against Poland.