KW Automotive BMW 3-Series GT With Sportier Characteristics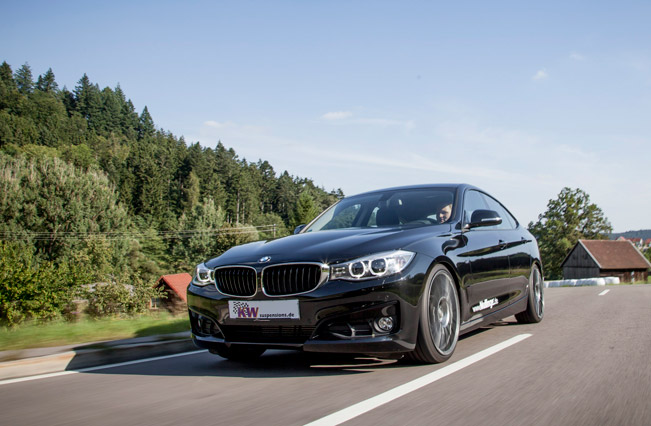 The new BMW 3-Series Gran Turismo (GT) is higher, longer and wider when compared with the famous 3-Series station wagon. For this GT model, the tuners at KW Automotive have developed coilovers made of stainless steel.
There is a choice of adaptive KW DDC "Plug & Play" coilovers with electronic damper control KW coilovers Variant 1, Variant 2 and Variant 3. These four kits allow a continuous lowering of 30 to 55 mm at the front axle and 15 to 40 mm on the drive axle via the rear-axle height adjustment. In addition, the KW coilovers can be individually adjusted.
The KW coilover kit Variant 1 has fixed damping characteristics with a sporty and harmonic setup, while the BMW driver can adjust the rebound damper settings with his Variant 2. With the KW coilover kit Variant 3 has special adjustment technology, which regulates the compression damping separately with twelve clicks to influence potential rolling motion of the F34 body.
The overall length of the new BMW 3-Series GT is 4,824 m, which makes it even longer than the 3-series Long version (4,734 m). The adaptive KW DDC "Plug & Play" coilovers are compatible with the BMW electronics, and only for those BMW models which are equipped with optional adaptive series suspension. With only a BMW button in the center console, drivers can still choose between the BMW driving dampening modes.
Source: KW Automotive