Ladies German Open marked by the four rings
Ingolstadt/Munich – The tournament has teed off: today marks the first day of the first professional golf tournament for ladies in Germany being staged in seven years. Audi is Presenting Sponsor of the HypoVereinsbank Ladies German Open held at "Gut Häusern" on the outskirts of Munich.
Audi uses the premiere of the Ladies German Open to present its "Vorsprung durch Technik" in numerous activities. Ten selected female pros have the opportunity to experience Audi's technology advantage in a very personal way: Audi is providing them with Audi A3 Cabriolets for the duration of the tournament.
At a Pro-Am tournament, the golf course first belonged to the amateurs. At Audi's invitation, the two DSV athletes and golf enthusiasts Felix Neureuther and Tobias Angerer took part in this warm-up. Audi has been the main sponsor of the German Ski Federation (DSV) for over two decades.
The young star golfer Michelle Wie is one of the prominent guests at the Ladies German Open. The American, who is only 19 years old, has received a wild card for the tournament by the organisers. As soon as she arrived at Gut Häusern the native Korean fell in love with the Audi R8 super sports car prominently placed in front of the Audi Golf Terminal near the first tee. Here, in addition to current vehicle models, Audi is presenting a wide range of golfing accessories. At 2 p.m. on Sunday, Tobias Angerer, multiple winner of the cross-country skiing World Cup, will use the popular meeting place for a "meet & greet" with fans and autograph collectors.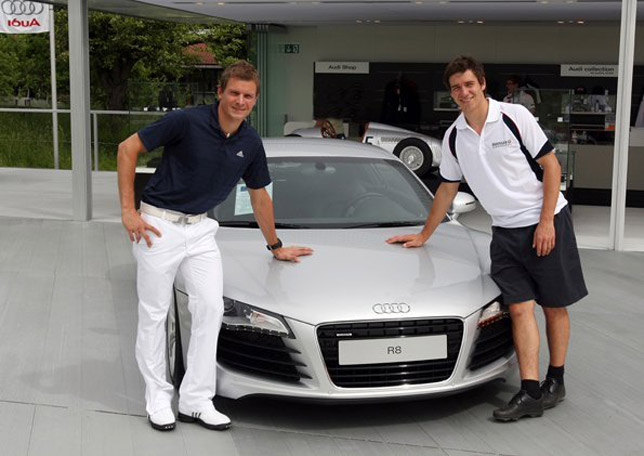 Audi factory driver Martin Tomczyk will pay a visit to the Ladies German Open as well. The DTM star, who is currently ranking fifth in the overall standings, will be a guest at the Players' Night in Munich on Friday evening. One of the highlights of the event will be René Lezard fashion show.
The first HypoVereinsbank Ladies German Open tournament will end with the fourth round on Sunday. The rules promise to deliver excitement and suspense all the way to the end since the tournament's best player will be the last to tee off. No later than at the ceremony honouring the winners on the 18th Green it will be made known whether or not one of the lady pros will be able to drive home in a new Audi A3 Cabriolet: it is the prize for a "hole-in-one" at the 15th hole.