Lamborghini Gallardo UGR Twin Turbo Black - 350 km/h [HD video]
The monstrous Lamborghini Gallardo SL UGR-TT prepared by Underground racing made five starts in this video.
Gallardo SL UGR-TT is powered by a twin-turbocharged V10 with the incredible 1500HP. With such power, the problems with traction are imminent, that's why the Lambo makes awful 60ft time – 2.469 seconds in the first start, 2.962 seconds in the seconds start, 2.842 seconds in the third, 2.525 seconds in the fourth and 2.713 seconds in the last.
However, the terminal speed is extremely high. In the fourth start the Gallardo managed to cross the finish line with 350 km/h dead.
The Race Version Turbo System with highly modified engine package starts from $109 000 for all Gallardo Models.
Check out all starts in the video below, where you'll see Gallardo UGR's rivals.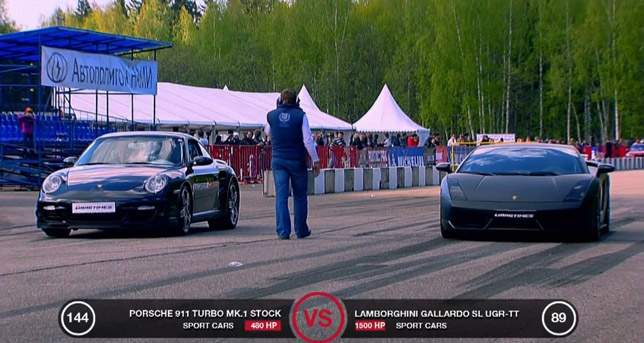 Source: Dragtimesinfo via Youtube