Le Mans series: Nürburgring 1,000km (august 15-17, 2008) a Le Mans series title to defend
The first three rounds of this year's 2008 Le Mans Series saw Peugeot Sport take all three wins ahead of rivals, Audi.
With two fixtures remaining, the 1,000km races at Nürburgring and Silverstone (September 14), Peugeot Sport's is now firmly focused on defending its Le Mans Series crown.
The past two months have given Peugeot Sport a welcome chance to recover from the hectic first half of the season which produced a particularly heavy workload. This included participation in the 12 Hours of Sebring and the first three rounds of the Le Mans Series, as well as endurance simulation testing prior to the Le Mans 24 Hours, repairing accident damaged cars and the preliminary test day at Le Mans which all followed on from each other in quick succession. This programme culminated of course in the Le Mans 24 Hours itself where the win that seemed possible for much of the race finally slipped from the team's grasp.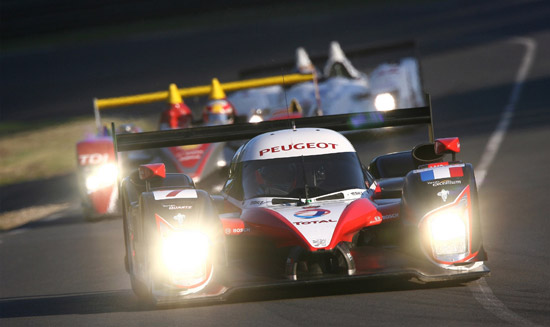 As Peugeot Sport prepares for the second part of the season, its Peugeot Sport Director Michel Barge has remobilised his troops and set them precise objectives: "Our aim is to defend our Le Mans Series title against the same opponent we faced at Le Mans. Peugeot 908 HDi FAPs won the first three of the championship's five rounds and our target now is to claim the last two races, too, with a view to keeping the Manufacturers' crown."
"Our different cars have met with varying fates since the Le Mans 24 Hours," comments Peugeot Sport's Technical Director Bruno Famin. "One is still running and is used for collecting data, while another has been entirely stripped and its main components now continue life on the test bed.
One engine spent 18 hours on the dyno after Le Mans without any problems whatsoever. The principal components will globally continue to be used for testing, while the cars are prepared for the forthcoming race at the Nürburgring and for development purposes. Indeed, our preparation for the 2009 Le Mans 24 Hours started even before the 2008 race and we are now well into the swing."
The return of the Le Mans Series action will see the familiar LMS line-ups reform in their respective 908 HDi FAPs, namely Marc Gené and Nicolas Minassian, who currently top the Drivers' standings with a score of two wins (Barcelona, Spa), plus Pedro Lamy and Stéphane Sarrazin who follow in fourth place with one victory on their card (Monza), but also one retirement (Spa).
The Nürburgring 1,000km is scheduled to start at 12.05pm on Sunday August 17 for 195 laps of the 5.137km German track.