Lewis Hamilton confirmed for the 2008 goodwood festival of speed
After much anticipation, British Formula One sensation Lewis Hamilton has now confirmed his attendance at the 2008 Goodwood Festival of Speed, being held in Goodwood Park from 11-13 July.  In 2007 Lewis made his UK British F1 debut in action on UK soil to the huge delight of the assembled 50,000 Festival goers.  For 2008, Lewis will once again scream up the challenging 1.16-mile Goodwood hillclimb in his F1 McLaren on Sunday 13 July.
The presence of Lewis at the Goodwood Festival of Speed harmoniously ties in with the 2008 theme of 'Hawthorn to Hamilton – Britain's Love Affair with World Motor Sport'.  Both Hawthorn and Hamilton have played a role in Goodwood's 60 years of motor sport, which is being celebrated this year at the Festival and the Revival in September. Like Hamilton, Hawthorn won an F1 race in his year of works F1 racing in 1954, having burst onto the motor sport scene with a bang at the Goodwood Easter Monday meeting in 1952.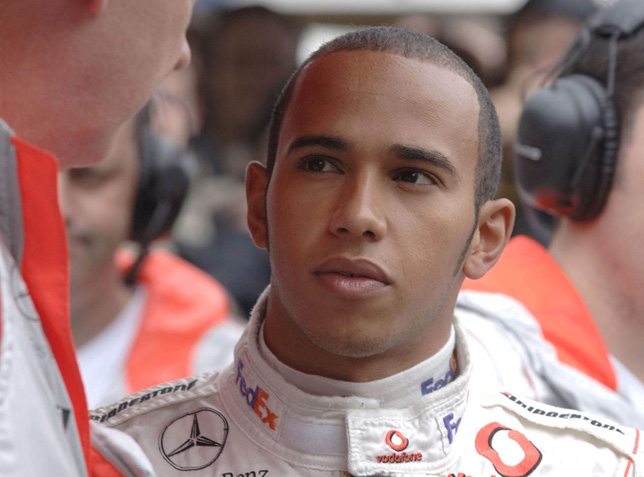 Equally, Britain has also long played a key role in the global motor racing industry, forging successful relationships with the rest of the motor sport world.  From Mike Hawthorn – who used a Ferrari to become Britain's first Formula 1 World Champion fifty years ago in 1958 – to current star Hamilton, driving a British engineered F1 car with German power, British drivers and engineers have utilised global resources to achieve success. The 2008 Festival honours these winning combinations.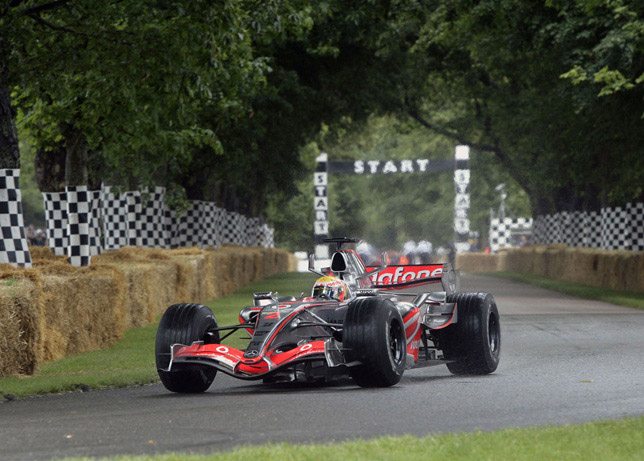 In recognising Britain's role in shaping motor sport worldwide, the Festival will acknowledge the influence and achievements of iconic British figures, including Stirling Moss, Jim Clark, John Surtees, Colin McRae, Roger Clark, James Hunt, Barry Sheene, Jackie Stewart, Derek Bell, Colin Chapman, Adrian Newey and British-based Gordon Murray, plus Lewis Hamilton, naturally.  In addition, home-grown stars from the past and modern day heroes will line up alongside their friends and adversaries from around the world at the celebrated West Sussex hillclimb, in a tribute to global motor sport.
The Festival of Speed's unique ability to attract the top works Formula 1 teams is one of its key strength, and already seven teams, as listed below, have indicated their intention to attend this year, just one week after their appearance at the British Grand Prix at Silverstone.  Nowhere else in the world can motor racing enthusiasts get so close to the latest and greatest cars and drivers.
Scuderia Ferrari – the current constructors World Champions will be here from Italy to demonstrate their 2008 machine
McLaren-Mercedes – last season's car is expected to be in action all weekend, with current title contender Lewis Hamilton at the controls
BMW-Sauber – the latest potential challengers to the F1 throne will be present over the Festival weekend, showcasing their ultra-competitive 2008 car
Honda –  British hero Jenson Button will be on hand to put the RA108 through its paces
Red Bull – the beautiful Renault-powered RB4 will smoke its tyres all weekend
Toyota – the latest car will be in action, demonstrating their new-found pace
Williams-Toyota – the great British team will be at the Festival with their FW29, celebrating their 30th year in Formula 1
In addition to Lewis Hamilton, look out at Goodwood for familiar F1 faces such as Sir Jackie Stewart, Martin Brundle, Mark Blundell, Murray Walker, Sir Frank Williams, Ron Dennis, Patrick Head, Ross Brawn, David Richards, Christian Horner and Adrian Newey, all of whom have attended the Festival in recent years.
Festival founder The Earl of March says,"I am absolutely delighted to welcome Lewis back to the Festival of Speed again for the second year running.  He really thrilled the motor sport fans here last year, and I am certain that he will put on another great show for them again here in July.  I can't wait.  He adds, "It will be great if Lewis can repeat Mike Hawthorn's F1 success 50 years ago and win the World Championship for Britain this year."