Great win for Lewis Hamilton at the Hungarian GP
After qualifying fourth, Lewis made a good start but was able to benefit from KERS to charge down to the first turn alongside Kimi Raikkonen and Sebastian Vettel. He out-braked Mark Webber to briefly hold second before losing traction at the exit and ceding the place back into Turn Two. Nonetheless, he kept up the pressure to pass the Australian around the outside of Turn Two five laps later.
LEWIS HAMILTON - MP4-24-04 Started: 4th - Finished: 1st Fastest lap: 1m22.497s (4th) - Pitstops: two (Op-Op-Pr) Championship points: 19 - Championship pos: 8th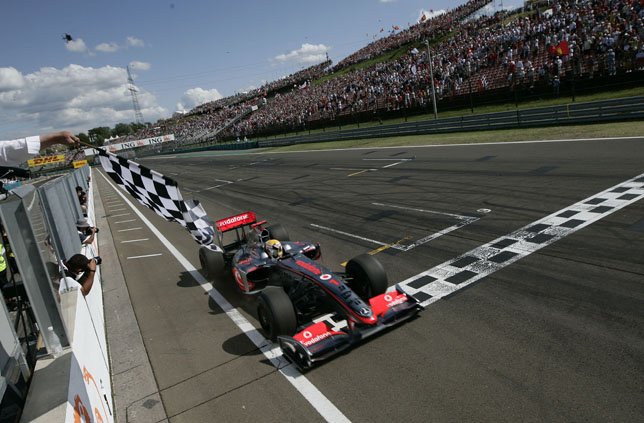 He immediately started to close the gap to leader Fernando Alonso, and took the lead on lap 12 when the Spaniard was the first to pit. Lewis changed tyres on lap 20 and spent the majority of the second stint establishing a cushion over Raikkonen. With a comfortable margin, he switched to Primes on lap 46 and finished 11 seconds ahead of the Finn. It was Lewis's first win of 2009 and his 10th career victory in Formula 1.
"It's an incredible feeling to be back on the top spot after what feels like such a long time and such a struggle," he said afterwards. "This was one of my best races – I never gave up and, more importantly, neither did anyone in this team. I'm so proud of all the guys. We didn't expect to win today – we didn't think we quite had the overall pace – but the car was just perfect to drive, it felt fantastic for the entire race.
"We need to take as much as we can from this weekend. We'll continue to push because that's the only way this team knows. Now we want to be winners on a regular basis. "Finally, my thoughts are with Felipe today. Despite our celebrations, it's important to remember that there's a guy lying in a hospital bed tonight, and I think I speak on behalf of everyone when I say that we all had Felipe in our hearts and minds today and we wish him a speedy recovery."
HEIKKI KOVALAINEN - MP4-24-03 Started: 6th - Finished: 5th Fastest lap: 1m22.958s (8th) - Pitstops: two (Op-Op-Pr) Championship points: 9 - Championship pos: 12th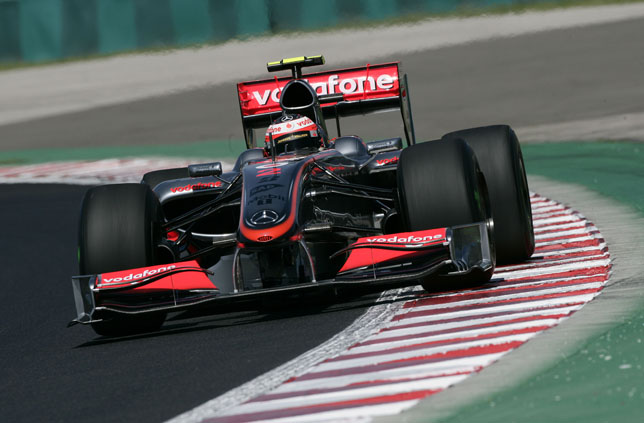 Starting from sixth on the grid, Heikki maintained that position off the grid and steadily progressed upwards, picking up places to briefly run first due to the virtue of his lengthy first stint. Stopping on lap 21, switching to a shorter middle strategy and fitting to his second set of Options, he rejoined behind Mark Webber and spent the entire stint chasing the Australian. Switching to Primes on lap 44, he was unable to vault Webber and also let through Nico Rosberg, who had been closely following the duo. He finished fifth – his third points finish of the season. "This was a great race for the whole team and particularly for Lewis," said Heikki. "Hopefully next time it will be me! This victory proves just how much the team has improved the performance of our car during the past few months: this is the result of the hard work of every single man and woman in our team – and this victory must be especially sweet for all of them. Our thoughts are also with Felipe – I want to wish him all the best and hope he'll be back in Formula 1 soon."
MARTIN WHITMARSH Team principal, Vodafone McLaren Mercedes
"Even as recently as four weeks ago, I don't think many people would have believed you if you'd told them that we'd win the Hungarian Grand Prix in dominant fashion, but that's exactly what we did today. And the fact that we did just that is a fantastic testimony to what can only be described as a superhuman team effort. Yes, 2009 has been a very hard year for us, but no-one at Woking, Brixworth or Stuttgart ever gave up; we all kept pulling together, we all kept our spirits up, and above all we all kept working. I'm immensely proud of every single one of them. "And, today, Lewis, who has also never stopped pushing all year, was simply magnificent: there's no other word. He was in the groove all afternoon, he delivered breathtaking speed where it mattered, and he controlled the race like the winner he is. "So, going forward, what can I say? We had the strongest car at the Hungaroring this afternoon – and, although it's an idiosyncratic circuit, we're confident that we'll have a reasonable package for Valencia, too. But motor racing is an unpredictable business and the only thing you can bet your house on is that we'll never stop working. And, more than that, we'll grow stronger as a result of the difficulties we've faced: we've learned lessons this year, and for next season we're aiming to build a car that's capable of challenging for the world championship from the start of the season, not halfway through it!"
NORBERT HAUG Vice-president, Mercedes-Benz Motorsport
"A sensation! Lewis was a class of his own – a historic win, the first with the KERS Hybrid in Formula 1 - the Silver Arrows are flying again! Unfortunately, Heikki got stuck in traffic, but he was fast and with his fifth place we scored as many points today as in the previous nine races together. We think of Felipe - he would have been capable of being among the best or even to fight for a victory today, as Kimi showed. We wish him a good recovery. Thank you to all our team members who worked so incredibly hard for this success. Now is the summer break and you deserve it."