Lexus GAZOO Racing CT
Gazoo Racing has prepared a full hybrid Lexus CT, which made its track debut on 14 May. The CT is competing in the Adenauer ADAC Rundstrecken-Trophy, contested over six hours on one of racing's most daunting circuits. Almost 200 cars lined up for the start.
The GAZOO Racing CT is based on the road-going CT 200h model. It features Hybrid Drive consisting of 2.4 liter petrol engine and electric motor with battery pack identical to the road car. At start-up and under braking, the race car uses just its electric motor, producing zero tailpipe emissions and using no fuel.  The combustion engine seamlessly takes over at higher speeds with the electric motor providing extra power when accelerating and at racing speeds.
The GAZOO Racing CT driver line-up features three experienced pilots: Kumi Sato, a female racer who competed in a Lexus IS 250 in 2008; Masahiko Kageyama, who previously supported Toyota's vehicle development programme; and MinoruTakaki, who is responsible for production vehicle development.
Lexus is the only car manufacturer to compete in major endurance races with full hybrid cars, starting with the Lexus RX 400h which contested the Nurburgring24 Hours in 2005.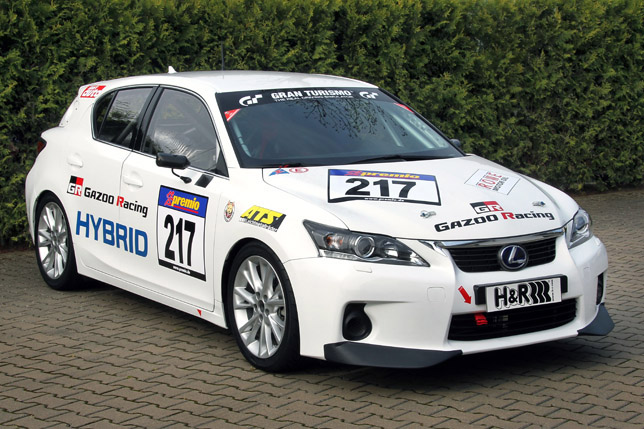 Source: Lexus