Little 500 plays big part in new eco estate agent launch
Fiat's 500 supermini is playing a major part in the launch of London's first "eco estate agent".
London Residential, which opened its new Parkway, Camden office earlier this month (August) has bought five Fiat 500 1.2 Lounge cars, to use alongside four electric scooters as transport for its sales negotiators.
The 500's low emissions, excellent fuel economy and compact size fits in perfectly with London Residential's environmental stance. This includes using a green electricity supplier for its offices and managed properties, offering a unique green advisory service to landlords and tenants, and giving home buyers useful carbon reduction advice.
The Fiat 500s should make a big impact on the streets of Camden as they have been finished in high impact Bossa Nova white with orange and black London Residential graphics.
The cars are being supplied by Fiat's central London-based flagship store, Fiat Marylebone. "We are pleased to be supporting this new venture," says managing director Tony Dittli.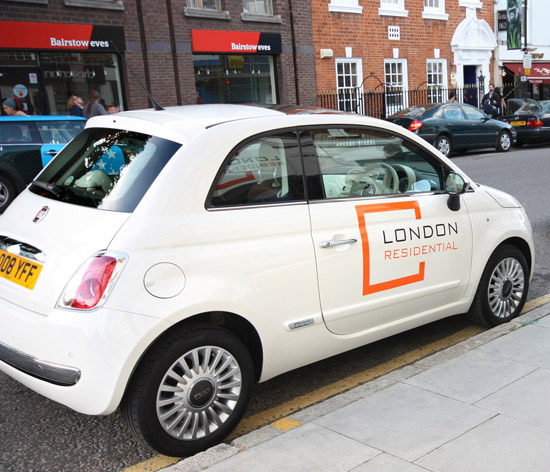 "The 500 fits in very well with the company's environmental ethos as its CO2 emissions are just 119g/km and it returns an extra-urban fuel consumption figure of more than 65mpg. And it will be perfect as most of the estate agents' journeys are low mileage and will probably involve parking in very tight spaces."
"We haven't just got a green internal ethos – we practice it externally as well," says London Residential's operations director Gaby Noble. "By using the Fiat 500s  and the electric scooters we will minimise our transport emissions as part of the overall aim to reduce our environmental impact."